Daisuke Kishio
Talk

0
6,665pages on
this wiki
This article is about a subject in the real world.
Information in this article is about real life people, companies and things, and does not relate to the in-universe Sonic series.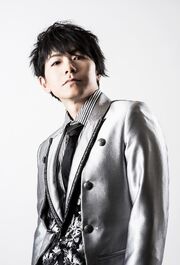 Daisuke Kishio (岸尾 だいすけ, Kishio Daisuke?, born March 28, 1974 in Matsusaka, Mie, and grew up in Komaki, Aichi, Japan) is a male seiyū (voice actor). He is a member of Tokyo Actor's Consumer's Cooperative Society (Haikyo). Kishio changed his given name from 大輔 to だいすけ on with the pronunciation and romanization remaining the same.
Voice roles
Edit
Hatenko in Bobobo-bo Bo-bobo
Jet the Hawk, E-10000G and E-10000R in the Sonic the Hedgehog series
Luppi in Bleach
Edge Maverick in Star Ocean 4: The Last Hope
Taigong Wang in Musou Orochi 2: Maou Sairin, Z, and PSP version of 2
Sima Zhao in Dynasty Warriors 7
Bentely the Turtle in the Sly Cooper series
Tsukune Aono in Rossario + Vampire
Prometheus in Megaman ZX and Megaman ZX Advent
External links
Edit