Daisuke Ono
Talk

0
6,679pages on
this wiki
This article is about a subject in the real world.
Information in this article is about real life people, companies and things, and does not relate to the in-universe Sonic series.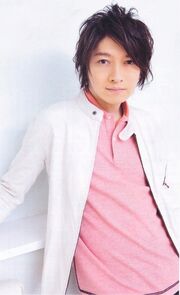 Daisuke Ono (小野 大輔, Ono Daisuke?, born May 4, 1978) is the Japanese voice actor of Silver the Hedgehog.
Voice roles
Edit
Air - Yukito Kunisaki, Sora
Bleach - Mabashi, Kuro Tsukishima
Elfen Lied - Padre de Kouta
Eyeshield 21 - Kengo Mizumachi
Full Metal Panic!: The Second Raid - Shouta Sakamoto
Fushigiboshi no Futagohime - Aaron
Futakoi - Juntaro Gonda
Kashimashi: Girl Meets Girl - Asuta Soro
Kaze no Stigma - Kazuma Yagami
Konjiki no Gash Bell!! - Gofure
Lucky ☆ Star - Himself
Magical Girl Lyrical Nanoha StrikerS - Verossa Acous
Mamoru-kun ni Megami no Shukufuku wo! - Maya Sudou
The Melancholy of Haruhi Suzumiya - Itsuki Koizumi
Mobile Suit Gundam SEED C.E. 73: Stargazer - Sven Cal Bayan
REC - Hatakeda
RockMan.EXE - PrisMan.EXE
Rozen Maiden Träumend - Enju
Minami-ke - Hosaka
Pandora Hearts - Jack Bezarius
Scrapped Princess - Keydarf Gylot
Seto no Hanayome - Kai Mikawa
Shinkyoku Sōkai Polyphonica - Akatsuki Dirrane
Monochrome Factor - Nikaido Akira
Kuroshitsuji - Sebastian Michaels
Kuroshitsuji II - Sebastian Michaels
Umineko no Naku Koro ni - Ushiromiya Battler/Batora
Durarara!! - Heiwajima Shizuo
11eyes - Satsuki Kakeru
Case Closed: The Target is Kogoro Mouri!! The Detective Boys' Secret Investigation (Masaya Murakami)
Kuroshitsuji OVA (Sebstian Michaels)
Majokko Tsukune-chan (Kuma)
Memories Off 3.5 To the Distant Memories (Ishū Sagisawa)
Memories Off 3.5 The Moment of Wishing (Ishū Sagisawa)
Mizuiro (Kenji's father)
Mobile Suit Gundam SEED C.E. 73: Stargazer (Sven Cal Bayan)
Seto no Hanayome (Kai Mikawa)
Zombie-Loan (Shuuji Tsugumi)
Armored Core 4 (Amazigh)
Chaos;Head (Daisuke Misumi)
Cross Edge (Rozeluxe Meitzen)
Dororo (Kanekozo)
Final Fantasy XIII (Snow Villiers)
Fu-un Bakumatsu-den (Sakamoto Ryōma)
Higurashi no Naku Koro ni Matsuri (Mamoru Akasaka)
Ijiwaru My Master (Evans)
Kamiwaza (Ebizou)
Kengo ZERO (Sakamoto Ryōma)
KoiGIG〜DEVIL×ANGEL〜 (Shuu)
Kuroshitsuji: Phantom & Ghost (Sebastian Michaelis)
Little Aid (Yuzuru Sawato)
Haruhi Suzumiya series as Itsuki Koizumi:
Mana-Khemia 2: Ochita Gakuen to Renkinjutsushi-tachi (Rozeluxe Meitzen)
Mizu no Senritsu (Masatsugu Kirihara)
Mizu no Senritsu Tsūhi no Kioku (Masatsugu Kirihara)
Monochrome Factor Cross Road (Akira Nikaidou)
Muvluv Alternative Total Eclipse (Yūya Buriajisu)
Neo Angelique (Hyuga)
Ougon Musou Kyoku (Battler/Batora Ushiromiya)
Panic Palette (Yuzuru Sawato)
Planetarian: Chiisana Hoshi no Yume (Junker)
Princess Nightmare (Ichirouta Inukai)
R.O.H.A.N. (Half-elf)
Sigma Harmonics (Kurogami Shiguma)
Street Fighter IV (El Fuerte)
Tatsunoko vs. Capcom: Ultimate All Stars (Casshern/Casshan)
The King of Fighters 2002: Unlimited Match (Announcer, Nameless)
VitaminX (Hajime Kusanagi)
Ys I & II: Eternal Story (Goto)
Black Hawk Down (Ed Yurek)
Callas Forever (Marco)
Diagnosis: Murder (Dr. Jesse Travis)
Fat Choi Spirit (Louis Koo)
Hotelier (Choi Young-jae)
K-19: The Widowmaker (Andrei Pritoola)
Malcolm in the Middle (Eric Hansen)
The O.C. (Ryan Atwood)
Ultimate Force (Sergeant Pete Twamley)
W.I.T.C.H. (Lord Cedric)
X-Men: Evolution (Alex Summers)
External links
Edit