This article is about a subject in the real world.
Information in this article is about real-life people, companies, and objects, and does not relate to the in-universe Sonic series.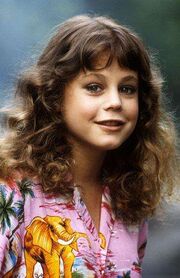 Dana Hill (born Dana Lynne Goetz; 6 May 1964 – 15 July 1996, died age 32) was an actress and voice actor for the Sonic the Hedgehog television series.
Filmography
Despite dying at the age of 32 due to diabetes, Hill has appeared in numerous movies and television programs. She voiced Charles in the animated series Duckman and has appeared in other well-known cartoons such as Rugrats, Mighty Mouse, and Beethoven. and She was the Speaking Voice of Jerry in the Tom and Jerry Movie. She is also featured on three soundtracks and has appeared in a documentary about living with diabetes. She also was a guest on the Tonight Show Starring Jimmy Carson.
Credits
Voice acting
References
External links
Former English Voice Actors