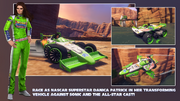 The Danicar is Danica Patrick's car in Sonic & All-Stars Racing Transformed.
Description
The car is bright green with Hot Wheels logos spread across it with a Sonic Team emblem on the front of the car. For water racing it becomes a speed boat, while for flying it becomes a jet.
Trivia
A limited edition diecast model of the Danicar was included with Sonic and All-Stars Racing Transformed exclusively at Gamestop.[1]
Gallery
References
Sonic & All-Stars Racing Transformed
Ad blocker interference detected!
Wikia is a free-to-use site that makes money from advertising. We have a modified experience for viewers using ad blockers

Wikia is not accessible if you've made further modifications. Remove the custom ad blocker rule(s) and the page will load as expected.