This article is about a subject in the real world.
Information in this article is about real-life people, companies, and objects, and does not relate to the in-universe Sonic series.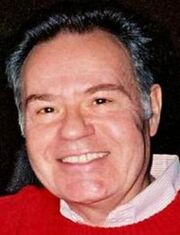 Deem Reginald Bristow (11 April 1947 - 15 January 2005, died age 57)[1] was a voice actor and provided the English voice of Dr. Eggman in Sonic Adventure, Sonic Shuffle, Sonic Adventure 2, Sonic Battle, Sonic Heroes and Sonic Advance 3.
History
In 2003, 4Kids Entertainment acquired the US dubbing rights for Sonic X. Instead of hiring the current video game voice actors, 4Kids hired their own actors. When Ryan Drummond contacted 4Kids, the producer of Sonic X, Michael Haigney, claimed that they could not use the video game voice actors because they did not live in New York where 4Kids is headquartered. Adding to the controversy, 4Kids did not offer any of the actors a chance to relocate and audition for Sonic X.[2] Bristow was replaced by Mike Pollock who voiced Dr. Eggman in Sonic X. However, voice clips from Sonic Adventure 2 were re-used for Eggman's playable appearances in Sonic Riders and Sonic Riders: Zero Gravity.
While rumors persist that Bristow's death led Sega to replace the entire voice cast to that from Sonic X, the decision to replace the cast was actually made shortly before Bristow's death.[3] Mike Pollock confirms that Sega of Japan hired the 4Kids voice actors secretly[4] before Bristow's death. Former Sega of America president Simon Jeffery confirms that Sega of Japan controls all voice actors including those in the US.[5]
References
Navigation Templates to Deem Bristow