Deep Core (ディープコア, Dīpukoa?) is the true final stage in Sonic Rush Adventure. It is an underground stage, accessible by obtaining all the Chaos Emeralds by racing Johnny and collecting all the Sol Emeralds by completing missions from Gardon and by defeating the Ghost Titan at Big Swell.
Story
The story starts with the heroes discussing a plan in Marine's house how to send Sonic and Tails back to their own dimension. Gardon approaches to Blaze alerting her that the Jeweled Scepter has been stolen again. After an earthquake, Dr. Eggman and Eggman Nega piloting the Egg Wizard appears before Sonic and the others, after obtaining the Jeweled Scepter to unleash the Power of the Stars. Tails builds the Magma Hurricane and Sonic, Blaze, Tails and Marine set off for the underground chase of the two scientists. The heroes found themselves beaten to the Power of Stars by the Egg Wizard. Sonic and Blaze transform into Super Sonic and Burning Blaze and do battle with the Egg Wizard. After the battle, Eggman Nega, insane over his defeat, prepares to launch the Planet Buster Laser to destroy the world only to be stopped by a mysterious energy projectile from Marine the Raccoon. Sonic then puts an end to the Egg Wizard by charging through it, leading to the epilogue.
Trivia
This is the only stage in Sonic Rush Adventure where the player doesn't earn any Materials.
Music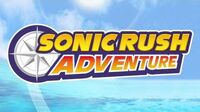 ---
Main article | Gallery
Characters
Sonic (Super Sonic) | Blaze (Burning Blaze) | Tails | Marine | Coconut Crew (Setter, Tabby, Colonel, Kylok, Daikun, Muzy) | Gardon | Norman | Captain Whisker | Mini & Mum | Johnny | Doctor Eggman | Doctor Eggman Nega
Stages
Whale Point* | Plant Kingdom | Machine Labyrinth | Coral Cave | Haunted Ship | Blizzard Peaks | Sky Babylon | Pirates' Island | Big Swell | Deep Core | Hidden Islands (1, 2, 3, 4, 5, 6, 7, 8, 9, 10, 11, 12, 13, 14, 15, 16) | Special Stage*
Bosses
Ghost Rex | Ghost Pendulum | Ghost Kraken | Ghost Pirate | Ghost Whale | Ghost Condor | Captain Whisker and Johnny | Ghost Titan | Egg Wizard
Enemies
Angler Fish | Cave Bat robot | Crabmeat | Labyrinth Soldier | Pirahna bot | Ptera | Steampacker | Triceratank | Wrench Swinger
Vessels
Wave Cyclone | Ocean Tornado | Aqua Blast | Deep Typhoon | Magma Hurricane | SS Tornado EX | SS Marine | SS Super-Marine
Moves/techniques
Axel Jump** | Axel Tornado** | Boost Mode | Burning Fire Boost** | Burst Dash** | Burst Hover** | Trick Action | Fire Boost** | Hop Jump* | Humming Top* | Jump Dash* | Jump Step** | Spin Dash* | Spin Jump* | Super Boost* | Super Sonic Boost*
English voice actors
Jason Griffith (Sonic) | Mike Pollock (Eggman, Eggman Nega) | Amy Palant (Tails) | Bella Hudson (Blaze) | Lonnie Hirsch (Captain Whisker) | Christopher Pellegrini (Johnny)
Japanese voice actors
Jun'ichi Kanemaru (Sonic) | Chikao Ōtsuka (Eggman, Eggman Nega) | Ryo Hirohashi (Tails) | Nao Takamori (Blaze) | Shinya Fukumatsu (Captain Whisker) | Kota Nemoto (Johnny)
Other
A New Venture | Blaze's world | Bomb | Bungee Rope | Chaos Emerald | Corkscrew loop | Dash Panel | Dash Ring | Hang Glider | Item Box (Super Ring, Shield, Lightning Shield, Invincibility, High Speed, Tension Bonus, Maximum Tension Bonus, Confusion, Slow, Attract) | Jeweled Scepter | Material (Blue, Iron, Green, Bronze, Red, Silver, Aqua, Gold, Black) | Minecart | Mushroom | Rainbow Ring Shuttle loop | Sol Emerald | Southern Island | Power of the Stars | Ramp | Ring | Sonic Rush Adventure Flash | Sonic Rush Adventure Original Soundtrack | Tension Gauge | Time Attack | Treasure Chest | Vine | Winding Rope

*Exclusive to Sonic the Hedgehog
**Exclusive to Blaze the Cat.