Diamond Dust Zone
Talk

2
6,672pages on
this wiki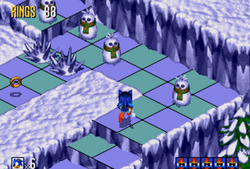 Diamond Dust Zone is the fourth zone of Sonic 3D for the Sega Mega Drive and Sega Saturn, coming after Spring Stadium and before Volcano Valley Zone.
Description
Edit
As with other stages in this game, Diamond Dust consists of two standard Acts followed by a third Act containing only the boss fight. In Acts 1 and 2, Sonic must free captured Flickies from inside badniks, depositing five of the birds into a Goal Ring to progress between sections of the level (usually three per Act). Geographically, the Zone is located on Flickies' Island, presumably on the outer slopes of its volcano, considering the next stage.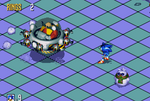 In keeping with the icy theme, Robotnik has augmented his Egg-O-Matic with eight freezing-gas pods he has dotted around the level. Eggman begins as usual, hovering tantalizingly above Sonic's reach, but he'll soon swoop down and attempt to blast the hedgehog with a jet of cryogenic vapor. The nozzles fire cyclically, so the player must land a hit on Eggman when the wave of chilling gas is on the other side of his vehicle. To spice things up a bit, Eggman occasionally drops exploding snowmen onto the battlefield.
External Links
Edit