Drift Challenge is one of the types of events in World Tour of Sonic & All-Stars Racing Transformed.
Overview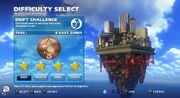 As the name states, this mode requires the use of drifting under a time limit. In this type of event, the course contains specific Drift Zones where the player must drift in to earn extra time and reach the finish line before time runs out. At the start of the mission, the player is always granted with a Boost item to kick-start or use it later in the event.
The player must drift through eight Drift Zones, regardless of the difficulty level. However, as difficulty increases, the zones become narrower, making it difficult to drift in and net time back to the clock. In addition, the time limit the player starts with also decreases.
Events
N/A
N/A
N/A