Attack with a drill. Press a button repeatedly for powered up attacks.


— Basic attack description, Sonic Forces manual[1]
The Drill Wispon[1] is an object that appears in Sonic Forces. It is a Wispon that is themed after the Yellow Wisp. The Drill Wispon can be used by Avatar, allowing the character to penetrate through Badniks, as well as excavate through the ground and climb up walls.
Description
Appearance
Modeled after the Yellow Wisp, the Drill Wispon is a cone-shaped Wispon that is colored yellow with orange strips spiralling through. It has a hole in the middle of the cone, staying true to the Yellow Wisp-motif. The cone is held together by a black and yellow handle that are attached to a gray grip, allowing the user to properly hold the weapon at a comfortable position.
Features and abilities
As its name implies, the Drill Wispon can use the power of the Yellow Wisp and essentially allow the Avatar to use the power of the Yellow Drill Color Power without transforming into the Color Power. The Drill Wispon can be used as an offensive measure against Badniks.
Overview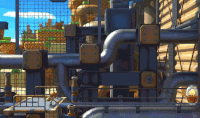 The Drill Wispon allows the user to pierce through enemies, spiralling the user forward to destroy the enemies in front of them. It can also allow the user to climb up walls and tunnel underneath the surface to keep moving forward to the goal.
By advancing through the game, the player can unlock different variants of the Drill Wispon. These variants all have the same basic functions, but offer additional skills to the player when equipped:
Wispon

no.

Skill description
First skill
Second skill
Third skill
1
N/A
N/A
N/A
2
Blocks enemy attacks while braking.
N/A
N/A
3
Awards Rings for reaching a checkpoint.
N/A
N/A
4
Lets you stop on a dime, regardless of speed.
Gives a burst of speed when landing.
N/A
5
Increases grinding speed.
Extends sliding distance.
N/A
6
Increases grinding speed.
Applies a protective shield.
Gives a burst of speed when landing.
7
Grants Rings when starting a stage.
Lets you get up quickly after taking damage.
Awards bonus points for collecting 100 Rings.
8
Lets you stop on a dime, regardless of speed.
Gives a burst of speed after landing a Stomp.
Enables you to perform sequential Wire Attacks faster.
9
Awards Rings for defeating enemies.
Grants invincibility for a short time after collecting 100 Rings.
Awards bonus points when you collect a chain of Rings.
Gallery
Artwork
Screenshots
References
---
Main article | Script | Gallery | Staff | Beta elements
Characters
Playable characters
Sonic (Super Sonic) | Classic Sonic (Classic Super Sonic) | Avatar | Shadow (Episode Shadow)
Other characters
Resistance (Tails, Knuckles, Amy, Team Chaotix (Vector, Espio, Charmy), Silver, Team Dark (Shadow, Rouge, Omega)) | Dr. Eggman | Infinite | Orbot | Cubot | Metal Sonic | Chaos | Zavok | Animals (Cucky, Flicky, Pecky, Picky, Pocky, Ricky, Rocky)
Wisps
Blue Wisp | Green Wisp | Indigo Wisp | Ivory Wisp | Red Wisp | Violet Wisp | White Wisp | Yellow Wisp
World Map regions
Chemical Plant | City | Death Egg | Eggman Empire Fortress | Green Hill | Metropolis | Mystic Jungle
Stages

Regular

Lost Valley | Spaceport | Ghost Town | Prison Hall | VS. Zavok | Egg Gate | Arsenal Pyramid | Luminous Forest | VS. Infinite | Green Hill | VS. Eggman | Park Avenue | Casino Forest | Aqua Road | Sunset Heights | Capital City | VS. Infinite | Chemical Plant | Red Gate Bridge | Guardian Rock | Network Terminal | Death Egg | Metropolitan Highway | Null Space | Imperial Tower | Mortar Canyon | VS. Infinite | Iron Fortress | Final Judgement | VS. Death Egg Robot

Episode Shadow

Enemy Territory | Eggman's Facility | Virtual Reality
Secret
Fire Cannon 1 | Vanish Panel 1 | Bomb Block 1 | Plasma Cannon 1 | Laser Cannon 1 | Reverse Block 1
Extra
Flying Pod | Bomb Block 2 | Laser Cannon 2 | Reverse Block 2 | Vanish Panel 2 | Fire Cannon 2 | Plasma Cannon 2
Enemies
Aero-Chaser | Buzz Bomber | Chopper | Egg Pawn | Egg Tank | Egg Walker | Galaga Bee | Moto Bug | Missile Pod | Nebula | Sandworm | Sprinkler | Valkeen
Bosses
Death Egg Robot | Eggman | Egg Dragoon | Infinite | Metal Sonic | Zavok
Moves/techniques
Air Boost | Boost | Crouch | Double Boost | Double Jump | Drop Dash | Grind Step | Grinding | Homing Attack | Quick Step/Cartwheel | Skydiving | Slide | Super Sonic Boost | Spin Dash | Spin Jump | Stomp | Triple Boost | Wall Jump | Wire Attack
Gimmicks and obstacles
Balloon | Bumper | Bumper wall | Catapult | Conveyor Belt | Dash Panel | Dash Rail | Dash Ring | Flipper | Flywheel | Goal | Goal Plate | Grind Rail | High-speed warp tube | Hint Ring | List of pinball obstacles | Pinball Shooter | Pulley | Ramp | Rainbow Ring | Ring Shooter | Slot Machine | Spiked ball | Spikes | Spring | Spring Pole | Star Post | Wide Spring | Wire Target | Zip Line
Objects
General
Air Bubbles | Blue Ring | Capsule | Container | Costume | Medal | Meteorite | Monitors (Invincibility, Power Sneakers, Shield, Super Ring) | Number Ring | Red Star Ring | Ring | Silver Moon Ring | Wisp Capsule
Wispons
Asteroid | Burst | Cube | Drill | Hover | Lightning | Void
OST/Vocal/Hi-Res Collection/The Vinyl Cutz
Fist Bump | Infinite | Fighting Onward | Nowhere to Run | Justice | Moonlight Battlefield | Virtual Enemies | Set in Motion | Fading World | The Light of Hope | Rhythm And Balance | Supporting Me
Other
Boost Gauge | Chaos Control | Challenge Mission | Daily Mission | Death Crab | Death Egg | Death Egg Robot | Death Egg Robot sentinel | Death Queen | Egg Dragoon | Egg Mobile | Eggman Army | Eggman Empire | Eggman Fleet | Experience | Fan | Health Gauge | Jackal Squad | Mega Mack | Miles Electric | Operation Big Wave | Phantom Ruby | Phantom Ruby prototype | Real-Time Interaction | Replica | Resistance HQ | Sandworm | Skills | Sonic Forces digital comic (Moment of Truth, Stress Test, Looming Shadow, Rise of Infinite) | Sonic Forces: Speed Battle | SOS Mission | Time Over | War to Take Back the Planet | Winding Tunnel | Wisp Gauge