The Drop Dash (ドロップダッシュ, Doroppu Dasshu?)[1] is a move in the Sonic the Hedgehog series. It is a technique that, when used, makes the user do a quick dash just after a drop from midair.
Concept and creation
According to Christian Whitehead, the Drop Dash was designed with new players in mind.[2]
Description
When performing the Drop Dash, Sonic curls into a ball as he drop down to the ground, upon where he will instantly initiate a Spin Dash and roll forward.[1]
In gameplay, the Drop Dash is charged in midair when initiated. Doing so will cause Sonic to launch straight into a Spin Dash once he touches the ground.[2] This allows the player to gain an instant and offensive speed boost just after a drop or jump from midair. However, the move cannot be performed if Sonic takes damage before landing, or if an elemental Shield is active.
Game appearances
Sonic Mania

The Drop Dash made its appearance in Sonic Mania (and its expansion Sonic Mania Plus) as a move used exclusively by Sonic the Hedgehog. If the move is executed while Sonic has transformed into Super Sonic, a mini-earthquake is set off when he hits the ground and the boost will be greater. To perform the Drop Dash in gameplay, the player has to execute the following actions. The move will then be initiated upon landing:
| PS4 | Switch | XONE | PC |
| --- | --- | --- | --- |
| Press and hold // during a jump | Press and hold // during a jump | Press and hold // during a jump | Press and hold [A] / [Q] / [S] during a jump |
By collecting enough medalions in the Bonus Stages, this move can be replaced with the Super Peel-Out or the Insta-Shield by accessing the Secrets menu when starting a "No Save" game.
Sonic Forces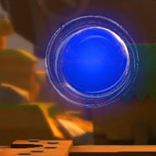 In Sonic Forces, the Drop Dash is a move that is utilized by Classic Sonic. When using it in this game, Classic Sonic gets enveloped in a faint blue aura. To perform the Drop Dash in gameplay, the player has to press and hold

/
/

while in mid-air. Classic Super Sonic can also perform this move but unlike Sonic Mania, he does not perform a mini earthquake upon impact with the ground.
Trivia
In Sonic Lost World, it is possible to use a move that is similar to the Drop Dash when the player keeps on jumping while using Spin Dash.
In Sonic Mania, the sprites for the dust cloud created when releasing the dropdash are oddly labeled under the Explosions.gif file.
References
---
Main article | Gallery | Beta elements | Staff | Glitches | Re-releases (Plus)
Playable characters
Sonic the Hedgehog (Super Sonic) | Miles "Tails" Prower (Super Tails) | Knuckles the Echidna (Super Knuckles) | Mighty the Armadillo* (Super Mighty)* | Ray the Flying Squirrel* (Super Ray)*
Other characters
Dr. Eggman | Hard Boiled Heavies (Heavy King, Heavy Gunner, Heavy Shinobi, Heavy Magician, Heavy Rider) | Phantom Heavies (Phantom King, Phantom Gunner, Phantom Shinobi, Phantom Magician, Phantom Rider) | Metal Sonic (Giga Metal) | Animals (Becky, Cucky, Flicky, Locky, Micky, Pecky, Picky, Pocky, Ricky, Rocky, Tocky, Wocky) | Jimmy
Zones
Angel Island Zone* | Green Hill Zone | Chemical Plant Zone | Studiopolis Zone | Flying Battery Zone | Press Garden Zone | Stardust Speedway Zone | Hydrocity Zone | Mirage Saloon Zone | Oil Ocean Zone | Lava Reef Zone | Metallic Madness Zone | Titanic Monarch Zone | Egg Reverie Zone | Special Stage | Bonus Stage | Pinball Stage*
Enemies
Armadiloid | Aquis | Asteron | Ball Hog | Bat Brain | Blaster | Blastoid | Bloominator* | Bugernaut | Bumpalo | Buzz Bomber | Cactula | Catakiller, Jr. | Chopper | Clucker | Crabmeat | Dango | Dragonfly | Eggrobo | Fireworm | Flasher mk.II | Gohla | Grabber | Hotaru | IceBomba | Iwamodoki | Jawz | Jellygnite | Juggle Saw | Kabasira | Kanabun | Madmole | Matryoshka-Bom | Mecha-Bu | Mega Chopper | Mic Drop | Monkey Dude* | Moto Bug | Newtron | Octus | Poh-Bee | Pointdexter | RattleKiller | Rexon | RhinoBot* | Roller mk.II | Scarab | Sentry Bug | Shutterbug | Silver Sonic | Spiny | Splats | Sweep | TechnoSqueek | Toxomister | Tubinaut | Turbo Spiker | Turbo Turtle | Vultron | Wall Crawl | Woodrow
Bosses
Mini-bosses
DD Wrecker | Amoeba Droid | Heavy Gunner | Big Squeeze | Shiversaw | Hotaru Hi-Watt | Dive Eggman | Uber Caterkiller | Meter Droid | Drillerdroid | Egg Pistons mk.II | Crimson Eye
Zone bosses
Death Egg Robot | Mean Bean Machine | Weather Globe | Spider Mobile | Heavy Shinobi | Metal Sonic | Laundro-Mobile | Heavy Magician | Mega Octus | Heavy Rider | Heavy King | Gachapandora | Phantom Egg | Phantom King and Klepto Mobile
Moves/techniques
Air Glide* | Bounce Jump | Climb | Double Jump | Drop Dash | Fireball Spin Dash | Glide | Hammer Drop* | Insta-Shield | Propeller Flying | Ring Spark Field | Spin Attack | Spin Dash | Spin Jump | Super Peel Out | V. Maximum Overdrive Attack
Gimmicks and obstacles
Beanstalk | Bomb | Bumper | Bungee Rope | Bumper wall | Conveyor Belt | Crusher | Dash Panel | Fan | Fireball Cannon | Flipper | Flywheel | Goal Plate | High-speed warp tube | Ice Spring | Jump Panel | Platform-raising Wheel | Pulley | Ruby Mist | Seesaw | Size Beam | Snowblower | Spiked ball | Spikes | Spring | Star Post | Switch | Transport | Vine | Zip Line
Objects
Air Bubbles | Capsule | Chaos Emerald | Giant Ring | Giant spear | Klepto Mobile | Little Planet flowers | Master Emerald | Metal Sonic Projector | Medallion | Monitor (Aqua Shield, Character*, Hyper Ring, Eggman Mark, Flame Shield, Invincibility, Player Swap, Power Sneakers, Random, S, Shield, Super Ring, Thunder Shield) | Phantom Ruby | Ring | Robot teleporter | Sphere | Star Circle | Time Warp Plate | UFO | Warp Point
Other
Angel Island | Auto Running | Continue | Death Egg Robot | Debug Mode | Egg Mobile | Freeze | Hang Glider | Level Select | Little Planet | Mega Mack | Perfect Bonus | Shuttle loop | Sonic Mania Adventures (Sonic Returns, Sonic and Tails, & Knuckles, Mighty and Ray, Metal Mayhem) | Time Attack | Time Over | Tornado | Tunnelbot | Winding Tunnel

*Appears in Sonic Mania Plus only
---
Main article | Script | Gallery | Staff | Beta elements
Characters
Playable characters
Sonic (Super Sonic) | Classic Sonic (Classic Super Sonic) | Avatar | Shadow (Episode Shadow)
Other characters
Resistance (Tails, Knuckles, Amy, Team Chaotix (Vector, Espio, Charmy), Silver, Team Dark (Shadow, Rouge, Omega)) | Dr. Eggman | Infinite | Orbot | Cubot | Metal Sonic | Chaos | Zavok | Animals (Cucky, Flicky, Pecky, Picky, Pocky, Ricky, Rocky)
Wisps
Blue Wisp | Green Wisp | Indigo Wisp | Ivory Wisp | Red Wisp | Violet Wisp | White Wisp | Yellow Wisp
World Map regions
Chemical Plant | City | Death Egg | Eggman Empire Fortress | Green Hill | Metropolis | Mystic Jungle
Stages

Regular

Lost Valley | Spaceport | Ghost Town | Prison Hall | VS. Zavok | Egg Gate | Arsenal Pyramid | Luminous Forest | VS. Infinite | Green Hill | VS. Eggman | Park Avenue | Casino Forest | Aqua Road | Sunset Heights | Capital City | VS. Infinite | Chemical Plant | Red Gate Bridge | Guardian Rock | Network Terminal | Death Egg | Metropolitan Highway | Null Space | Imperial Tower | Mortar Canyon | VS. Infinite | Iron Fortress | Final Judgement | VS. Death Egg Robot

Episode Shadow

Enemy Territory | Eggman's Facility | Virtual Reality
Secret
Fire Cannon 1 | Vanish Panel 1 | Bomb Block 1 | Plasma Cannon 1 | Laser Cannon 1 | Reverse Block 1
Extra
Flying Pod | Bomb Block 2 | Laser Cannon 2 | Reverse Block 2 | Vanish Panel 2 | Fire Cannon 2 | Plasma Cannon 2
Enemies
Aero-Chaser | Buzz Bomber | Chopper | Egg Pawn | Egg Tank | Egg Walker | Galaga Bee | Moto Bug | Missile Pod | Nebula | Sandworm | Sprinkler | Valkeen
Bosses
Death Egg Robot | Eggman | Egg Dragoon | Infinite | Metal Sonic | Zavok
Moves/techniques
Air Boost | Boost | Crouch | Double Boost | Double Jump | Drop Dash | Grind Step | Grinding | Homing Attack | Side Step/Cartwheel | Skydiving | Slide | Super Sonic Boost | Spin Dash | Spin Jump | Stomp | Triple Boost | V. Maximum Overdrive Attack | Wall Jump | Wire Attack
Gimmicks and obstacles
Balloon | Bumper | Conveyor Belt | Dash Panel | Dash Rail | Dash Ring | Flipper | Flywheel | Goal | Goal Plate | Grind Rail | High-speed warp tube | Hint Ring | Jump Panel | Laser Field Block | List of pinball obstacles | Pinball Shooter | Pulley | Rainbow Ring | Ring Shooter | Slot Machine | Spiked ball | Spikes | Spring | Spring Pole | Star Post | Wide Spring | Wire Target | Zip Line
Objects
General
Air Bubbles | Blue Ring | Capsule | Container | Costume | Medal | Meteorite | Monitors (Invincibility, Power Sneakers, Shield, Super Ring) | Number Ring | Red Star Ring | Ring | Silver Moon Ring | Wisp Capsule
Wispons
Asteroid | Burst | Cube | Drill | Hover | Lightning | Void
OST/Vocal/Hi-Res Collection/The Vinyl Cutz
Fist Bump | Infinite | Fighting Onward | Nowhere to Run | Justice | Moonlight Battlefield | Virtual Enemies | Set in Motion | Fading World | The Light of Hope | Rhythm And Balance | Supporting Me
Other
Boost Gauge | Chaos Control | Challenge Mission | Daily Mission | Death Crab | Death Egg | Death Egg Robot | Death Egg Robot sentinel | Death Queen | Egg Dragoon | Egg Mobile | Eggman Army | Eggman Empire | Eggman Fleet | Experience | Fan | Health Gauge | Jackal Squad | Mega Mack | Miles Electric | Operation Big Wave | Phantom Ruby | Phantom Ruby prototype | Real-Time Interaction | Replica | Resistance HQ | Sandworm | Skills | Sonic Forces digital comic (Moment of Truth, Stress Test, Looming Shadow, Rise of Infinite) | Sonic Forces: Speed Battle | SOS Mission | Time Over | War to Take Back the Planet | Winding Tunnel | Wisp Gauge