E-01 Baby Kiki
Appearances
First appearance
Game
appearances
Biographical overview
Creator
Physical description
Species

Robot

Color scheme

Orange and white

Attire

Black and white

Alignment and character traits
Alignment

Evil

Powers and abilities
Moves and techniques

Throwing bombs
E-01 Baby Kiki (キキ, Kiki?), also known simply as Kiki, is an E-Series robot from the game Sonic Adventure.
Appearance
Baby Kiki is a monkey robot that resembles the Coconuts Badnik. Its usual method of attack is to hang in trees or other remote areas and throw bombs at the player.
Game appearances
Sonic Adventure
Baby Kiki appeared in Emerald Coast, Twinkle Park, Red Mountain and Hot Shelter. One Baby Kiki that is locked in a cage serves as the key to enter Red Mountain, and can only be destroyed by Sonic the Hedgehog's Light Speed Attack after finding the Ancient Light.
Tails is the only playable character that doesn't encounter a Baby Kiki normally (unless he glitches into the levels listed above).
The E-08 Kart Kiki in this game looks like Baby Kiki, but attacks by driving a bumper car towards enemies instead of by throwing projectiles.
Mario & Sonic at the Olympic Winter Games
In Mario & Sonic at the Olympic Winter Games, Kiki appears in the DS Adventure Tour, in which he ruins a patch of flowers until Daisy beats him in a snowball fight. After this, Kiki opens a gate and retreats to get repaired. 
Sonic Generations
Baby Kiki reappears in the Nintendo 3DS version of Sonic Generations at Emerald Coast. It acts the same as it was previously on Sonic Adventure.
Merchandise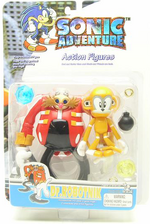 As part of the Sonic Adventure Toy Line made by the company Toy Island, Baby Kiki was released as an accessory with the Dr. Robotnik action figure. Baby Kiki has five points of articulation, a removable tail and a bomb which he cannot actually hold without the application of some kind of adhesive (other small characters in this collection were Froggy and Chao both of which had zero points of articulation.). Kiki is one of three Badniks from Sonic Adventure to be translated into an action figure (the other two being E-102 Gamma by ReSaurus and Spinner by Jazwares). The Dr. Robotnik figure was re-released as a Sonic X toy, without Baby Kiki.
Gallery
---
Main article | Gallery | Beta Elements | Re-releases (DX | 2010)
Characters
Sonic (Super Sonic) | Tails | Knuckles | Amy | E-102 Gamma | Big | Eggman | Chaos | Froggy | Tikal | Pachacamac | Chao | Metal Sonic* | Cream* | Unnamed Sonic robot* | Chao
Enemies
Baby Kiki | Rhinotank | Sweeper | Leon | Boa-Boa | Spinner | Ice Ball | Kart Kiki | Buyoon | Cop Speeder | Spiky Spinner | Electro Spinner | Ghora | Egg Keeper | Beat | Mecha Fish | Egg Pirate
E-100 Series
Beta (Mark II) | Gamma | Delta | Epsilon | ZERO | Zeta
Locations
Adventure Fields
Egg Carrier | Mystic Ruins | Station Square
Chao Gardens
Station Square Garden | Mystic Ruins Garden | Egg Carrier Island
Misc.
Angel Island | Black Market | Chao Stadium | Shrine of Knuckles's race | Tails' Lab
Action Stages
Emerald Coast | Windy Valley | Casinopolis | IceCap | Sky Chase | Twinkle Park | Speed Highway | Red Mountain | Sky Deck | Lost World | Hot Shelter | Sand Hill | Twinkle Circuit | Final Egg
Bosses
Chaos 0 | Chaos 2 | Chaos 4 | Chaos 6 | E-101 Beta | E-101 Mark II | E-102 Gamma | E-103 Delta | E-104 Epsilon | E-105 Zeta | Egg Carrier | Egg Hornet | Egg Viper | Egg Walker | Perfect Chaos | ZERO
Moves/techniques
Bolt of lightning | Climb | Dig | Flight Mode | Propeller Flight | Glide | Hammer Attack | Hammer Jump | Hover | Homing Attack | Homing Missile Launch | Jump Attack | Laser Gun | Light Speed Attack | Light Speed Dash | Lure Attack | Maximum Heat Knuckles Attack | Pick | Punch Attack | Rapid Tails Attack | Spin Hammer Attack | Spin Dash | Spin Jump | Tails Attack

Level Up Items

Ancient Light | Crystal Ring | Fighting Gloves | Jet Anklet | Jet Booster | Laser Blaster | Life Belt | Light Speed Shoes | Long Hammer | Lure | Power Rod | Rhythm Badge | Shovel Claw | Warrior Feather
English voice actors
Ryan Drummond (Sonic) | Corey Bringas (Tails) | Michael McGaharn (Knuckles) | Deem Bristow (Eggman) | Jennifer Douillard (Amy) | Jon St. John (Big) | Elara Distler (Tikal, Station Square Train Voice, Default Menu Voice) | Steve Broadie (Gamma, Pachacamac, Mystic Ruins Train Voice) | Tomoko Sasaki (Chao)
Japanese voice actors
Jun'ichi Kanemaru (Sonic) | Kazuki Hayashi (Tails) | Nobutoshi Kanna (Knuckles) | Chikao Ōtsuka (Eggman) | Taeko Kawata (Amy) | Shun Yashiro (Big) | Kaori Asō (Tikal) | Jōji Nakata (Gamma) | Tōru Ōkawa (Pachacamac) | Kaho Kōda (Station Square Train Voice) | Nobutoshi Kanna (Mystic Ruins Train Voice) | Elara Distler (Default Menu Voice) | Tomoko Sasaki (Chao)

Original Soundtrack

/

Remix

/

Vocal Mini Album

/

20th Anniversary

/

Passion & Pride

Believe In Myself | It Doesn't Matter | Lazy Days | My Sweet Passion | Open Your Heart | Unknown from M.E.

Other
777 Slots Pinball | Air Bubbles | Auto Running | Balloon | Bumper | Bumper Car | Cannon | Capsule | Card & Pinball | Chao Egg | Chaos Emerald | Chao in Space | Chao Machine | Conveyor Belt | Corkscrew loop | Crank | Dash Panel | Dash Ring | Debug Mode | Egg Carrier 2 | Emblem | Emerald Radar | Emerald Shard | Employee ID Card | Fan | Flipper | Hanging Bell | Hedgehog Hammer | Helicopter | Hint Box | Item Box (Bomb, Extra Life, Invincibility, Lightning Shield, Power Sneakers, Shield, Super Ring) | Jump Panel | Key Stone (Gold Statue, Ice Stone, Silver Statue, Wind Stone) | Lit Panel | Metal barrel | Mission Mode | Monkey Destruction Switch | Mr. Know-It-All | Pinball Shooter | Power cube | Ramp | Ring | Rocket | Sandboard | Shrine of Knuckles's race | Shuttle loop | Sky-Chase Dragon | Slot Machine | Snowboard | Sonic Token | Station Square Police Department | Switch | Target Doll | Teleporter | Tornado | Tornado 2 | Wide Spring | Wind Path | Zip Line

*Exclusive to Sonic Adventure DX: Director's Cut.