E-06 (Bladed) Spinner
Talk

1
6,660pages on
this wiki
Spinner

A frequent flying enemy
Appearances
First appearance
Game
appearances
Biographical overview
Creator
Also known as

Spina, Bladed Spinner

Physical description
Species
Color scheme

Purple, yellow, silver, cyan

Eyes

Cyan

Alignment and character traits
Alignment

Evil

Skills, abilities and powers
Skills

Flight
Electrical charges (Electro-Spinner)
The E-06 (Bladed) Spinner, called Spina (スピナ, Supina?) in Japan, is one of Eggman's most recurring robots in the Sonic series; its first appearance was Sonic Adventure.
Appearance
Edit
They are bat-like E-Series enemies that float in mid-air with giant spinning blades. There are more dangerous variations known as the E-15 Spiky Spinner or the E-16 Electro Spinner. Although the color varies, they are mainly purple. Since Sonic Advance 3, they have been absent from the games, but they then return in Sonic Unleashed with an upgraded appearance and retain their appearance in Sonic Colors and Sonic Generations. They actually act as one of Sonic's assets. By creating an Action Chain via Homing Attack, Sonic can access hidden locations.
Game Appearances
Edit
In Sonic Adventure, Spinners are rather useless robots that float around. However, by using the Homing Attack on them in a chain, Sonic is able to access hidden areas. They appear in Casinopolis, Speed Highway, Red Mountain, Sky Deck and Final Egg. In this game, it is officially known as the E-06 Bladed Spinner. They seem to be replaced in Sonic Adventure 2 by a similar G.U.N. robot called the Mono Beetle.
The Bladed Spinner returns on the Nintendo Gameboy Advance, and is now known by its Japanese name, Spina. It also has a more cartoonish appearance, resembling a bat with large, angry-looking eyes. Spina's blades appear to be different, resembling shields that somehow keep it floating in mid-air. It can only be damaged by a blow to the head, as their sides are protected by their shields.
The Spinner returns to home consoles in Sonic Unleashed, with a less-menacing appearance that resembles an upgraded E-06 Bladed Spinner, though it is now simply known as Spinner. The E-16 Electro Spinner is now considered the same robot, except it is yellow and green. They are found in nearly all daytime stages.
The Spinner reappears in Sonic Colors. In this game, its appearance is a hybrid of Spina (from Sonic Advance 2 and Sonic Advance 3) and Spinner (from Sonic Unleashed). Its behavior is the same as in Sonic Unleashed. There is also a steel version that cannot be destroyed by any means, and it is very useful for advancing upwards in 2-D.
Spinner appears once again in Seaside Hill, the returning stage from Sonic Heroes, even though it never appeared in this game. It also appears in Speed Highway, as it was in the original variation of this stage. However, the Spinner does not appear in Rooftop Run or Planet Wisp, even though it was present in the original versions of these levels.
Sonic Jump (2012)
Edit
Spinner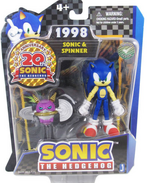 appears along with a figure of Sonic the Hedgehog with a background of Speed Highway. It was released along with other notable enemies for Sonic's 20th Anniversary.
Screenshots
Edit