E-06 (Bladed) Spinner
Talk

1
7,425pages on
this wiki
Spinner

Spinner, a frequent flying robot.
Appearances
First appearance
Game
appearances
Biographical overview
Creator
Also known as

Spina, Bladed Spinner

Physical description
Species
Color scheme

Purple, yellow, silver, cyan

Eyes

Cyan

Alignment and character traits
Alignment

Evil

Skills, abilities and powers
Skills

Flight
Electrical charges (Electro-Spinner)
The E-06 (Bladed) Spinner, called Spina (スピナ, Supina?) in Japan, is one of Eggman's most recurring robots in the Sonic series; its first appearance was in Sonic Adventure.
Appearance
They are bat-like E-Series enemies that float in mid-air with giant spinning blades. There are more dangerous variations known as the E-15 Spiky Spinner or the E-16 Electro Spinner. Although the color varies, they are mainly purple. Since Sonic Advance 3, they have been absent from the games, but they then return in Sonic Unleashed with an upgraded appearance and retain their appearance in Sonic Colors and Sonic Generations. They actually act as one of Sonic's assets. By creating an Action Chain via Homing Attack, Sonic can access hidden locations.
Game Appearances
Sonic Adventure
In Sonic Adventure, Spinners are rather useless robots that float around. However, by using the Homing Attack on them in a chain, Sonic is able to access hidden areas. They appear in Casinopolis, Speed Highway, Red Mountain, Sky Deck and Final Egg. In this game, it is officially known as the E-06 Bladed Spinner. They seem to be replaced in Sonic Adventure 2 by a similar G.U.N. robot called the Mono Beetle.
Sonic Advance series
The Bladed Spinner returns on the Sonic Advance 2 and Sonic Advance 3, where it is now known by its Japanese name, Spina. It also has a more cartoonish appearance, resembling a bat with large, angry-looking eyes. Spina's blades appear to be different, resembling shields that somehow keep it floating in mid-air. It can only be damaged by a blow to the head, as their sides are protected by their shields.
Sonic Unleashed
The Spinner returns to home consoles in Sonic Unleashed, with a less-menacing appearance that resembles an upgraded E-06 Bladed Spinner, though it is now simply known as Spinner. The E-16 Electro Spinner is now considered the same robot, except it is yellow and green. They are found in nearly all daytime stages.
Sonic Colors
The Spinner reappears in Sonic Colors. In this game, its appearance is a hybrid of Spina (from Sonic Advance 2 and Sonic Advance 3) and Spinner (from Sonic Unleashed). Its behavior is the same as in Sonic Unleashed. There is also a steel version that cannot be destroyed by any means, and it is very useful for advancing upwards in 2-D.
Sonic Generations
Spinner appears once again in Sonic Generations, where it is featured at Seaside Hill, the returning stage from Sonic Heroes, even though it never appeared in this game. It also appears in Speed Highway, as it was in the original variation of this stage. However, the Spinner does not appear in Rooftop Run or Planet Wisp, even though it was present in the original versions of these levels.
Sonic Jump (2012)
Spinner appears again in (the 2012 version of) the mobile game Sonic Jump. It behaves the same as it did in Sonic Unleashed and Sonic Colors. As with all other enemies in the game, it can only be destroyed from below.
Sonic Lost World
Spinners make their next appearance in Sonic Lost World. The Spinners in Sonic Lost World will have a cartoon-like design than their previous models, just like most of the badniks in the video game. During the game, it turns out that badniks, Spinners included, got hijacked by Deadly Six. It will appear as an enemy in both Windy Hill and Desert Ruins.
Trivia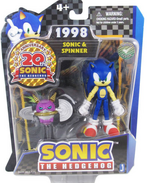 Spinner appears along with a figure of Sonic the Hedgehog with a background of Speed Highway. It was released along with other notable enemies for Sonic's 20th Anniversary.
Spinner could actually be based off of the Ball Drone badnik from the cancelled Sega Saturn video game, Sonic X-treme.
Gallery
Artwork
Screenshots
Sonic Adventure

/

Remake

/

DLC

/

Beta Elements

Characters
Sonic | Tails | Knuckles | Amy | E-102 Gamma | Big | Super Sonic | Eggman | Chaos | Froggy | Tikal | Pachacamac | Chao | Metal Sonic* | Cream* | Silver Sonic II* | Chao
E-00 Series
E-01 | Baby Kiki | Rhino-Tank | Sweeper | Leon | Boa-Boa | Spinner | Ice Ball | Kart Kiki | Buyoon | Cop Speeder | Spiky Spinner | Electro Spinner | Ghora | Egg Keeper | Beat | Mecha Fish | Egg Pirate
E-100 Series
Alpha | Beta | Gamma | Delta | Epsilon | Zeta
Locations
Station Square | Angel Island | Egg Carrier | Egg Carrier 2 | Tails' Lab | Mystic Ruins
Action Stages
Emerald Coast | Windy Valley | Casinopolis | IceCap | Sky Chase | Twinkle Park | Speed Highway | Red Mountain | Sky Deck | Lost World | Hot Shelter | Sand Hill | Twinkle Circuit
Bosses
Chaos 0 | Chaos 2 | Chaos 4 | Chaos 6 | E-100 Alpha | E-101 Beta | E-102 Gamma | E-103 Delta | E-104 Epsilon | E-105 Zeta | Egg Carrier | Egg Hornet | Egg Viper | Egg Walker | Perfect Chaos
Moves/Techniques
Auto Running | Dig | Flight Mode | Hover | Light Speed Attack | Light Speed Dash | Lightning Bolt | Lure Attack | Maximum Heat Knuckles Attack | Rapid Tails Attack | Spin Hammer Attack | Spin Dash | Spin Jump

Ugrades

Ancient Light | Crystal Ring | Fighting Gloves | Jet Anklet | Jet Booster | Laser Blaster | Life Belt | Light Speed Shoes | Long Hammer | Lure | Power Rod | Rhythm Badge | Shovel Claw | Warrior Feather
English Voice Actors
Ryan Drummond (Sonic) | Corey Bringas (Tails) | Michael McGaharn (Knuckles) | Deem Bristow (Eggman) | Jennifer Douillard (Amy) | Jon St. John (Big) | Elara Distler (Tikal, Station Square Train Voice, Default Menu Voice) | Steve Broadie (Gamma, Pachacamac, Mystic Ruins Train Voice) | Tomoko Sasaki (Chao)
Japanese Voice Actors
Jun'ichi Kanemaru (Sonic) | Kazuki Hayashi (Tails) | Nobutoshi Kanna (Knuckles) | Chikao Ōtsuka (Eggman) | Taeko Kawata (Amy) | Shun Yashiro (Big) | Kaori Asō (Tikal) | Jōji Nakata (Gamma) | Tōru Ōkawa (Pachacamac) | Kaho Kōda (Station Square Train Voice) | Nobutoshi Kanna (Mystic Ruins Train Voice) | Elara Distler (Default Menu Voice) | Tomoko Sasaki (Chao)

Original Soundtrack

/

Remix

/

Vocal Mini Album

Believe In Myself | It Doesn't Matter | Lazy Days | My Sweet Passion | Open Your Heart | Unknown from M.E.

Other
Air Bubbles | Bumper | Cannon | Capsule | Chaos Emeralds | Chao in Space | Conveyor Belt | Debug Mode | Emblem | Emerald Shards | Flipper | Gallery | Goal Balloon | Hedgehog Hammer | Item Box (Super Ring, Shield, Lightning Shield, Power Sneakers, Invincibility, Extra Life, Bomb) | Mr. Know-It-All | Pinball Shooter | Rings | Rocket | Sandboard | Shuttle Loop | Sky-Chase Dragon | Slot Machine | Snowboard | Sonic Token | Station Square Police | Target Dolls | Twinkle Circuit Hover Car

Articles that have an "*" by it indicates that the article appears only on the remake of Sonic Adventure, Sonic Adventure DX.