E-10000Y
Talk

17
7,865pages on
this wiki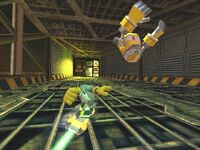 E-10000Y is a robot seen in the Egg Factory level of Sonic Riders. They also appear in Sonic Free Riders as a possible pair of opponents in Relay Races.
Game Appearances
Sonic Riders
In Sonic Riders, the E-10000Y robots are not playable and are instead used as obstacles on the race courses. In this game, the E-10000Y floats just above the ground as it has no legs. Its main purpose appears to be capturing intruders in Eggman's base. When playing Egg Factory's frozen version, Ice Factory, the robots are instead spraying ice around the factory, and are still obstacles.
Sonic Free Riders
In Sonic Free Riders, a pair of E-10000Y robots appear as computer-controlled opponents in the game's Relay Races.
Trivia
The 'Y' may possibly stand for yellow.