E-105 Zeta

E-105 Zeta
Appearances
First appearance
Game
appearances
Appearances
in other media
Biographical overview
Age

Unknown (deceased)

Creator
Birthplace

The Egg Carrier

Nickname

That purple demon (by Sonic and Gamma)

Physical description
Species

Robot

Gender

None (referred to as male)

Height

215 cm (7 ft)

Weight

825.256 kg (1815.563 lbs)

Color scheme

Silver and Purple

Eyes

Green

Alignment and character traits
Likes

Destruction

Dislikes

Justice

Powers and abilities
Skills

Eight advanced missile launchers
E-105 Zeta (E-105 "ゼータ", E-105 Zeta?), or E105ζ, is an E-Series robot constructed to serve on board the Egg Carrier. Initially he is a re-colored clone of E-102 Gamma, but later goes through severe alteration and reconstruction to a considerably larger stationary defense unit, built into the core of the Egg Carrier.
History
E-105 Zeta was banished from the Egg Carrier crew, along with Delta and Epsilon, by Dr. Eggman for retrieving the wrong frog when he was searching for Froggy. However, like 'brother' E-101 Beta, Zeta stays aboard the Egg Carrier and undergoes extreme surgery and reconstruction. He emerges as a much larger advanced defense unit, no longer mobile but with seven rocket turrets around his perimeter. E-102 Gamma still manages to destroy him however and releases the Flicky inside.
Boss Battle
Boss Battle
To defeat E-105 Zeta, to take out all the large turrets surrounding the robot. Don't get fancy with this battle. Run around the rink and flash your targeting laser toward the robot when you can. When E-105 launches a volley of missiles, keep moving to lure them off course, or target and destroy them. Each time you blow off a turret, E-105's energy level drops. When the turrets are all gone, so is E-105.
Video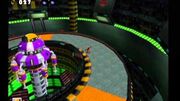 Apperances in other media
Sonic X
In Sonic X, E-101 Beta replaced much of Zeta's role, so much that in fact, Zeta only appears in "Revenge of the Robot". This is when Gamma comes to the Hot Shelter to destroy him. However, he just inserts a deactivation code through a cable cord in the show.
Trivia
The lower half of Zeta's frame is built out of Sega Dreamcasts, inserted by Sonic Team as an Easter Egg. This is present in all versions of Sonic Adventure.
Zeta is one of two E-series robots in Sonic Adventure to receive a physical upgrade and change in appearance (the other being Beta). The remaining E-Series robots, including Gamma, only received enhanced Arm Cannons.
Gallery
Screenshots
Sonic the Hedgehog characters
---
Main article | Gallery | Beta Elements | Re-releases (DX | 2010)
Characters
Sonic (Super Sonic) | Tails | Knuckles | Amy | E-102 Gamma | Big | Eggman | Chaos | Froggy | Tikal | Pachacamac | Chao | Metal Sonic* | Cream* | Unnamed Sonic robot* | Chao
Enemies
Baby Kiki | Rhinotank | Sweeper | Leon | Boa-Boa | Spinner | Ice Ball | Kart Kiki | Buyoon | Cop Speeder | Spiky Spinner | Electro Spinner | Ghora | Egg Keeper | Beat | Mecha Fish | Egg Pirate
E-100 Series
Beta (Mark II) | Gamma | Delta | Epsilon | ZERO | Zeta
Locations
Adventure Fields
Egg Carrier | Mystic Ruins | Station Square
Chao Gardens
Station Square Garden | Mystic Ruins Garden | Egg Carrier Island
Misc.
Angel Island | Black Market | Chao Stadium | Shrine of Knuckles's race | Tails' Lab
Action Stages
Emerald Coast | Windy Valley | Casinopolis | IceCap | Sky Chase | Twinkle Park | Speed Highway | Red Mountain | Sky Deck | Lost World | Hot Shelter | Sand Hill | Twinkle Circuit | Final Egg
Bosses
Chaos 0 | Chaos 2 | Chaos 4 | Chaos 6 | E-101 Beta | E-101 Mark II | E-102 Gamma | E-103 Delta | E-104 Epsilon | E-105 Zeta | Egg Carrier | Egg Hornet | Egg Viper | Egg Walker | Perfect Chaos | ZERO
Moves/techniques
Bolt of lightning | Climb | Dig | Flight Mode | Propeller Flight | Glide | Hammer Attack | Hammer Jump | Hover | Homing Attack | Homing Missile Launch | Jump Attack | Laser Gun | Light Speed Attack | Light Speed Dash | Lure Attack | Maximum Heat Knuckles Attack | Pick | Punch Attack | Rapid Tails Attack | Spin Hammer Attack | Spin Dash | Spin Jump | Tails Attack

Level Up Items

Ancient Light | Crystal Ring | Fighting Gloves | Jet Anklet | Jet Booster | Laser Blaster | Life Belt | Light Speed Shoes | Long Hammer | Lure | Power Rod | Rhythm Badge | Shovel Claw | Warrior Feather
English voice actors
Ryan Drummond (Sonic) | Corey Bringas (Tails) | Michael McGaharn (Knuckles) | Deem Bristow (Eggman) | Jennifer Douillard (Amy) | Jon St. John (Big) | Elara Distler (Tikal, Station Square Train Voice, Default Menu Voice) | Steve Broadie (Gamma, Pachacamac, Mystic Ruins Train Voice) | Tomoko Sasaki (Chao)
Japanese voice actors
Jun'ichi Kanemaru (Sonic) | Kazuki Hayashi (Tails) | Nobutoshi Kanna (Knuckles) | Chikao Ōtsuka (Eggman) | Taeko Kawata (Amy) | Shun Yashiro (Big) | Kaori Asō (Tikal) | Jōji Nakata (Gamma) | Tōru Ōkawa (Pachacamac) | Kaho Kōda (Station Square Train Voice) | Nobutoshi Kanna (Mystic Ruins Train Voice) | Elara Distler (Default Menu Voice) | Tomoko Sasaki (Chao)

Original Soundtrack

/

Remix

/

Vocal Mini Album

/

20th Anniversary

/

Passion & Pride

Believe In Myself | It Doesn't Matter | Lazy Days | My Sweet Passion | Open Your Heart | Unknown from M.E.

Other
777 Slots Pinball | Air Bubbles | Auto Running | Balloon | Bumper | Bumper Car | Cannon | Capsule | Card & Pinball | Chao Egg | Chaos Emerald | Chao in Space | Chao Machine | Conveyor Belt | Corkscrew loop | Crank | Dash Panel | Dash Ring | Debug Mode | Egg Carrier 2 | Emblem | Emerald Radar | Emerald Shard | Employee ID Card | Fan | Flipper | Hanging Bell | Hedgehog Hammer | Helicopter | Hint Box | Item Box (Bomb, Extra Life, Invincibility, Lightning Shield, Power Sneakers, Shield, Super Ring) | Jump Panel | Key Stone (Gold Statue, Ice Stone, Silver Statue, Wind Stone) | Lit Panel | Metal barrel | Mission Mode | Monkey Destruction Switch | Mr. Know-It-All | Pinball Shooter | Power cube | Ramp | Ring | Rocket | Sandboard | Shrine of Knuckles's race | Shuttle loop | Sky-Chase Dragon | Slot Machine | Snowboard | Sonic Token | Station Square Police Department | Switch | Target Doll | Teleporter | Tornado | Tornado 2 | Wide Spring | Wind Path | Zip Line

*Exclusive to Sonic Adventure DX: Director's Cut.