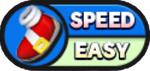 The Easy Type is a character type that appears in Sonic Runners.
Description
The Easy Type was introduced in Sonic Runners with the inclusion of Silver. Characters of this typing have their total score cut by 20%, but in return, they cut the game speed by 10%, making them ideal for beginners.
The Easy Type characters were among the earliest characters to be available by purchase. Unlike other characters who became available for purchase later on, they were purchasable with either 150 Red Star Rings (50 less than the standard price) or 1.500.000 Rings (500.000 less than the standard price).
List of Easy Type characters
Ad blocker interference detected!
Wikia is a free-to-use site that makes money from advertising. We have a modified experience for viewers using ad blockers

Wikia is not accessible if you've made further modifications. Remove the custom ad blocker rule(s) and the page will load as expected.