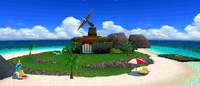 The Egg Carrier island is the third and last Chao Garden that appears in Sonic Adventure and Sonic Adventure DX: Director's Cut.
Description
This hidden island is located near the Egg Carrier. It has a beautiful beach surrounded by a clear ocean. It contains a huge missile with a cyan core crashed in the sand and an inaccessible Eggman's base with a rotative communication antenna on a small hill. Near the missile, there is a Chao Machine like in all the Chao Gardens, and near the base entrance there are two Warp Holes to access the other gardens and two Chao Eggs. Across this Chao Garden, there are four rocks, fruit palmtrees deployed from the beach, grass, and a metal deck chair with an umbrella.
To access to the island, the player has to go inside the Egg Carrier and find a door leading to a hidden room, which the player can open by entering the password "EGGMAN". Inside the hidden room, there will then be a teleporter that will take the player straight to Egg Carrier Island. To return to the hidden room from Egg Carrier Island, the player has to use the teleporter located on a platform on the beach. It can also be accessed through a Warp Holw like the other Chao Gardens, with the teleporter leading there displaying a red hologram with the Eggman Empire sign and the title "EGG CARRIER" in a triangle and between its acronym, "E C". Once the player unlocks the Egg Carrier's hall and comes back to Station Square, the player can unlock the teleporter even without acceding the Egg Carrier Island.
Differences between SA and SADX
SA
) and the remake (
SADX
):
In general the island is conical in SA, while in SADX, the island is more plane with more space:

The small hill is taller and ocuppies much more space. In SA, it has a large road leading to the teleporters, while in SADX, the hill is flatter and the large road is removed, giving the player the facility to go to the teleporters.
In SA, the sea is deeper with a small sand beach (which makes it the most underwater zone in the game) which the characters can drown in. In SADX, the sea is more decline exaggeratedly with a bigger sand beach and reaches up to Sonic's shoulder at most.

Like all of the Chao Gardens, the monitor is a VMU to save Chao or to play Chao Adventure. In SADX, the VMU is replaced by a Chao Machine with a Game Boy Advance to delete or name a Chao, or create a connection to the Tiny Chao Garden. In SADX for the Xbox 360/PS3, the Game Boy Advance monitor is replaced by a Chao head monitor, removing the connection to the Tiny Chao Garden.
The island has a lot of overhead clouds in SA, but in SADX, there are only clouds in the horizon.
In SA, there are two fruit palmtrees behind the metal deck chair. In SADX they were removed and moved to a different place.
Like all the Chao Gardens, in SA the fruit palmtrees were designed polygonally, but in SADX they were re-designed to be more detailed.
An invisible wall on top of the missile was removed in SADX, making it possible to stand on top of it.
A bug was fixed where a Chao sometimes do not spawn in the SA version.
Trivia
Unlike the other Chao Gardens, the Chao does not go to the water to try to swim, as the water is more difficult to reach than the other gardens, which is better to raise Chao.

This is the only Chao Garden to not have this problem.

This Chao Garden contains much more space to tour than the other Chao Gardens.
In Sonic Adventure, there is a hidden Ring underwater next to the metal deck chair. It cannot be collected without hacks due to being behind an invisible wall.
In the PC version, a glitch might happen if the player got the maximum Chao amount (24; 8 per Garden), the game closes with an error notice once the player warps to the island. To correct this glitch, the player may have to delete the Chao Garden data and restart them.
In the original Sonic Adventure version, the water there is deep enough for a player to drown in, making it the only Chao Garden in the entire series that a character (save for E-102 Gamma) can die in. In SADX, Tails is still able to drown in the water due to his short stature.
Gallery
Sonic Adventure DX
Music
| Name | Artist | Length | Music Track |
| --- | --- | --- | --- |
| Theme of "CHAO" | Fumie Kumatani | 2:27 | |
---
Main article | Gallery | Beta Elements | Staff | Glitches | Re-releases (DX | 2010)
Scripts (Sonic, Tails, Knuckles, Amy, Big, Gamma, Super Sonic)
Characters
Sonic (Super Sonic) | Tails | Knuckles | Amy | E-102 Gamma | Big | Eggman | Chaos (Chaos 1, Chaos 2, Chaos 4, Chaos 6, Perfect Chaos) | Froggy | Tikal | Pachacamac | Grandma | Metal Sonic* | Cream* | Mr. Know-It-All | Unnamed Sonic robot* | Chao | Flickies | Animals (Deer, Elephant, Gorilla, Kangaroo, Koala, Lion, Mole, Parrot, Peacock, Penguin, Rabbit, Seal, Sea Otter, Skunk, Swallow)
Enemies
Beat | Bladed Spinner | Boa Boa | Buyoon | Cart Kiki | Cop Speeder | Egg Keeper | Electro Spinner | Gola | Ice Ball | Kiki | Leon | mechanical fish | Pirate | Rhinotank | Spiky Spinner | Sweeper
E-100 Series
Beta (Mark II) | Gamma | Delta | Epsilon | ZERO | Zeta
Locations
Adventure Fields
Egg Carrier | Mystic Ruins | Station Square
Chao Gardens
Station Square Garden | Mystic Ruins Garden | Egg Carrier Island
Misc.
Angel Island | Black Market | Chao Stadium | Shrine of Knuckles's race | Tails' Lab
Action Stages
Emerald Coast | Windy Valley | Casinopolis | IceCap | Sky Chase | Twinkle Park | Speed Highway | Red Mountain | Sky Deck | Lost World | Hot Shelter | Sand Hill | Twinkle Circuit | Final Egg
Bosses
Chaos 0 | Chaos 2 | Chaos 4 | Chaos 6 | E-101 Beta | E-101 Mark II | E-102 Gamma | E-103 Delta | E-104 Epsilon | E-105 Zeta | Egg Carrier | Egg Hornet | Egg Viper | Egg Walker | Knuckles the Echidna | Perfect Chaos | Sonic the Hedgehog | ZERO
Moves/techniques
Arm Punch | Bolt of lightning | Bomb Attack | Bomb Gun Attack | Charge | Climb | Dig | Double Punch | Earthquake Attack | Electric Arm | Energy Ball Attack | Flame Thrower Attack | Flight Mode | Glide | Guiding Missiles | Hammer Attack | Hammer Jump | Hover | Homing Attack | Instantaneous Liquefaction | Laser Beam Attack | Homing Missile Launch | Homing Tail Slice | Inhale Attack | Jump Attack | Laser Gun | Light Speed Attack | Light Speed Dash | Lure Attack | Marble Attack | Maximum Heat Knuckles Attack | Phantom Shadow Move | Pick | Propeller Flight | Punch | Punch Attack | Quarter Attack | Rapid Tails Attack | Scorpion Attack | Shockwave Attack (Chaos 6) | Sonic Boom | Spin Attack | Spin Dash | Spin Hammer Attack | Spin Jump | Spinning Spike Attack | Spouting Attack | Squash Roll Attack | Swing Punch | Tails Attack

Level Up Items

Ancient Light | Crystal Ring | Fighting Gloves | Jet Anklet | Jet Booster | Laser Blaster | Life Belt | Light Speed Shoes | Long Hammer | Lure | Power Rod | Rhythm Badge | Shovel Claw | Warrior Feather
English voice actors
Ryan Drummond (Sonic) | Corey Bringas (Tails) | Michael McGaharn (Knuckles) | Deem Bristow (Eggman) | Jennifer Douillard (Amy) | Jon St. John (Big) | Elara Distler (Tikal, Station Square Train Voice, Default Menu Voice) | Steve Broadie (Gamma, Pachacamac, Mystic Ruins Train Voice) | Tomoko Sasaki (Chao)
Japanese voice actors
Jun'ichi Kanemaru (Sonic) | Kazuki Hayashi (Tails) | Nobutoshi Kanna (Knuckles) | Chikao Ōtsuka (Eggman) | Taeko Kawata (Amy) | Shun Yashiro (Big) | Kaori Asō (Tikal) | Jōji Nakata (Gamma) | Tōru Ōkawa (Pachacamac) | Kaho Kōda (Station Square Train Voice) | Nobutoshi Kanna (Mystic Ruins Train Voice) | Elara Distler (Default Menu Voice) | Tomoko Sasaki (Chao)

Original Soundtrack

/

Remix

/

Vocal Mini Album

/

20th Anniversary

/

Passion & Pride

Believe In Myself | It Doesn't Matter | Lazy Days | My Sweet Passion | Open Your Heart | Unknown from M.E.

Other
777 Slots Pinball | Air Bubbles | Auto Running | Bumper | Bumper Car | Cannon | Capsule | Card & Pinball | Cart pass | Chao Egg | Chaos Emerald | Chao in Space | Chao Machine | Chao Search* | Conveyor Belt | Corkscrew loop | Crank | Dash Panel | Dash Ring | Debug Mode | Doll | Drum Can | Egg Carrier | Egg Carrier 2 | Emblem | Emerald Radar | Emerald Shard | Employee ID Card | Explosion Trap | Fan | Flipper | Fountain | Freeze | Goal Balloon | Hanging Bell | Hedgehog Hammer | Helicopter | Hint Box | Icicle | Item Box (Bomb, Extra Life, Invincibility, Lightning Shield, Power Sneakers, Shield, Super Ring) | Jump Panel | Key Stone (Gold Statue, Ice Stone, Silver Statue, Wind Stone) | Laser Field Block | Life gauge | Lit Panel | Mirror | Mission Mode | Monkey Detonation Switch | Mystic Ruins | Pinball Shooter | Power cube | Ramp | Ring | Rocket | Sandboard | Satellite | Shrine of Knuckles's race | Shuttle loop | Sky Chase Dragon | Slot Machine | Snowboard | Sonic Token | Station Square | Station Square Police Department | Switch | Teleporter | Tornado | Tornado 2 | Transporter Machine | Trick Jump Panel | Wide Spring | Wind Path | Zip Line

*Exclusive to Sonic Adventure DX: Director's Cut.