Egg-Cerberus
Talk

0
8,431pages on
this wiki
Egg-Cerberus

The Egg-Cerberus' intro screen in Dusty Desert.
Game

Sonic the Hedgehog (2006)
(Only appearance)

Level
Description

Large, black and red dog-like robot with head antennae, which has to catch in order to control the robot.

Next boss
The Egg-Cerberus is the first boss faced by both Sonic and Shadow in Sonic the Hedgehog (2006). Sonic faces it before Dusty Desert and Shadow faces it after White Acropolis.
Official Description
"The Egg Cerberus is one of Dr. Eggman's most terrible creations a hulking metal monster capable of trampling Sonic the Hedgehog beneath its thunderous gallop. The clockwork monster thunders around the crumbling arena, smashing columns and causing mayhem. To survive this encounter, Sonic must somehow find a way to tame the savage metal beast, even if it's for only a moment. Egg Cerberus's weak point is a neon pole on its head. Sonic must scale the robotic canine and grab the pole, then steer the menace. The giant stone walls that surround the arena are the perfect thing to slow down this runaway terror."[1]
Description
It is a giant dog-like robot, although its appearances in both Sonic and Shadow's stories lead to speculation on whether or not there is one or two of them. (Since the one in Shadow's battle seems rusted.)
The boss' defeat requires the player to grind on their headrest, hold on to its head antennae, and lead them into a wall. This gets harder after time, as the Egg-Cerberus will refuse to obey orders. In Sonic story the player can do much damage to the Egg Cerberus if the player lead him to the statue causing to deplete half of Egg Cerberus Health Gauge.
Trivia
The Egg-Cerberus is named after a dog in Greek mythology, Cerberus, who was a three-headed, fire-breathing, demonic dog who guarded the entrance to Hades' Underworld. However, the Egg-Cerberus has only one head, unlike the Cerberus in mythology.
The Egg-Cerberus bears a slight resemblance to Metal Hound, another Eggman robot made to resemble a dog.
During Sonic's battle, the Egg-Cerberus is referred to as Dr. Eggman's "pet" and in during Shadow's battle, it is referred to as his "guard dog".
Gallery
Artwork
Videos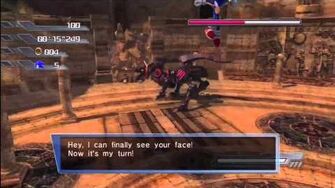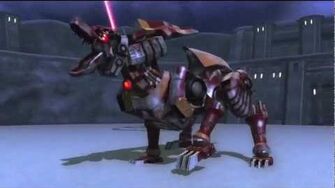 Screenshots
References
Sonic the Hedgehog (2006)
Playable characters
Sonic (Super Sonic) | Tails | Knuckles | Shadow (Super Shadow) | Rouge | Omega | Silver (Super Silver) | Blaze | Amy
Other Characters
Accordion Player | Adrianna | Alan | Alessio | Alfano | Anna | Antonio | Aristo | Berruni | Bishop | Claudia | Dante | Dr. Eggman | Duchess of Soleanna | Duke of Soleanna | Elkan | Frances | Francesca | G.U.N. soldier | Galienna | Gina | Hatsun | Herman | Iblis | Ladies-in-waiting | Liza | Lord Regis | Mancini | Mephiles | Mikhail | Monica | Nicolo | Paganini | Parr | Pele | Pietro | Pinto | Porta | Priest | Princess Elise the Third | Prodi | Pucci | Puccini | Renzo | Alberto Robert | Roberta | Rossi | Sabrina | Sandro | Solaris | Soleanna Royal Guards | Solomon | Sonic Man | Sophia | Ken Williams | Zof
Enemies
Egg Armor | Egg Bomber | Egg Buster | Egg Cannon | Egg Chaser | Egg Commander | Egg Flyer | Egg Guardian | Egg Gunner | Egg Hunter | Egg Keeper | Egg Lancer | Egg Launcher | Egg Liner | Egg Rounder | Egg Searcher | Egg Stinger | Egg Sweeper | Egg Walker | Iblis Biter | Iblis Golem | Iblis Taker | Iblis Worm | Mega Shadow | Mephiles Taker | Mephiles Worm | Shadows | Stalker | Titan
Action Stages
Wave Ocean | Dusty Desert | White Acropolis | Crisis City | Flame Core | Radical Train | Tropical Jungle | Kingdom Valley | Aquatic Base | End of the World
Town Stages
Castle Town | Forest | New City
Town Missions
Sonic
1 | 2 | 3 | 4 | 5 | 6 | 7 | 8 | 9 | 10 | 11 | 12 | 13 | 14 | 15 | 16 | 17 | 18 | 19 | 20
Shadow
1 | 2 | 3 | 4 | 5 | 6 | 7 | 8 | 9 | 10 | 11 | 12 | 13 | 14 | 15
Silver
1 | 2 | 3 | 4 | 5 | 6 | 7 | 8 | 9 | 10 | 11 | 12 | 13 | 14 | 15 | 16 | 17 | 18
Bosses
Egg-Cerberus | Egg-Genesis | Egg-Wyvern | Iblis | Mephiles | Shadow | Silver | Solaris | Sonic
Moves/Techniques
Arrow of Light | Accelerator Tornado | Attack | Blast Jump | Bomb | Bomb Snipe | Bound Jump | Chaos Attack | Chaos Boost (Chaos Blast, Chaos Lance, Chaos Snap) | Chaos Spear | Climb | Custom Actions (Gun Drive, Homing Smash, Mach Speed, Scale, Slow, Thunder Guard, Tornado) | Dummy Ring Blitz | Dummy Ring Bomb | Dummy Ring Snipe | Fire Claw | Fly | Grab All | Ground Shaker | Hammer Attack | Heart Mine | Hold Smash | Hover | Invisibility | Levitate | Light Dash | Lock-On Shot | Omega Launcher | Omega Shot | Psychokinesis | Psycho Shock | Psycho Smash | Punch Attack | Screwdriver | Shield of Light | Sliding Attack | Spear of Light | Spin Dash | Spin Jump | Spin Kick | Spinning Claw | Teleport Dash
Items
Chaos Drives | Container | Goal Ring | Item Box (Gauge Up, Super Ring, Shield, Invincibility, Extra Life) | Dash Ring | Light Cores | Medals | Pulley | Rainbow Ring | Rings | Spring | Star Post | Snowboard | Switch
Upgrades
Air Chip | Antigravity | Blue Gem | Bounce Bracelet | Gems | Green Gem | Heart of Wind | Light Chip | Memory Shard (black) | Memory Shard (blue) | Memory Shard (red) | Power Bracelet | Purple Gem | Red Gem | Shock Bracelet | Single-Layered Extreme | Sky Gem | White Gem | Yellow Gem
OST
All Hail Shadow | Dreams of an Absolution | His World | My Destiny | Sweet Dreams AKON Mix
English Voice Actors
Jason Griffith (Sonic, Shadow the Hedgehog) | Pete Capella (Silver the Hedgehog) | Lacey Chabert (Princess Elise) | Mike Pollock (Dr. Eggman, Narrator) | Amy Palant | (Tails, Ladies-in-waiting) | Lisa Ortiz (Amy, Ladies-in-waiting) | Bella Hudson (Blaze) | Dan Green (Knuckles, Mephiles, Solaris Project scientists) | Kathleen Delaney (Rouge) | Maddie Blaustein (Omega) | David Wills (Duke, G.U.N communitcator)
Japanese Voice Actors
Jun'ichi Kanemaru (Sonic) | Kōji Yusa (Shadow) | Daisuke Ono (Silver) | Maaya Sakamoto (Princess Elise) | Chikao Ōtsuka (Dr. Eggman) Kenji Utsumi (Narrator, Duke) | Ryō Hirohashi (Tails) | Hikari Yono (Ladies-in-waiting) | Nao Takamori (Blaze) | Nobutoshi Kanna (Knuckles) | Takayuki Sakazume (Mephiles) | Keiji Okuda (Solaris Project scientist, G.U.N. communicator) | Yoshikazu Kozuma (Solaris Project scientist) | Rumi Ochiai (Rouge) | Taeko Kawata (Amy) | Taiten Kusunoki (Omega)
Scripts
Sonic Episode | Shadow Episode | Silver Episode | Last Episode
Other
Auto Running | Buggy | Chao in Space | Chaos Crush | Conveyor Belt | Custom Shoes | Dummy Rings | Elise's Prayer | Eye of Solaris | Gallery | Glider | Hover Craft | Havok | Heart Bombs | Hint Ring | Minecart | Mirrors of Soleanna | Orca | Rainbow Gem | Rimlight | Scepter of Darkness | Soleanna | Solaris Project | Super-Speed Stages