You may be looking for Egg Dealer (Sonic Rivals 2).
The Egg Dealer is a vehicle piloted by Dr. Eggman in a boss battle in Shadow the Hedgehog. The Egg Dealer is fought after the levels Black Comet (Hero mission), Lava Shelter (Hero or Dark mission) and Cosmic Fall (Dark mission). The potential guides for the battle are therefore Knuckles, E-123 Omega, and Vector.
Description
It has four rigid legs which it stands on. It also has slot reels on the front of its body, which can be stopped individually by using the Homing Attack on the buttons below them. The cockpit can be attacked by the laser carried by the Egg Pawns, although this is inefficient. Shadow can also damage it by stopping the reels so that it bombs itself (Bomb Fever) or fires a volley of missiles at itself (Missile Fever). Shadow's Chaos Blast power is also effective. If Eggman gets nothing (example: missile, missile, pawn), three boxes will appear in the middle of the stage with an egg gun, lance, or bazooka.
Battle
Black Comet
After aiding the G.U.N. counterattack on the Black Comet and penetrating the comet's defenses, Shadow and Knuckles find Eggman at the Comet's heart trying to steal the Black Arms' Chaos Emerald. After destroying the Egg Dealer and taking the Emerald for himself, Shadow declares that he is master of his own life and will live a neutral existence. He then finishes off Eggman with a knifehand strike.
Lava Shelter
In the Dark version of the boss fight, despite obeying the doctor's orders and sealing the shelter with lava from the attack by G.U.N., Shadow decides to fight Eggman in his slot-machine based monstrosity for the Chaos Emeralds. After his defeat, Eggman asks why Shadow betrayed him and Shadow replies that being revealed as an android only fueled his semi-crazed patricide instead of serving Eggman. He vows to use the Emeralds to become even more powerful than the original Shadow, completely unaware that he is the original Shadow. He then finishes off Eggman with a knifehand strike.
In the Hero version of the boss fight, Shadow helps Omega obtain the Chaos Emerald in Dr. Eggman's lair, and confronts the fat man himself in his oddest machine yet. Eggman finds himself in the midst of robotic retribution after his last humiliating defeat, as Shadow, believing himself to be an android, decides to use the Chaos Emeralds to take over the Eggman Empire and establish a whole rule of Androids. Just after Eggman reacts to his intentions in shock, Shadow and Omega kill their creator.
Cosmic Fall
Eggman shows up on the ARK after Shadow grabs the last Chaos Emerald and exclaims that although his grandfather created Shadow, he should give him the Chaos Emeralds. After Shadow refuses, a confrontation between the two begins with Shadow winning. With all seven Emeralds in his possession, Shadow vows to use them to protect the ARK, and spares Eggman on the account that he never returns to the ARK ever again.
Notably, this is the only ending where Shadow fights Eggman in the Egg Dealer and lets him live afterwards.
Attacks
The attacks the Egg Dealer can use based on the slot results are:
Missile Fever: Eggman starts the battle with this attack. The machine launches a volley of six missiles that target Shadow if launched by Eggman and vice-versa if launched by Shadow. If the player continues to lose lives, Eggman will start the battle by accidentally launching it on himself.
Bomb Fever: The machine drops explosive red spheres. If Eggman executes the attack, the Egg Dealer continues moving around the arena dropping bombs in its wake. If Shadow executes the attack, the Egg Dealer trips and blows itself up.
Pawn Fever: (Eggman only) - Summons a couple of Egg Pawns with Egg Spears.
Shadow Fever: (Shadow only) - Maximizes Shadow's Dark Gauge, allowing Shadow to transform into Dark Shadow and use Chaos Blast.
Ring Fever (Shadow only): Causes a massive amount of Rings to appear in the center of the arena.
Ranking
| | |
| --- | --- |
| Rank | Time (Mins) |
| | ≤ 3:20 |
| | 4:00 |
| | 5:00 |
| | 6:00 |
| | > 6:00 |
Trivia
This is one of the few (if not the only) of Eggman's robots that actually helps the player defeat it under correct circumstances.
Whenever Shadow is battling the Egg Dealer, he is partnered with a Power-type character (Knuckles, Vector, and Omega, that is.)
This is the only one of the final bosses of Shadow the Hedgehog to take both the hero and dark endings of a stage.
If the player fights the Egg Dealer with zero lives left, the Egg Dealer's first attack in the opening cutscene will harm itself.
Videos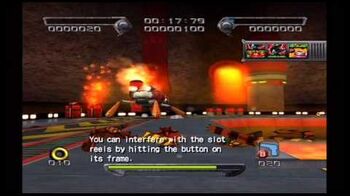 ---
Main article | Gallery | Staff | Library Sequences
Characters
Shadow (Hero Shadow, Dark Shadow, Super Shadow) | Black Doom (Devil Doom) | Eggman | Sonic | Tails | Knuckles | Amy | Rouge | Omega | Vector | Espio | Charmy | Cream | Cheese | Maria | Gerald | Commander | President | Secretary | Chao
Enemies
Ark Missile Turret | Artificial Chaos (Artificial Chaos P-100, Cell) | Black Assassin | Black Hawk | Black Oak | Black Volt | Black Warrior | Black Wing | Black Worm | Big Foot Type A | Big Foot Type B | Death Leech | Death Worm | Egg Bommer | Egg Pawn | Egg Pierrot | Giant Walker | Giga Trooper | Gold Beetle | Gun Beetle | GUN Soldier | GUN Trooper | Jack Bommer | Killer Plant | Mono Beetle | Rocket Beetle | Sand Worm | Shadow Android | Spark Beetle

Stages

Air Fleet | Black Comet | Central City | Circus Park | Cosmic Fall | Cryptic Castle | Death Ruins | Digital Circuit | Final Haunt | GUN Fortress | Glyphic Canyon | Iron Jungle | Lava Shelter | Lethal Highway | Lost Impact | Mad Matrix | Prison Island | Sky Troops | Space Gadget | The ARK | The Doom | The Last Way | Westopolis
Bosses
Black Bull | Black Doom | Blue Falcon | Devil Doom | Diablon | Egg Breaker | Egg Dealer | Heavy Dog
Moves/techniques
Chaos Arrow | Chaos Blast | Chaos Control | Chaos Spear | Crouch | Dark Spin Dash | Grind Step | Homing Attack | Jump Dash | Light Dash | Mid-Air Attack | Missile Fever | Overturn | Pawn Fever | Pick up | Punch | Ring Fever | Shadow Fever | Slide | Spin Dash | Spin Jump | Super Sonic Boost | Swift strike | Tail Swipe | Triangle Jump

Weapons

4-Shot RPG | 8-Shot RPG | Bazooka | Big Worm Shooter | Big Barrel | Black Barrel | Black Sword | Bomb Fever | Egg Bazooka | Egg Gun | Egg Spear | Egg Vacuum | Environment Objects | Flash Shot | Gatling Gun | Grenade Launcher | Heal Cannon | Heavy Machine Gun | Heavy Shot | Laser Rifle | Light Shot | Omochao Gun | Pistol | Refractor | RPG | Samurai Blade | Satellite Gun | Semi-Auto Rifle | Shadow Rifle | Splitter | Survival Knife | Tank Cannon | Vacuum Pod | Wide Worm Shooter | Worm Shooter

OST

/

Lost and Found

All Hail Shadow | Almost Dead | Chosen One | E.G.G.M.A.N. | I Am... All of Me | Never Turn Back | Tripod Baby | Vengeance is Mine | Waking Up | Who I Am
English voice actors
Jason Griffith (Sonic, Shadow) | Sean Schemmel (Black Doom) | Mike Pollock (Eggman, Gerald) | Amy Palant (Tails) | Dan Green (Knuckles) | Lisa Ortiz (Amy) | Kathleen Delaney (Rouge) | Rebecca Honig (Cream, Maria) | Carter Cathcart (Vector) | David Wills (Espio) | Amy Birnbaum (Charmy) | Jeff Kramer (Omega) | Andrew Rannells (GUN Soldier) | Marc Thompson (Commander) | Maddie Blaustein (President) | Bella Hudson (Secretary)
Japanese voice actors
Kōji Yusa (Shadow) | Jun'ichi Kanemaru (Sonic) | Ryūzaburō Ōtomo (Black Doom) | Chikao Ōtsuka (Eggman, Gerald) | Ryō Hirohashi (Tails) | Nobutoshi Canna (Knuckles) | Taeko Kawata (Amy) | Rumi Ochiai (Rouge) | Sayaka Aoki (Cream) | Yuri Shiratori (Maria) | Kenta Miyake (Vector) | Yūki Masuda (Espio) | Yōko Teppōzuka (Charmy) | Taiten Kusunoki (Omega) | Takashi Yoshida (GUN Soldier) | Banjō Ginga (Commander) | Yutaka Nakano (President) | Junko Kitanishi (Secretary) | Ryō Hirohashi (Additional Chao)
Other
Air Saucer | Barrel | Barrier | Black Comet | Black Slab | Black Tank | Bomb Unit | Case | Cell Cannon | Chaos Emerald | Central Information Agency | City annihilator bomb | Color Panel | Container (Special Weapon Container) | Convertible | Core program | Eclipse Cannon | Dark Gauge | Dark Rider | Defense Unit | Egg Balloon | Egg Monitor | Eggman Fleet | Electrified Rail | Energy Core | Expert Mode | Fan | Fire in the Sky Festival | Firewall | Flash game | Goal Ring | Gravity Control Switch | Green energy fluid | Gun Lift | GUN Motorcycle | Gun ship | GUN turret | GUN Vehicle | Heal Unit | Health Gauge | Hero Gauge | Hint Ring | HMMWV | Item Box (1-Up, Damage Recover, Heat Barrier, Invincibility, Super Ring) | Jump Panel | Jump Vehicle | Junction switch | Lantern | Laser Field Block | Laser turret | Light-speed circuit | Magnetic Barrier | Mother computer | Pole | President's escape pod | Prison Island | Prosperity ritual | Red fruit | Red Slime | Ring | Rocket | Secret Door | Secret Key | Shield switch | Shooting Gallery | Small bomb | Surveillance camera | Tails' Spaceship | Temple jewel | Toxic marsh | Toxic river | Vine | Warp Hole | White House | Wide Spring | Zip Line
Ad blocker interference detected!
Wikia is a free-to-use site that makes money from advertising. We have a modified experience for viewers using ad blockers

Wikia is not accessible if you've made further modifications. Remove the custom ad blocker rule(s) and the page will load as expected.