A massive fish robot created by Eggman to defeat Sonic, armed with a laser beam and explosives capable of dealing quick and expansive blasts perfectly suited to targeting fast-moving objects.


— Description, Sonic Unleashed
The Egg Devil Ray (エッグ・デビルレイ, Eggu debirurei?) is a robot that was created by Dr. Eggman, and is the third boss fought in Sonic Unleashed (fourth if counting the Egg Cauldron from the Xbox 360/PS3 version). It is the Temple Guardian of Spagonia, unlocked by completing the daytime acts of Rooftop Run in the Wii/PS2 version and by completing daytime Act 1 for both Rooftop Run and Dragon Road in the Xbox 360/PS3 versions.
Appearance
Egg Devil Ray has a similar appearance to a fish. It is mostly light-blue with several amounts of eyes, which are orange. It has yellow claws, an Egg Mobile located on its head, though it appears differently in both versions. The Wii/PS2 version is so blue, it hides Eggman from sight. The 360/PS3 is transparent, but contains three Little Fighter robots piloting the machine instead of Eggman.
Battle
At times during both of these battles, the camera shifts perspective (3D, 2D, overhead). This change in perspective also results in a change of strategy, as it uses different attacks during these phases.
Boss guide
The Egg Devil Ray puts up a shield, but the player can still boost through it until it puts up an electrified shield after damage has been inflicted. It attacks by shooting lasers in various patterns. Respond as necessary. The camera will occasionally change to an overhead perspective, and the Devil Ray will fire small fireballs in various patterns. The player must simply jump over them. Sometimes, the perspective will shift to 2D, and the Egg Devil Ray will release lasers in varying sizes. The player must jump and slide when necessary.
The Egg Devil Ray starts by shooting a few lasers. Eventually, it will fire all its lasers, then lower its shield. The player must have Sonic either boost or use a Homing Attack after this happens. Then, it will shift to a 2D perspective. The Egg Devil Ray will proceed to fire four lasers, which move in a circular pattern, and another laser that guards the Egg Devil Ray. Sonic must dodge the lasers and use a Homing Attack to damage it. Upon this, the camera will shift back to the 3D perspective. This process must be repeated until the shield is disabled. The camera will shift to an overhead perspective. The Devil Ray uses the same attacks as when it was fought in the 3D perspective, but additionally projects tiny fireballs. The player should jump over them and boost into the Egg Devil Ray when the shield is down. From then on it will shift to a 3D perspective, a 2D perspective, and then an overhead perspective. Each of these strategies must be repeated to beat the Egg Devil Ray.
Videos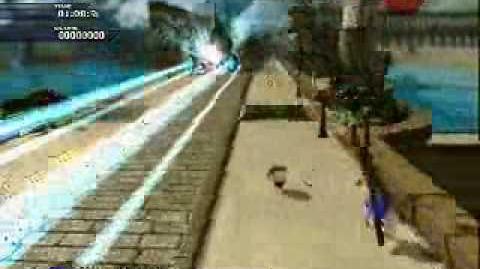 Version Differences
The Wii/PS2 version is significantly harder and/or more time consuming than the 360/PS3 version as you can only attack the Egg Devil Ray after he attacks you then lowers his shield. In the 360/PS3 version you can attack the Egg Devil Ray freely as you please until he puts his shield up. He quickly lowers it though and you can attack again.
In the Wii/PS2 version the Egg Devil Ray is controlled by Eggman, but in the 360/PS3 version it is controlled by what sounds to be Orbot and the Little Fighter robots that are seen in a few Werehog stages.
Trivia
This is the only Daytime-boss that appears on both console and handheld versions and that normal-Sonic faces that does not use the same body model as Egg Beetle or Egg Lancer.
It is also the only (Wii/PS2 version only) boss that does not have a bug-based model, if excluding Egg Dragoon.
This boss fight on the Wii/PS2 is the longest fight out of all three day bosses, due to the inability to use combo attacks.
This boss has the most hit points out of all three day bosses.
In the Wii/PS2 versions, this boss has eight hit points where Egg Beetle and Egg Lancer have six.
Gallery
Artwork
Screenshots
---
Main article | Gallery | Script | Credits (Xbox 360/PS3, Wii/PS2) | Re-releases (Mobile)
Characters
Sonic (Super Sonic, Sonic the Werehog) | Chip (Gaia Colossus) | Tails | Amy | Dr. Eggman | Professor Pickle | Orbot | Dark Gaia (Perfect Dark Gaia)
Town Stages/Villages
Apotos | Mazuri | Spagonia | Chun-nan | Holoska | Shamar | Empire City* | Adabat | Eggmanland
Action Stages/Stages
Windmill Isle | Savannah Citadel* | Rooftop Run | Dragon Road | Cool Edge | Arid Sands | Skyscraper Scamper* | Jungle Joyride | Eggmanland
Residents
Apotos
Alexis | Anastasia | Eric | Gregorios | Hot Dog Vendor* | Ice Cream Vendor | Lambros | Lucas* | Milos* | Sandra
Spagonia
Aida* | Barbara | Ciccio | David | Denise | Dora | Elio* | Federica | Franco* | Gigi | Hot Dog Vendor* | Ippolita | Irma* | Josef | Lilli* | Lucia | Marcantonio* | Mauro | Natalia* | Otto | Professor Pickle | Professor Pickle's Assistant | Raimondo
Mazuri
Ana | Essie | Gwek | Hog Dog Vendor* | Kofi | Kwami | Kwod | Yawa | Yaya
Chun-nan
Chun | Hot Dog Vendor* | Hualin | Jinlin* | Lin | Shuifon | Wang* | Yilin | Zonshen
Holoska
Hot Dog Vendor* | Jari-Pekka | Jari-Thure | Marketa | Sarianna | Ursule
Shamar
Ara | Dimah | Ehsan | Erhan | Hizir | Hot Dog Vendor* | Iman | Labib | Latif | Layla | Mufid | Musaid | Raniya | Sa'id | Sadiq | Safi | Samia | Sammar | Shadi | Utba | Yasmine
Empire City
Boss* | Brenda* | Charles* | Def Big* | Elizabeth* | Hot Dog Vendor* | Li'l Kate* | Louie Montaine* | Robert*
Adabat
Hot Dog Vendor* | Jamal | Kaeo | Nagi | Rudi | Teanchai
Eggmanland
EF-DC1998* | EF-MD1991* | EF-XB2006* | Hot Dog Vendor*
Misc.
Baker | Lah | Su* | Wentos* | Wu*
Enemies
Eggman's Machinery
Aero-Cannon | Aero-Chaser | Egg Blizzard | Egg Burst | Egg Fighter | Egg Fighter: Knight (Electric shield, Spring shield) | Egg Fighter: Shield (Electric shield, Spring shield) | Egg Fighter: Sword* | Egg Flame | Egg Launcher (H) | Egg Launcher (H+V) | Egg Launcher (V) | Egg Shackle | Egg Shooter | Egg Typhoon | Gold Aero-Cannon | Interceptor | Little Fighter* | Mole Cannon | Spinner | Thunder Ball | Thunder Spinner
Dark Gaia's minions
Big Mother | Cure Master* | Dark Bat | Dark Bat Sniper | Dark Eel* | Dark Fright | Dark Master** | Deep Nightmare | Evil Flower* | Fire Master | Fright Master | Killer Bee | Lightning Master | Little Rex | Nightmare | Power Master* | Red Fright | Red Killer Bee | Red Nightmare** | Red Deep Nightmare** | Red Rex | Red Titan** | Spike** | Thunder Bat | Titan
Bosses
Egg Beetle | Egg Cauldron* | Egg Dragoon | Egg Devil Ray | Egg Lancer | Dark Gaia | Dark Gaia Phoenix | Dark Guardian | Dark Moray | Perfect Dark Gaia
Moves/
techniques
Sonic
Air Boost | Crouch | Foot Sweep* | Grind Step | Grinding | Homing Attack | Hop | Jump Dash | Light Speed Dash | Slide | Skydiving | Sonic Boost | Sonic Drift | Spin Jump | Stomp | Quick Step | Wall Jump
Werehog
Dash | Double Jump | Grab | Guard | Unleashed Mode | Wall Shuffle
Misc.
Boost | Drill Attack | Super Sonic Boost | Turbo Boost
Skills
Straight
attacks
Donkey Kick Combo* | Double Axle Combo* | Double Kick Combo* | Feral Were-Hammer* | Knuckle Sandwich Combo* | Sho-Hog-Ken* | Unleashed Knuckle Sandwich* | Vertical Were-Hammer* | Were-Hammer* | Werewheel Rush*
Hook
attacks
Earthshaker* | Egg Scrambler* | Feral Wild Whirl* | Rolling Kick Combo* | Sho-Claw-Ken* | Ultimate Wild Combo* | Unleashed Wild Combo* | Wereclap* | Wild Whirl* | Wild Whirl Were-Hammer*
Aerial
attacks
Aerial Claw Slash* | Aerial Claw Slash and Spin* | Aerial Piledriver* | Crescent Moon Strike* | Diving Bodypress* | Flying Double-Punch* | Flying Double-Punch Crush* | Hurricane Combo* | Shooting Star Combo* | Typhoon Combo*
Special
attacks
Comet Punch* | Missile Punch* | Spinning Needle Attack* | Tricky Tornado Uppercut* | Triple Wild Claw* | Were-Claw Charge* | Were-Cyclone* | Were-Rush* | Were-Tornado* | Wild Werewhip*
PS2/Wii
Beatdown** | Claw Charge | Crescent Moon Strike** | Earthshaker** | Wereclap** | Were-Hammer** | Were-Claw** | Were-Wallop** | Wild Claw** | Wild Whirl**
Level up items
Air Boost Shoes* | Light Speed Dash Shoes* | Stomping Shoes* | Wall Jump Shoes*
Objects
Art Book* | Audio System | Balloon | Blue Tea* | Blue spring | Bobsled | Bookshelf* | Bomb | Buggy** | Check Point | Chaos Emerald | Chaos Orb* | Chili dog | Container (Explosive crate) | Conveyor Belt | Crane Lift | Crank | Crystal Ball* | Dark Energy Key** | Dark Gaia Force | Dash Panel | Dash Rail | Dash Ring | Door | Fountain | Gaia Key* | Giant spear** | Goal Ring | Gift* | Gramophone* | Green Tea* | Grind Rail | Hanging vine | Horizontal Bar | Hourglass* | Icicle | Item Capsules** | Jump Selector | Key Stone* | Laser Field Block | Lever | Lovely Ring* | Maiden Statue* | Miles Electric | Moon Tablet** | Movable box | Moving Crate | Old Necklace* | Planet Tablet** | Pick-Me-Up* | Pretty Bouquet* | Power Shield* | Rainbow Ring | Ramp | Record* | Red Tea* | Ring | Shield Charge* | Snowblower | Souvenir* | Spiked ball | Spikes | Springboard/Spring | Springpole | Sun and Moon Medals | Sun Tablet** | Sundae Supreme | Super Claw* | Super Ring | Switch | Thorn Spring | Tornado-1 | Trap Spring | Turquoise Tea* | TV* | Videotape* | Violet Tea* | White Tea* | Wide Spring | Yellow Tea* | Zip Line | 1UP
English voice actors
Jason Griffith (Sonic, Sonic the Werehog, Prof. Pickle's Assistant) | Amy Palant (Tails) | Lisa Ortiz (Amy) | Anthony Salerno (Chip) | Mike Pollock (Eggman, Zonshen) | Christopher Collet (Orbot) | Dan Green (Ice Cream Vendor, Prof. Pickle)
Japanese voice actors
Jun'ichi Kanemaru (Sonic) | Chikao Otsuka (Eggman) | Chō (Prof. Pickle) | Ryo Hirohashi (Tails) | Taeko Kawata (Amy) | Tomokazu Seki (Sonic the Werehog) | Ryōko Shiraishi (Chip)
Planetary Pieces
Endless Possibility | Dear My Friend
Other
Auto Running | Boost Gauge | Boss Gate | Boost Gauge | Buoy | Chao* | Chaos Energy Cannon | Chun-nan's Treasure | Collection Room* | Combo | Critical Attack | Dark Energy Force Field** | Don Fachio* | Doctor Eggman's chair | Earth | Eggman Fleet | Egg Mobile | Entrance Stage* | Exorcisms | Experience Point | Freeze | Gaia Gate | Gaia Manuscripts | Gaia Temple | Gaia Temple guardian | Hallowmoon | Havok | Health Gauge | Hint Ring | Orb Result** | Quick time event | Ring Energy Gauge | Shield | Shield Gauge | Shop* (Counter of Dreams 2, Eggshop, Flying Fish Beach Shop, Golden Trading Company, Josef's, Surfside Seagull Sundries, Traveling Salesman Wentos, Treeshade, Ursule's Trading Post, Wang's Emporium) | Shuttle loop | Sonic: Night of the Werehog | Sonic World Adventure (manga) | Spagonia University | Rank | Time of awakening | Tornado Defense* | Unleashed Gauge

"*" Exclusive to PS3/Xbox 360 version
"**" Exclusive to PS2/Wii version.
Ad blocker interference detected!
Wikia is a free-to-use site that makes money from advertising. We have a modified experience for viewers using ad blockers

Wikia is not accessible if you've made further modifications. Remove the custom ad blocker rule(s) and the page will load as expected.