For other uses of the term, see Egg Dragoon (disambiguation).

Eggman created this mechanical dragon in his efforts to thwart Sonic, putting years of research into the hedgehog's movements patterns to use in its design. It represents the absolute pinnacle of mad science.


— Description, Sonic Unleashed
The Egg Dragoon (エッグ・ドラグーン, Eggu Doragūn?), also referred to as the Ultra-Hyper Prototype-1[1] (ウルトラハイパー・プロトタイプ第1号, Urutorahaipā Purototaipu Dai 1 gō?), is a recurring vehicle in the Sonic the Hedgehog series. It is a large dragon-based mech created by Dr. Eggman for the purpose of defeating Sonic the Hedgehog. It represents the absolute pinnacle of mad science.[2]
Description
Appearance
The Egg Dragoon is an imposing red mecha with design similarities to that of a dragon. Highly detailed, it has a bulky humanoid torso with spiked shoulder guards, several highlights on the front, a smaller platform-like torso inside the main torso for the Egg Mobile to be inserted into as a cockpit, blue prongs on its lower chest, thin arms, two wing units and exhaust pipes on the back. On its left arm it has a long and gigantic drill, and on the right arm it has a six-barreled cannon. Along the cannon's hexagonal carapace, its small barrels can extend outward from the primary mechanism. Its shoulder joints also have a spike protruding from each of them. Also, on the bottom of its upper torso dangles a lower-belly with two smaller cores (the lowest of which has protrusions on the side) and two talon-like feet cannons.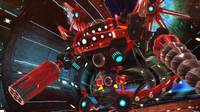 The first Egg Dragoon's wing units consisted simply of blue energy protrusions that formed wings. The second model had frames added to its wings, but they were not attached to the body. Also, its lower-belly initially consisted of lights, but would be redesigned as an additional cockpit for the second model (with the lowest one having the exhaust pipes on its side replaced with spikes). The second model also had a tail added to it.
The third known Egg Dragoon model looked much like the second model, but with silver spikes instead of black in many places. It also had red energy wings.
Features and abilities
The Egg Dragoon is one of Eggman's most powerful and versatile creations to date, its design being derived from years of research on Sonic the Hedgehog's movements patterns.[2] Its thick armor makes most of its body impregnable even against Sonic's attacks, and it possesses a lethally efficient selection of weapons that harness fire, lightning and ice elements. It also has enough physical strength to tear apart ground and rock with ease. In addition, it possesses wing units on its back that allow it to fly, and its drill can be launched as an electrically-charged homing missile (which the Egg Dragoon can reload without limit) that can easily pierce through meter-thick metal. Also, even without a pilot, the Egg Dragoon is capable of operating on its own.
The first Egg Dragoon channeled the majority of its element powers through its massive cannon. This cannon rotated independently at great speed, launching a barrage of fireballs with every spin, similar to that of a Gatling gun, which could set the ground ablaze. The cannon could also focus ice into a concentrated blast which could freeze anything solid upon contact. With its left drill-arm, it could also release a massive wave of electrical energy with a single swing.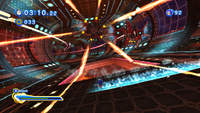 The second and third Egg Dragoon were heavily redesigned with more lethal capabilities. Its cannon had been upgraded so it could spew multiple beams of fire over a wider range, and its feet had been turned into ice cannons, allowing it to not only fire rapid ice blasts, but also freezing waves along the ground. Its drill had also been upgraded so it could create electrified explosions upon impact when fired as a missile.[3] Most noticeably however, it possessed a much more modular design that allowed it to change shape. Its body could split into two independent robot units for two-pronged attacks (dubbed the "Separation Attack"), and its arms could be reconfigured into massive blocks for flattening foes. Its modular design also allowed Eggman to toggle between its two sets of cockpits, enabling him to attack using the machine's torso and legs respectively. This version also proved itself incredibly fast, easily keeping up with even Sonic's running speed.
History
Sonic Unleashed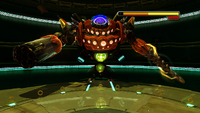 In Sonic Unleashed, the Egg Dragoon was created by Dr. Eggman during the Dark Gaia incident to thwart Sonic. For its creation, Eggman used years of research into Sonic's movements patterns and the energy he harnessed from Dark Gaia.[1][2] After Sonic the Werehog and Chip activated the Gaia Temple in Eggmanland, Eggman ambushed the duo with his Egg Dragoon and had it destroy the cover of the canal Sonic and Chip stood on, sending them tumbling down to the core of the earth where they were forced to seek foothold on a chunk of metal. There, Eggman commandeered the Egg Dragoon into a heated battle with Sonic, who tore the mech apart with his Werehog strength and left it to fall and melt into slag in the planet's core.
Sonic Generations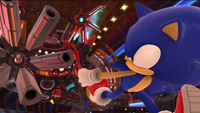 In the console/PC version of Sonic Generations, a heavily re-modified Egg Dragoon with a wider arsenal was used by Dr. Eggman for a rematch with Sonic when the hedgehog entered the time frame of the Dark Gaia incident. Despite taking Sonic by surprise with the Egg Dragoon, the mech was still destroyed by Sonic's hands.
Sonic Forces
In Sonic Forces, the Egg Dragoon Mk. II[4] was summoned by Dr. Eggman when the doctor did battle with Classic Sonic. Manning the Egg Dragoon, Eggman fought the otherworldly hedgehog, who used rocks to damage Eggman's mech. Eventually, the Egg Dragoon could not take more and blew up, although not before Eggman escaped it.
Other game appearances
Sonic Unleashed (Mobile)
In the mobile version of Sonic Unleashed, a version of the Egg Dragoon powered by Dark Gaia is the final boss of the game instead of Perfect Dark Gaia and is fought in Mazuri instead of Eggmanland like in the console versions. The design is also quite different, but every bit as imposing as its mainstream counterpart due to its stocky design.
In other media
Archie Comics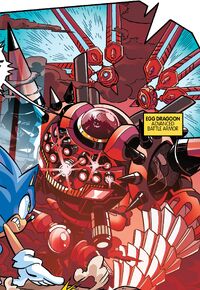 In the Sonic the Hedgehog comic series and its spin-offs published by Archie Comics, the Egg Dragoon debuted in Sonic the Hedgehog #285. During the Sonic Unleashed adaptation (the Shattered World Crisis), Dr. Eggman created this robot to combat Sonic the Hedgehog while the hedgehog was on a rescue mission to save Chip and retrieve the Chaos Emeralds.
IDW Publishing
In the Sonic the Hedgehog comic series published by IDW Publishing, the Egg Dragoon is presented as one of the many Eggman mechs that Sonic has fought over the years.
Trivia
In all of its appearances, the Egg Dragoon was fought by a different form of Sonic. In Sonic Unleashed he is fought by Sonic the Werehog, while in Sonic Generations he is fought by Modern Sonic, and in Sonic Forces by Classic Sonic.

Additionally, the Egg Dragoon is the only Eggman boss battle fought as Sonic's Werehog form in Sonic Unleashed.
Due to its appearance in Sonic Generations, the Egg Dragoon is the only boss from Sonic Unleashed that is ever fought as both Normal and Werehog Sonic.
Its appearance in Sonic Forces marks the first, and as-of-yet time it is not the second-to-last boss fought.

In the cutscene before the fight in the Wii/PS2 version, the cutscene uses the lighting of the Wii/PS2 version even though it is pre-rendered.
The Egg Dragoon's elemental attacks in Sonic Unleashed seem to give references to the game's other night time bosses; the ice bomb refers to Dark Moray, the fire bullets refer to the Dark Gaia Phoenix, and the electric swing with its drill refers to Dark Guardian.
The portals the Egg Dragoon goes through in the Sonic Generations battle are similar to the ones the Time Eater creates. It is possible that the Time Eater was helping him during the fight, or Modern Eggman infused some of its power within it.
It appears that Eggman had an early design for the Egg Dragoon which was used on his Star Cruiser during the opening cinematic of Sonic Unleashed. The torso of the original mech became part of the Egg Dragoon's "head". Its armaments consisted of wrist mounted gatling guns on each arm and retractable missile launchers on the back. Its arms also doubled as grappling hooks.
References
↑ 1.0 1.1 Sonic Team (9 December 2008). Sonic Unleashed. PlayStation 3. Sega. Area/Level: Eggmanland. "Dr. Eggman: Thanks to my wondrous technology, Dark Gaia is whole and complete! I harnessed its energy to put together this little creation. Behold, the ultra-hyper Prototype-1! Crush them!"
↑ 2.0 2.1 2.2 Sonic Team (9 December 2008). Sonic Unleashed. PlayStation 3. Sega. "Eggman's Machinery, entry 030/030: Eggman created this mechanical dragon in his efforts to thwart Sonic, putting years of research into the hedgehog's movements patterns to use in its design. It represents the absolute pinnacle of mad science."
↑ BradyGames (1 November 2011).

Sonic Generations: BradyGames Official Strategy Guide

. BradyGames. pp. 184–186. ISBN 978-0761555100.
---
Main article | Gallery | Script | Credits (Xbox 360/PS3, Wii/PS2) | Glitches | Re-releases (Mobile)
Characters
Sonic (Super Sonic, Sonic the Werehog) | Chip (Gaia Colossus) | Tails | Amy | Dr. Eggman | Professor Pickle | Orbot | Dark Gaia (Perfect Dark Gaia)
Town Stages/Villages
Apotos | Mazuri | Spagonia | Chun-nan | Holoska | Shamar | Empire City* | Adabat | Eggmanland
Action Stages/Stages
Windmill Isle | Savannah Citadel* | Rooftop Run | Dragon Road | Cool Edge | Arid Sands | Skyscraper Scamper* | Jungle Joyride | Eggmanland
Residents
Apotos
Alexis | Anastasia | Eric | Gregorios | Hot Dog Vendor* | Ice Cream Vendor | Lambros | Lucas* | Milos* | Sandra
Spagonia
Aida* | Barbara | Ciccio | David | Denise | Dora | Elio* | Federica | Franco* | Gigi | Hot Dog Vendor* | Ippolita | Irma* | Josef | Lilli* | Lucia | Marcantonio* | Mauro | Natalia* | Otto | Professor Pickle | Professor Pickle's Assistant | Raimondo
Mazuri
Ana | Essie | Gwek | Hog Dog Vendor* | Kofi | Kwami | Kwod | Yawa | Yaya
Chun-nan
Chun | Hot Dog Vendor* | Hualin | Jinlin* | Lin | Shuifon | Wang* | Yilin | Zonshen
Holoska
Hot Dog Vendor* | Jari-Pekka | Jari-Thure | Marketa | Sarianna | Ursule
Shamar
Ara | Dimah | Ehsan | Erhan | Hizir | Hot Dog Vendor* | Iman | Labib | Latif | Layla | Mufid | Musaid | Raniya | Sa'id | Sadiq | Safi | Samia | Sammar | Shadi | Utba | Yasmine
Empire City
Boss* | Brenda* | Charles* | Def Big* | Elizabeth* | Hot Dog Vendor* | Li'l Kate* | Louie Montaine* | Robert*
Adabat
Hot Dog Vendor* | Jamal | Kaeo | Nagi | Rudi | Teanchai
Eggmanland
EF-DC1998* | EF-MD1991* | EF-XB2006* | Hot Dog Vendor*
Misc.
Baker | Lah | Su* | Wentos* | Wu*
Enemies
Eggman's Machinery
Aero-Cannon | Aero-Chaser | Egg Blizzard | Egg Burst | Egg Fighter | Egg Fighter: Knight (Electric shield, Spring shield) | Egg Fighter: Shield (Electric shield, Spring shield) | Egg Fighter: Sword* | Egg Flame | Egg Launcher (H) | Egg Launcher (H+V) | Egg Launcher (V) | Egg Shackle | Egg Shooter | Egg Typhoon | Gold Aero-Cannon | Interceptor | Little Fighter* | Mole Cannon | Spinner | Thunder Ball | Thunder Spinner
Dark Gaia's minions
Big Mother | Cure Master* | Dark Bat | Dark Bat Sniper | Dark Eel* | Dark Fright | Dark Master** | Deep Nightmare | Evil Flower* | Fire Master | Fright Master | Killer Bee | Lightning Master | Little Rex | Nightmare | Power Master* | Red Fright | Red Killer Bee | Red Nightmare** | Red Deep Nightmare** | Red Rex | Red Titan** | Spike** | Thunder Bat | Titan
Bosses
Egg Beetle | Egg Cauldron* | Egg Devil Ray | Egg Dragoon | Egg Lancer | Dark Gaia | Dark Gaia Phoenix | Dark Guardian | Dark Moray | Perfect Dark Gaia
Moves/
techniques
Sonic
Air Boost | Crouch | Foot Sweep* | Grind Step | Grinding | Homing Attack | Hop | Jump Dash | Light Speed Dash | Slide | Skydiving | Sonic Boost | Sonic Drift | Spin Jump | Stomp | Quick Step | Wall Jump
Werehog
Dash | Double Jump | Grab | Guard | Unleashed Mode | Wall Shuffle
Misc.
Boost | Drill Attack | Super Sonic Boost | Turbo Boost
Skills
Straight
attacks
Donkey Kick Combo* | Double Axle Combo* | Double Kick Combo* | Feral Were-Hammer* | Knuckle Sandwich Combo* | Sho-Hog-Ken* | Unleashed Knuckle Sandwich* | Vertical Were-Hammer* | Were-Hammer* | Werewheel Rush*
Hook
attacks
Earthshaker* | Egg Scrambler* | Feral Wild Whirl* | Rolling Kick Combo* | Sho-Claw-Ken* | Ultimate Wild Combo* | Unleashed Wild Combo* | Wereclap* | Wild Whirl* | Wild Whirl Were-Hammer*
Aerial
attacks
Aerial Claw Slash* | Aerial Claw Slash and Spin* | Aerial Piledriver* | Crescent Moon Strike* | Diving Bodypress* | Flying Double-Punch* | Flying Double-Punch Crush* | Hurricane Combo* | Shooting Star Combo* | Typhoon Combo*
Special
attacks
Comet Punch* | Missile Punch* | Spinning Needle Attack* | Tricky Tornado Uppercut* | Triple Wild Claw* | Were-Claw Charge* | Were-Cyclone* | Were-Rush* | Were-Tornado* | Wild Werewhip*
PS2/Wii
Beatdown** | Claw Charge | Crescent Moon Strike** | Earthshaker** | Wereclap** | Were-Hammer** | Were-Claw** | Were-Wallop** | Wild Claw** | Wild Whirl**
Level up items
Air Boost Shoes* | Light Speed Dash Shoes* | Stomping Shoes* | Wall Jump Shoes*
Objects
Art Book* | Audio System | Balloon | Blue Tea* | Blue spring | Bobsled | Bookshelf* | Bomb | Buggy** | Buoy | Check Point | Chaos Emerald | Chaos Orb* | Chili dog | Container (Explosive crate) | Conveyor Belt | Crane Lift | Crank | Crystal Ball* | Dark Energy Key** | Dark Gaia Force | Dash Panel | Dash Rail | Dash Ring | Door | Fountain | Gaia Key* | Giant spear** | Goal Ring | Gift* | Gramophone* | Green Tea* | Grind Rail | Hanging vine | Horizontal Bar | Hourglass* | Icicle | Iron ball | Item Capsules** | Jump Selector | Key Stone* | Laser field | Lever | Lovely Ring* | Maiden Statue* | Miles Electric | Moon Tablet** | Movable box | Moving Crate | Old Necklace* | Planet Tablet** | Pick-Me-Up* | Pretty Bouquet* | Power Shield* | Rainbow Ring | Ramp | Record* | Red Tea* | Ring | Shield Charge* | Snowblower | Souvenir* | Spike Trap | Spikes | Springboard/Spring | Springpole | Sun and Moon Medals | Sun Tablet** | Sundae Supreme | Super Claw* | Super Ring | Switch | Thorn Spring | Tornado-1 | Trap Spring | Turquoise Tea* | TV* | Videotape* | Violet Tea* | White Tea* | Wide Spring | Yellow Tea* | Zip Line | 1UP
English voice actors
Jason Griffith (Sonic, Sonic the Werehog, Prof. Pickle's Assistant) | Amy Palant (Tails) | Lisa Ortiz (Amy) | Anthony Salerno (Chip) | Mike Pollock (Eggman, Zonshen) | Christopher Collet (Orbot) | Dan Green (Ice Cream Vendor, Prof. Pickle)
Japanese voice actors
Jun'ichi Kanemaru (Sonic) | Chikao Otsuka (Eggman) | Chō (Prof. Pickle) | Ryo Hirohashi (Tails) | Taeko Kawata (Amy) | Tomokazu Seki (Sonic the Werehog) | Ryōko Shiraishi (Chip)
Planetary Pieces
Endless Possibility | Dear My Friend
Other
Auto Running | Boost Gauge | Boss Gate | Boost Gauge | Chao* | Chaos Energy Cannon | Chun-nan's Treasure | Collection Room* | Combo | Critical Attack | Dark Energy Force Field** | Don Fachio* | Doctor Eggman's chair | Earth | Eggman Fleet | Egg Dragoon | Egg Mobile | Entrance Stage* | Exorcisms | Experience Point | Freeze | Gaia Gate | Gaia Manuscripts | Gaia Temple | Gaia Temple guardian | Hallowmoon | Havok | Health Gauge | Hint Ring | Orb Result** | Real-Time Interaction | Ring Energy Gauge | Shield | Shield Gauge | Shop* (Counter of Dreams 2, Eggshop, Flying Fish Beach Shop, Golden Trading Company, Josef's, Surfside Seagull Sundries, Traveling Salesman Wentos, Treeshade, Ursule's Trading Post, Wang's Emporium) | Shuttle loop | Sonic: Night of the Werehog | Sonic World Adventure (manga) | Spagonia University | SPD | Rank | Time of awakening | Tornado Defense* | Unleashed Gauge

"*" Exclusive to PS3/Xbox 360 version
"**" Exclusive to PS2/Wii version.
---
Main article | Script | Gallery | Staff | Beta elements
Playable characters
Sonic (Super Sonic) | Classic Sonic (Classic Super Sonic) | Avatar | Shadow (Episode Shadow)
Other characters
Resistance (Tails, Knuckles, Amy, Team Chaotix (Vector, Espio, Charmy), Silver, Team Dark (Shadow, Rouge, Omega)) | Dr. Eggman | Infinite | Orbot | Cubot | Metal Sonic | Chaos | Zavok | Animals (Cucky, Flicky, Pecky, Picky, Pocky, Ricky, Rocky)
Wisps
Blue Wisp | Green Wisp | Indigo Wisp | Ivory Wisp | Red Wisp | Violet Wisp | White Wisp | Yellow Wisp
World Map regions
Chemical Plant | City | Death Egg | Eggman Empire Fortress | Green Hill | Metropolis | Mystic Jungle
Stages

Regular

Lost Valley | Spaceport | Ghost Town | Prison Hall | VS. Zavok | Egg Gate | Arsenal Pyramid | Luminous Forest | VS. Infinite | Green Hill | VS. Eggman | Park Avenue | Casino Forest | Aqua Road | Sunset Heights | Capital City | VS. Infinite | Chemical Plant | Red Gate Bridge | Guardian Rock | Network Terminal | Death Egg | Metropolitan Highway | Null Space | Imperial Tower | Mortar Canyon | VS. Infinite | Iron Fortress | Final Judgement | VS. Death Egg Robot

Episode Shadow

Enemy Territory | Eggman's Facility | Virtual Reality
Secret
Fire Cannon 1 | Vanish Panel 1 | Bomb Block 1 | Plasma Cannon 1 | Laser Cannon 1 | Reverse Block 1
Extra
Flying Pod | Bomb Block 2 | Laser Cannon 2 | Reverse Block 2 | Vanish Panel 2 | Fire Cannon 2 | Plasma Cannon 2
Enemies
Aero-Chaser | Buzz Bomber | Chopper | Egg Pawn | Egg Tank | Egg Walker | Galaga Bee | Moto Bug | Missile Pod | Nebula | Sandworm | Sprinkler | Valkeen
Bosses
Death Egg Robot | Eggman | Egg Dragoon | Infinite | Metal Sonic | Zavok
Moves/techniques
Air Boost | Boost | Crouch | Double Boost | Double Jump | Drop Dash | Grind Step | Grinding | Homing Attack | Side Step/Cartwheel | Skydiving | Slide | Super Sonic Boost | Spin Dash | Spin Jump | Stomp | Triple Boost | V. Maximum Overdrive Attack | Wall Jump | Wire Attack
Gimmicks and obstacles
Balloon | Bumper | Conveyor Belt | Dash Panel | Dash Rail | Dash Ring | Fan | Flipper | Flywheel | Goal | Goal Plate | Grind Rail | High-speed warp tube | Hint Ring | Iron ball | Jump Panel | Laser field | List of pinball obstacles | Pulley | Rainbow Ring | Ring Shooter | Slot Machine | Spikes | Spring | Spring Catapult | Spring Pole | Wide Spring | Wire Target | Zip Line
Objects
General
Air Bubbles | Blue Ring | Capsule | Container | Costume | Medal | Meteorite | Monitors (Invincibility, Power Sneakers, Shield, Super Ring) | Number Ring | Red Star Ring | Ring | Silver Moon Ring | Star Post | Wisp Capsule
Wispons
Asteroid | Burst | Cube | Drill | Hover | Lightning | Void
OST/Vocal/Hi-Res Collection/The Vinyl Cutz
Fist Bump | Infinite | Fighting Onward | Nowhere to Run | Justice | Moonlight Battlefield | Virtual Enemies | Set in Motion | Fading World | The Light of Hope | Rhythm And Balance | Supporting Me
Other
Boost Gauge | Chaos Control | Challenge Mission | Daily Mission | Death Crab | Death Egg | Death Egg Robot | Death Egg Robot sentinel | Death Queen | Egg Dragoon | Egg Mobile | Eggman Army | Eggman Empire | Eggman Fleet | Experience | Health Gauge | Jackal Squad | Mega Mack | Miles Electric | Operation Big Wave | Phantom Ruby | Phantom Ruby prototype | Real-Time Interaction | Replica | Resistance HQ | Sandworm | Skills | Sonic Forces digital comic (Moment of Truth, Stress Test, Looming Shadow, Rise of Infinite) | Sonic Forces: Speed Battle | SOS Mission | Time Over | War to Take Back the Planet | Winding Tunnel | Wisp Gauge