For the official boss attack mode in the 2013 re-release of Sonic the Hedgehog 2, see Boss Attack Zone.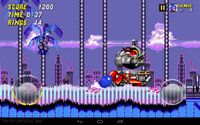 Egg Gauntlet Zone is a Zone intended for use in the 2013 re-release of Sonic the Hedgehog 2. It was meant to serve as a boss attack mode, but was scrapped in favor of the original boss arenas that became Boss Attack Zone.
Description
Egg Gauntlet Zone was the first attempt at a boss attack mode for the 2013 re-release of Sonic the Hedgehog 2. The Zone featured original mechanical scenery with a drab gray color palette. Sonic Team, however, preferred the original boss arenas, and so the Zone was replaced by a Zone in which the original arenas were placed back-to-back with no significant changes.
According to Christian Whitehead:
Basically during development, we tried something different for the Boss Attack mode. Instead of the original bosses back to back, they were all in the one zone with connecting platforming sections - the idea being that it was a testing facility, with mechanical palm trees, flashing lights etc etc. It was fairly close to completion (it just needed a few graphical effects, replacing placeholder graphics, and general polish), however Sonic Team didn't agree with changing the location, colours or graphic style for the Bosses.[1]
Trivia
The mechanical scenery of Egg Gauntlet Zone seems to use graphics similar to the ones used in one of the levels of the scrapped Sonic game Sonic Crackers.
This Zone is the most complete of the scrapped Sonic the Hedgehog 2 Zones, as it contains a full level layout complete with objects, suggesting that it was removed late in development.
Gallery
Videos
External links
References
---
Main article | Gallery | Staff | Prereleases (Nick Arcade | Simon Wai) | Re-releases (2006 | 2013) | Knuckles in Sonic 2
Characters
Sonic (Super Sonic, Glitch Sonic) | Tails (Super Tails**) | Knuckles (Super Knuckles) | Dr. Robotnik | Animals (Becky, Cucky, Flicky, Pocky, Pecky, Cucky, Ricky, Picky, Rocky, Locky, Wocky, Micky, Tocky)
Badniks
Aquis | Asteron | Balkiry | Banper* | BBat** | BFish* | Bubbler* | Bubbler's Mother* | Buzzer | Cactus* | Chop Chop | Clucker | Coconuts | Crawl | Crawlton | Flasher | Frog* | Gator* | Gohla | Grabber | Grounder | Jellygnite** | Lobster* | Masher | Nebula | Octus | Rexon | Shellcracker | Slicer | Snail* | Spiker | Spiny | Stegway** | Turtloids | Redz** | Whisp
Zones
Emerald Hill Zone | Chemical Plant Zone | Aquatic Ruin Zone | Casino Night Zone | Hill Top Zone | Mystic Cave Zone | Oil Ocean Zone | Metropolis Zone | Sky Chase Zone | Wing Fortress Zone | Death Egg Zone | Hidden Palace Zone** | Genocide City Zone* | Dust Hill Zone* | Rock World Zone* | Wood Zone* | Egg Gauntlet Zone** | Boss Attack Zone** | Proto Palace Zone** | Special Stage
Bosses
Drill Eggman | Water Eggman | Tonkachi Eggman | Catcher Eggman | Submarine Eggman | Drill Eggman II | Hidden Palace Zone boss** | Submarine Eggman II | Flying Eggman | Barrier Eggman | Mecha Sonic | Death Egg Robot
Moves/techniques
Climb | Glide | Insta-Shield** | Propeller Flying | Spin Jump | Super Dash Attack | Super Spin Attack
Items
Ring | Monitor (Super Ring, Shield, Power Sneakers, Invincibility, Extra Life, Teleporter, Eggman, Lightning Shield**, Flame Shield**, Random, Water Shield**, S**) | Continue | Spring | Star Post (Star Circle) | Bumper | Switch | Air Bubbles | Signpost | Capsule
Other
Bomb | Booster | Original Soundtrack | Bumper wall | Cannon | Chaos Emerald | Conveyor Belt | Corkscrew loop | Crusher | Death Egg Robot | Debug Mode | Egg Jet | Fan | Flipper | Giant spear | Gondola | High-speed elevator | High-speed warp tube | Mega Mack | Metal nut | Perfect Bonus | Pinball Shooter | Seesaw | Shuttle loop | Slot machine | Spiked ball | Spikes | Stone pillar | Time Attack | Tornado | Totem pole | West Side Island | Winding Tunnel

*Exclusive to the prototype versions of Sonic the Hedgehog 2.
** Exclusive to the 2013 re-release version.