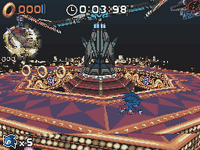 Egg Libra (エッグライブラ, Egguraibura?) is the boss of Night Carnival from Sonic Rush. It is the fourth boss for Sonic the Hedgehog and the first boss for Blaze the Cat. It is either controlled by Eggman Nega (if you're Sonic) or Dr. Eggman (if you're Blaze).
Appearance
Egg Libra is similar to a libra scale or a merry-go-round like-machine. One of the ball pits holds an Egg Mobile inside. Depending on the character you chose from depends on the color scheme it has:
Sonic: Mostly grey, it has blue like-arms, pink and orange like-hands, and red and gray on one ball pit, while the other is red, blue, and white. The bots it drops are green.
Blaze: Mostly gray with orange like-arms, lime green like-hands, and lime green and gray on one ball pit, while the other is red, blue, and white. The bots it drops are colored purple and pink.
Battle
Egg Libra has two ball pits or scales that goes around and comes down on Sonic/Blaze, but only one holds Eggman Nega or Eggman. The electric ball pit is usually covered by electricity on it. It discharges this electricity directly to the ground and will only harm Sonic/Blaze he/she is standing underneath the discharge point which happens occasionally. This attack leaves the electric ball pit undefended for a short time and this is the only chance for Sonic/Blaze to safely attack it. After the electric ball pit has been hit it will drop Dr. Eggman/Eggman Nega's pod down long enough for Sonic/Blaze to attack it. In addition, it also spawns a small robot that crawls around a short section of the circular stage. If hit from above, this robot will launch the player upwards after it has been destroyed and the player can easily damage Eggman/Nega's pod if timed correctly.  At times, the Egg Libra will throw the electric ball pit down with a lot of force which causes two waves of energy traveling in different directions along the ground, so Sonic/Blaze must jump to avoid it. As the Egg Libra takes more hits, it will circle faster and the electric ball pit will have less time with no electricity. Once Eggman/Nega's pod has been hit six or eight times, the Egg Libra is defeated.
Trivia
---
Main article | Gallery | Staff
Characters
Sonic (Super Sonic) | Tails | Knuckles | Amy | Cream | Vanilla | Blaze (Burning Blaze) | Dr. Eggman | Dr. Eggman Nega | Animals (Camel, Cat, Elephant, Gorilla, Koala, Kangaroo, Lion, Mole, Monkey, Parrot, Peacock, Penguin, Rabbit, Seal, Skunk, Swallow) | Flicky | Ricky | Pocky | Wocky
Stages
Leaf Storm | Water Palace | Mirage Road | Night Carnival | Huge Crisis | Altitude Limit | Dead Line | Unknown | Exception | Special Stages*
Enemies
Battle Flapper | Bomb Hawk | Cannon Flapper | Egg Bishop | Egg Diver | Egg Hammer | Egg Pawn | Egg Pawn Bunny | Egg Pawn Manager (gun) | Egg Pawn Manager (SF gun) | Falco | Flapper | Gun Hunter | Klagen | Knight Pawn | Laser Flapper | Rhinos Bling | Solid Pawn
Bosses
Egg Hammer Mega | Egg Turtle | Egg Scarab | Egg Libra | Egg Hammer Fortress | Egg Eagle | Sonic/Blaze | Egg King | Egg Salamander
Moves/techniques
Axel Jump** | Axel Tornado** | Boost Mode | Burning Fire Boost** | Burst Dash** | Burst Hover** | Trick Action | Fire Boost** | Hop Jump* | Humming Top* | Jump Dash* | Jump Step** | Spin Dash* | Spin Jump* | Super Boost* | Super Sonic Boost*
English voice actors
Jason Griffith (Sonic) | Mike Pollock (Eggman, Eggman Nega) | Amy Palant (Tails) | Rebecca Honig (Cream) | Bella Hudson (Blaze)
Japanese voice actors
Jun'ichi Kanemaru (Sonic) | Chikao Ōtsuka (Eggman, Eggman Nega) | Ryo Hirohashi (Tails) | Sayaka Aoki (Cream) | Nao Takamori (Blaze)
Original Groove Rush
A New Day | Right There, Ride On | Back 2 Back | Ethno Circus | Ska Cha Cha | Jeh Jeh Rocket | Get Edgy | What U Need | Metal Scratchin' | Vela Nova | Bomber Barbara | Wrapped in Black | Raisin' Me Up
Other
Air Bubbles | Blaze's world | Bungee Rope | Cannon | Chaos Emerald | Corkscrew loop | Dash Panel | Dash Rail | Dash Ring | Electric Generator | Giant Waterwheel | Goal Ring | Hang Glider | Health Gauge | High-speed warp tube | Item Box (Super Ring, Shield, Lightning Shield, Invincibility, Tension Bonus, Max Tension Bonus, Slow, Attract, Confusion) | Rainbow Ring | Ramp | Real-Time Interaction | Ring | Shuttle loop | Sol Emerald | Special Generator* | Spring Pole | Switch | Time Attack | Tension Gauge | Winding Rope | Zip Line

*Exclusive to Sonic the Hedgehog
**Exclusive to Blaze the Cat.