Egg Pawn
Talk

8
7,427pages on
this wiki
E-1001 Egg Pawn

Egg Pawn, one of Eggman's E-1000 series robots.
Appearances
First appearance
Game
appearances
Real-world designer(s)
Creator
(real-world)
Biographical overview
Creator
Family

E-1000 series robots

Physical description
Species

Robot

Gender

N/A

Color scheme

Vermilion, amber, gray, cyan

Eyes

Cyan

Alignment and character traits
Alignment

Varies

Skills, abilities and powers
Skills

Can utilize a wide variety of weapons; Charging
The E-1001 Egg Pawn, usually referred to simply as Egg Pawns (エッグポーン, Eggupōn?), first appeared in the game Sonic Heroes and are a part of Dr. Eggman's E-Series, his latest series of Badniks. They come in different varieties, each having its own unique abilities, and serve as Eggman's foot soldiers. The Egg Pawn also shares more than a passing resemblance to EggRobo.
Game Appearances
Sonic Heroes
The Egg Pawn model first debuted in Sonic Heroes. They serve as the most common enemy in the stages and also may come equipped with a lance, machine gun, or laser. Some of them have shields that can come in three different styles: rock, metal, and heavy metal. Egg Pawns carrying lances will charge you while the ones wielding lasers and machine guns will fire without changing position.
Shadow the Hedgehog
The Egg Pawn appeared again in Shadow the Hedgehog, where they work on Dr. Eggman's side in the war against the Black Arms and in the doctor's hunt for the Chaos Emeralds. In this game, they also wield weapons which can also be used by Shadow. They can be picked up from defeated Egg Pawns.
Sonic Rush
Egg Pawns also serve as enemies in Sonic Rush. This time, they had different color schemes to match the weapon (or, in some cases, no weapon) they carried. Unlike in this game, they're powered by animals. They also seem to run much faster in this game.
Sonic Rivals series
Egg Pawns return in both Sonic Rivals and its sequel Sonic Rivals 2 as enemies. They are unarmed but merely damage the player by simply charging into them. Their artwork from Sonic Heroes are also seen as collectible cards.
Sonic Unleashed
While the Egg Pawn did not appear in
Sonic Unleashed
, a new type of enemies called
Egg Fighters
appeared in their place. These and its variants seem to be the equivalent to Egg Pawns as they bear a similar appearance, abilities and functions. Egg Fighters with a similar colouration as Egg Pawns appear in Apotos Act 1.
Sonic Colors
The Egg Pawns also appear in the Wii and DS exclusive Sonic Colors as common stage enemies as seen in gameplay trailers. Like in Sonic Heroes, their design is different based on every level. They also have a slightly different appearance -- their arms have a different color, and they are bulkier.
Sonic Generations
They appear again in Sonic Generations in the levels Seaside Hill, Tropical Resort, and Planet Wisp. Their weapons are based on what era they appear in.
Sonic Lost World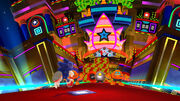 Egg Pawns make an appearance in Sonic Lost World. During the game, it turns out that all of Eggman's robots, Egg Pawns included, were hijacked by the Deadly Six. Egg Pawns have received a slight, simplified redesign in the game. No different variants besides regular Egg Pawns are seen in the game, though there are two types of Egg Pawns, which either stay on strings waiting for the player, or can start chasing the player around the act.
In Sonic Lost World, Egg Pawns can be found at Silent Forest, where they can pop out from small holes at the tubular stage and start attacking.[1] They are later seen as guards at Frozen Factory Zone 3 with Crawl badniks.
Mario and Sonic Series
The Egg Pawns also appear in Mario & Sonic at the Olympic Games as enemies that the player can shoot in the Dream Shooting competition. In this game, Egg Pawns are similar to Goombas from the Super Mario series.
Egg Pawns also appears as goalies in Mario & Sonic at the London 2012 Olympic Games. They are color coded for what team they're on. Additionally it can be unlocked as a costume and appears in Dream Fencing.
Sonic & Sega All-Stars Racing
Egg Pawns also appear in Sonic & Sega All-Stars Racing where they act as obstacles. They usually move around on certain parts of racetracks, and jumping around. If a racer hits one, he/she will spin out. If a racer boosts right into an Egg Pawn, it will be gone for a few seconds before coming back. They are seen in Casino Park and Final Fortress racetracks.
Variations
Egg Knight
The Egg Knights are gold plated Egg Pawns that typically wield lances and lead a small group of Egg Pawns. They have more stamina than ordinary Egg Pawns and are usually found in positions where it is difficult to reach them without alerting any regular Egg Pawns nearby. This is because the destruction of an Egg Knight will result in any and all Egg Pawns in the nearby area being automatically destroyed with it.
Casino Pawn
These are casino themed Egg Pawns that appear in casino themed stages. There are three variants known such as the neon blue Casino Managers with black tie suits, neon pink Casino Bunnies, and neon green Casino Clowns that have weird meters above their heads, and typically wield machine guns. They appear in the fifth and sixth levels and third boss of Sonic Heroes (Casino Park, Bingo Highway and Robot Carnival respectively).
Egg Flapper
In Sonic Heroes, there was also another enemy known as the Egg Flapper. These enemies look similar to Egg Pawns, except they fly. Again, they were featured in Sonic Rush and they also appear in Sonic and the Black Knight as enemies in the legacy missions. They serve as the only enemies that can be destroyed with a homing attack. The Egg Flappers cannot be destroyed by any sword attacks, possibly due to their nonexistence in Arthurian Legends.
Weapons and Equipment
The Egg Pawns' weapons vary from game to game. In Sonic Heroes, they wield rapidfire blasters, single-shot cannons and lances. In Shadow the Hedgehog, they carry semi-automatic blasters, bazookas and lances (they use the same models from Heroes). Egg Pawns in Sonic Heroes sometimes carry shields which can be either rectangular, round with spikes, or stone. In Sonic Heroes, Egg Pawns that used rapidfire blasters typically angled their shots downward and fired in a sweeping motion, while in later games they shoot straight. It is possible that Metal Sonic altered their programing in Heroes, as the downward angle of the shots would most likely hit a person's feet, which would disable Sonic's ability to run. The use of lances could also be related to Sonic's speed, as he could potentially impale himself.
In Sonic Colors, they have different weapons depending on the stage they appear in. For example, they wield whisks in Sweet Mountain, pickaxes in Planet Wisp, and katanas in Aquarium Park. In a handful of stages, they can also use blasters and various other weapons.
With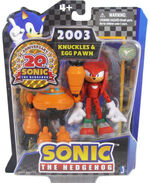 the
Sonic Generations
announcement in 2011, Jazwares had made figures of the characters from the game series. A
Knuckles
figure and an Egg Pawn figure were made by Jazwares.
Trivia
The Egg Pawns are one of the most frequently appearing Badniks in the Sonic franchise.
The Egg Pawn's foot design from Sonic Colors and Sonic Generations is near identical to Metal Sonic's.
The Egg Pawns are very simaler to the Egg Robo from the classic era.
Gallery
References
Sonic the Hedgehog characters
Sonic Rush

Characters
Sonic (Super Sonic) | Blaze (Burning Blaze) | Tails | Cream | Knuckles | Amy | Eggman | Eggman Nega
Zones
Leaf Storm | Water Palace | Mirage Road | Night Carnival | Huge Crisis | Altitude Limit | Dead Line | Unknown | Exception | Special Stages*
Enemies
E-1001 Egg Pawn (Knight Pawn) | E-1002 Egg Flapper (Sea Pawn) | Egg Pawn Ogre | Rhino Spring | Gun Hunter | Bomb Hawk
Bosses
Egg Hammer Mega | Egg Turtle | Egg Scarab | Egg Libra | Egg Hammer Fortress | Egg Eagle | Sonic/Blaze | Egg King | Egg Salamander
Moves/Techniques
Axel Jump** | Axel Tornado** | Burning Fire Boost** | Burst Hover** | Combo Tricks | Fire Boost** (Burning Blaze Version**) | Hop Jump** | Humming Top* | Jump Dash* | Jump Step** | Spin Dash* | Spin Jump* | Super Boost*
English Voice Actors
Jason Griffith (Sonic) | Mike Pollock (Eggman, Eggman Nega) | Amy Palant (Tails) | Rebecca Honig (Cream) | Bella Hudson (Blaze)
Japanese Voice Actors
Jun'ichi Kanemaru (Sonic) | Chikao Ōtsuka (Eggman, Eggman Nega) | Ryo Hirohashi (Tails) | Sayaka Aoki (Cream) | Nao Takamori (Blaze)

Original Groove Rush

A New Day | Right There, Ride On | Back 2 Back | Ethno Circus | Ska Cha Cha | Jeh Jeh Rocket | Get Edgy | What U Need Is | Metal Scratchin' | Vela Nova | Bomber Barbara | Wrapped in Black | Raisin' Me Up
Other
Air Bubbles | Bungee Rope | Chaos Emeralds | Corkscrew Loop | Gallery | Item Box (Super Ring, Shield, Lightning Shield, Invincibility, Tension Bonus, Max Tension Bonus, Slow, Attract, Confusion) | Ramp | Rings | Special Generator* | Switch | Time Attack | Tension Gauge | Winding Rope

Articles with an "*" are exclusive to Sonic the Hedgehog; articles with an "**" are exclusive to Blaze the Cat.