Electric Generators
are small generators that shoot out electricity.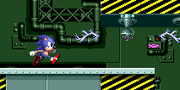 They can be very hazardous to Sonic due to their placement.
Game appearances
The generators appear in both Acts 1 and 2 of Scrap Brain Zone, amongst many other dangerous traps designed to kill Sonic.
The generators appear in Scrap Brain just like in the 16-bit version. Electric wires that are similar to the generators appear in Act 1 of Sky Base Zone in the background. The wires periodically light up, causing damage to Sonic if he makes contact with one.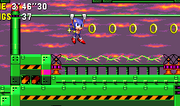 The generators design is different then they were in Sonic the Hedgehog. They appear in Wacky Workbench, although they shoot a line of electricity this time. To dodge them, Sonic must get on a pole and move hand-over-hand across them.
The generators appear in Death Egg Zone as long panels of electricity on the floor or ceiling.  The ceiling ones shoot out lightning bolts periodically and can even harm Sonic through a lightning shield for some reason.
In other media
An electric generator appears in the episode "Slowwww Going". Scratch attached the "Subatomic Slow Go Beam Weapon" and got zapped by a bolt of electricity from a generator as he was walking along.

---
Characters
Sonic | Dr. Robotnik | Animals (Flicky, Pocky, Pecky, Cucky, Ricky, Picky, Rocky) | Tails* | Knuckles* | Super Sonic* | Super Tails* | Super Knuckles*

Badniks

Moto Bug | Buzz Bomber | Chopper | Crabmeat | Newtron | Caterkiller | Bat Brain | Roller | Spikes | Burrobot | Jaws | Orbinaut (Unidasu, Uni Uni) | Bomb | Ball Hog

Zones

Green Hill Zone | Marble Zone | Spring Yard Zone | Labyrinth Zone | Star Light Zone | Scrap Brain Zone | Final Zone | Special Stages
Bosses
Egg Mobile-H | Marble Zone boss | Spring Yard Zone boss | Labyrinth Zone boss | Star Light Zone boss | Egg Pistons
Moves/techniques
Spin Jump | Spin Attack | Spin Dash* | Insta-Shield* | Propeller Flying* | Glide* | Climb*
Items
Ring | Monitor (Super Ring, Shield, Power Sneakers, Invincibility, Extra Life, S*, Flame Shield*, Aqua Shield*, Thunder Shield*) | Continue | Spring | Star Post | Bumper | Switch | Air Bubbles | Bonus Point | Signpost | Giant Ring | Capsule | Jump Stand | Up and Down | Reverse | Goal
Other
Blue Sphere | Bomb | Chaos Emerald | Crusher | Fan | Fire Statue | Fireball Cannon | Giant spear | Debug Mode | Electric Generator | Flywheel | High-speed elevator | Conveyor Belt | Color Block | Madonna | Movable box | Rotating platform | Original Soundtrack | Promotional Comic | Shuttle loop | Sonic the Hedgehog Band (Max, Mach, Sharps, Vector) | Seesaw | South Island | Spiked Ball | Spikes | Splats | Story Comic | Time Attack | Totem Pole | Winding Tunnel

*Exclusive to the 2013 re-release of Sonic the Hedgehog.
---
| | |
| --- | --- |
| Characters | Sonic | Dr. Robotnik | Animals (Flicky, Pocky, Pecky, Cucky, Ricky, Picky, Rocky) |
| Badniks | Moto Bug | Buzz Bomber | Chopper | Crabmeat | Newtron | Caterkiller | Spikes | Burrobot | Jaws | Orbinaut (Unidasu, Uni Uni) | Bomb | Ball Hog |
| Zones | Green Hill Zone | Bridge Zone | Jungle Zone | Labyrinth Zone | Scrap Brain Zone | Sky Base Zone | Special Stages |
| Moves/techniques | Spin Attack | Spin Jump |
| Items | Ring | Monitor (Super Ring, Shield, Power Sneakers, Invincibility, Extra Life, Continue, Arrow Monitor) | Spring | Bumper | Switch | Air Bubbles | Signpost | Capsule |
| Other | Bomb | Chaos Emerald | Conveyor Belt | Crusher | Electric Generator | Fire Statue | Flipper | Giant spear | Seesaw | South Island | Spiked Ball | Spikes | Teleporter | Totem pole |