Emerald Coast is the first board that appears in Sonic Shuffle.
Overview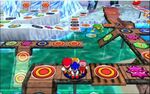 This world exists for lovers of the sun, but Void's magic is causing the tropical paradise to experience a rather unseasonal ice age. Note that you can only move underwater for five turns: fail to cross a bubble square within the limit and you'll be booted back to the surface. Sea turtles act as stepping stones, but can't be crossed when submerged. Toward the end of the stage, the wooden ship in the lower portion of the arena takes to the sky and flies away, eliminating a valuable shortcut. Land on the Quest square and you're given eight turns to return a beached dolphin to the sea. Complete the stage to initiate the Sonic Surfing minigame. If the player was first, the next cut-scene is shown and you enter the next board, which is the Fire Bird.
This is shown to be Knuckles' Dream World in the Opening.
Gallery
See also
---
Main article | Gallery | Script | Staff
Characters
Sonic (Super Sonic) | Tails | Knuckles | Amy | Gamma | Big | Chao | Dr. Eggman* | Lumina Flowlight* | Illumina* | Void* | NiGHTS*
Boards
Emerald Coast | Fire Bird | Fourth Dimension Space | Nature Zone | Riot Train
Mini-Games
Vs 4
Egg & the Chicken | Egg in Space | Frosty Rumble | Fun Fun Sonic | Great Escape | Jump the Snake | Over the Bridge | Number Jump | Over the Rainbow | Psychic Sonic | Shadow Tag | Sonic Gun Slinger | Sonic Live | Sonic Tag | Sonic Tank | Sonicola | Stop and Go | Thor's Hammer | Tractor Beam Tag | Twister | Zero G Snap Shot
2 vs 2
Bomb Relay | Bucket-O-Rings | Shoddy Work | Sonic the Thief
1 vs 3
Bungee Jump | Eggbot's Attack! | Gargantua | Manic Maze | Sonic DJ | Sonicooking | Wrong Way Climb
Accidents
Crock-Attack | Final Frontier | Ring Lasso | Ring of Fire | Rapid Climb | Ring Tide | Sky Bridge | Sonic Coast | Thru the Tunnel
Stage Clear
Earth Quake | Sky Diving | Sonic Surf | Stop the Train | Void Battle
Play Order
Sonic Darts | Sonic Hi Lo | Sonic Slot
Techniques/Moves
Spin Dash | Propeller Flying | Climb | Hammer Jump | Hover | Light Speed Dash | Light Speed Attack | Rapid Tails Attack | Maximum Heat Knuckles Attack | Laser Blaster | Lock-On Missile | Power Rod | Revolving Hammer Attack | Lullaby
Other
Card | Forcejewel | Magical Card | Maginaryworld | Maginaryworld Monsters | Mini-Event | Precioustone | Ring | Spaces (Battle Space, Eggman Battle Space, Event Space, Jewel Shop Space, Jump Space, Minus Ring Space, No Entry Space, Plus Ring Space, Precioustone Space, Quest Space, Revolving Space, Void Preciousstone Space) | Sonic Room | Spring | Temple of Light

*Not playable