Fairies are a species that appears in Sonic and the Black Knight. They are a race of magical creatures from the world of Camelot and supposedly this world's equivalent to the Chao. They come in a different variety of colors and the type can be identified by the color of their glow.
In gameplay, fairies appear along the way during the majority of the Missions, usually in clusters. Touching a fairy will grant the player a certain effect depending on its color, such as granting Rings, giving a boost in speed and so forth.
Description
Anatomy
Fairies are very small creatures, not much larger than the size of Sonic's hand. Their body looks like the head of a neutral Chao and they have a pair of wings on each side of their body. They each glow in different colors which can be either yellow, red, blue, turquoise, green, purple or white.
Powers and abilities
Fairies are able to fly in the air using their wings. They also possess magic, which for example can be used to levitate objects.[1]
Types of Fairies
Fairies come in seven differently color-types. Those that can be touched trigger an effect for the player, with the effect depending on their color:
Yellow fairies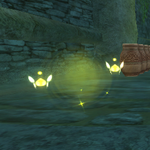 Yellow fairies are the most common, and can appear alone or in clusters. They grant the player a certain amount of Rings when touched, similar to the Super Ring, essentially replacing the Rings in most Missions. The number of Ring they grant range from one, two, five, ten, fifteen and up to thirty Rings, depending on the size of the fairy cluster; the larger the cluster is, the more Rings it grants. After being touched once, the yellow fairies disappear.
Red fairies
Red fairies are fairies that fill up the Soul Gauge with Soul Gauge energy when touched, and can appear alone or in clusters. How much of Soul Energy they grant depends on the size of their cluster; the larger the cluster is, the more of the Soul Gauge it fills. After being touched once, the red fairies disappear.
As implied by Caliburn, red fairies are brave.
Turquoise fairies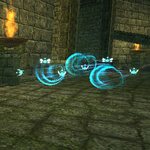 Turquoise fairies are fairies that function like Dash Panels, and they always appear in clusters. When touching a cluster of turquoise fairies, the playable character is launched down the path the player is facing with a burst of speed. Usually, turquoise fairy clusters are set in rows.
Blue fairies
Blue fairies are fairies that function like Springs, and they always appear in clusters. When touching a cluster of blue fairies, the playable character is launched through midair. In gameplay, the player can also home in on the blue fairies with the Homing Dash.
Green fairies
Green fairies, specifically called Hidden Fairies, are rare fairies which always appear alone. Unlike most other fairies, they do not tigger an effect. Instead, they are the primary targets in the "Hide and Seek" missions where the player's objective is to collect a certain number of Hidden Fairies. With the Skill "Hidden Fairy Lock-On", the player can use lock-on on Hidden Fairies during Soul Surges, making them easier to collect. After being touched once, the green fairies disappear.
Purple fairies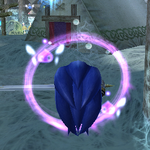 Purple fairies are fairies whose effect is identical to the Air Launcher, and they always appear in clusters. When touching a cluster of purple fairies, the playable character is suspended within it. The player can then shoot the playable character through the air by swinging the Wii remote when the cluster shrinks down to a certain size. Failing to do so will make the playable character fall out of the cluster.
White fairies
White fairies appear exclusively in Misty Lake where they fly around in the background. As such, they cannot be interacted with, nor do they grant a special effect.
Trivia
The colors of the fairies are the same ones as those of the Chaos Emeralds.
Gallery
Sprites
References
↑

Arthur's Legend 3: Tales from Arthur's youth.
Sonic and the Black Knight
---
Main article | Gallery | Script | Staff
Characters
Sonic (Excalibur Sonic) | Caliburn (Excalibur) | Merlina (Dark Queen) | King Arthur | King Arthur's horse | Blacksmith | Nimue | Lancelot | Gawain | Percival | Galahad* | Lamorak* | Shadow* | Knuckles* | Blaze* | Amy* | Merlin | King Uther Pendragon | Lady Igraine | Sir Ector | Townsperson

Areas

Grand Kingdom
Camelot Castle | Shrouded Forest | Knight's Passage | Deep Woods | Dark Hollow
Outlands
Misty Lake | Molten Mine | The Cauldron
Highlands
Titanic Plain | Crystal Cave | Great Megalith | Dragon's Lair
Avalon
Faraway Avalon
Enemies
Crawling-One | Eyeball-One | Fish-One (Red, Blue, Yellow, Purple, White) | Flapper | Giant-One | Soldier-One (Sword, Spear, Axe, Crossbow)
Bosses
Mist Dragon | King Arthur | Lancelot | Gawain | Percival | Earth Dragon | Dark Queen
Moves/
techniques
Basic
Guard | Homing Dash | Jump Dash | Lock-on
Special
Back Step | Grinding | Wall Climb | Wall Shuffle | Wall Slide
Soul Surges
Arthur's Soul Surge | Blacksmith's Soul Surge* | Chaos Punishment | Excalibur Sonic's Soul Surge | Flames of Kilekion | Gail Meteor | Galahad's Soul Surge* | Rose Typhoon* | Sonic's Soul Surge
Treasury
Weapons
Steel Longsword | Cursed Longsword | Rusty Longsword | Bronze Longsword | Katana | Cursed Dagger | Rusty Dagger | Bronze Dagger | Steel Dagger | Cursed Rapier | Rusty Rapier | Bronze Rapier | Steel Rapier | Cursed Spear | Rusty Spear | Bronze Spear | Steel Spear | Cursed Axe | Rusty Axe | Bronze Axe | Steel Axe
Armor
Steel Gauntlet | Cursed Gauntlet | Rusty Gauntlet | Bronze Gauntlet | Cursed Helmet | Rusty Helmet | Bronze Helmet | Steel Helmet | Samurai Helmet
Necklaces
String of Pearls | Mermaid's Tear | Pendant of Eons | Chain Bracelet | Thorn Anklet | Flower Amulet | Wooden Belt | Bright Red Ribbon | Expensive Broach | Rabbit's Tail | Poison Broach | Stone Broach | Ice Broach | Cure-all Broach
Medicines
Healing Potion | Healing Draught | Antidote | Superior Antidote | Paralysis Cure | Paralysis Immunity | Stone Protection | Petrification Immunity | Vial of Calm | Philter of Tranquility | Fiery Quaff | Hot Fiery Quaff | Herb of Toughness | Herb of Strength
Books
Arthur's Legend 1 | Arthur's Legend 2 | Arthur's Legend 3 | Arthur's Legend 4 | Arthur's Legend 5 | Tome of Arms | Tome of Armor | Tome of Medicines | Tome of Amulets | Tome of Games | Tome of Jewels | Tome of Minerals | Tome of Plants | Tome of Feasts | Tome of Rings | Encyclopedia Arcana
Rings
Yellow Ring | Green Ring | Red Ring | Blue Ring | Aqua Ring | White Ring | Purple Ring | Poison Ring | Doughnut | Onion Ring
Plants
Carnation | Violet | Daffodil | Sweetpea | Lily | Rose | Larkspur | Gladiolus | Morning Glory | Marigold | Daisy | Narcissus | Herb
Gem Stones
Garnet | Amethyst | Aquamarine | Diamond | Emerald | Moonstone | Ruby | Peridot | Sapphire | Opal | Topaz | Turquoise
Toys
Pawn | Rook | King | Queen | Bishop | Knight | Ace of Spades | Ace of Clubs | Ace of Hearts | Ace of Diamonds | Joker | Medal of Sonic | Medal of Gawain | Medal of Lancelot | Medal of Percival | Dart | Dartboard | Die | Big the Cat Mask | Building Block | Fishing Pole | Doll
Minerals
Stone | Lump of Iron | Lump of Bronze | Aluminum Ore | Skipping Stone | Rock Salt | Beautiful Crystal | Ice Crystal | Lava Jewel | Flintstone | Mintstone | Gold Ingot | Quasi-Magic Stone | Mithril | Hardtack | Burnt Bread | Moonrock | Wavestone | Dragon-Eye Stone | Orichalcum
Foods
Moist Cookie | Tart | Fresh Milk | Spongy Bread | Aromatic Tea | Chilidog | Herb of Calm | Lollipop | Ham
Special Items
Flag | Ballista Arrowhead | Raven's Feather | Mouse Tail | Oar | Lantern | Broken Trap | Egg | Cheese | Magical Moth Dust | Plant Thorn | Giant Flower Seed | Troll's Eyelash | Broken Lock | Rabbit Fur | Lizard Tail | Prison Key | Iron Shackle | Highland Mushroom | Silk Clothing | Silk Shoe | Dragon Scale | Dragon Claw | Dragon's Fang | Shovel | Pickaxe | Wheelbarrow | Bat's Fang | Broken Brick | Soft-Boiled Egg | Lithograph | Letter
Swords
Clarent | Arondight | Rubious | Morglay | Gastiga | Secace | Altachiara | Durendal | Aduro Cutlass | Aduro Khopesh | Precieuse | Espadon | Ddraig Goch | Galatine | Battleaxe | Labrys | Hauteclaire | Gringolet | Balmung | Sanglamore | Chrysaor | Almace | Caledfwlch | Flaming Kopis | Flamberge | Laevatein | Corrougue | Colada | Ktuga | Brinnig | Solais Rapier | Claiomh Solais | Fragarach | Curtana | Ignis Fleuret | Glorious | Joyeuse
Misc.
Mastery Star | Map | Skill Scroll | Music Notes | Knight's Seal | Knight's Banner | Emblem Component | Painting | Deadly Swordsman | Windblade | Destroyer | Quickblade | Blade without Equal | Despised One | Chicken | Weakling | Coward | Ruffian
English voice actors
Jason Griffith (Sonic, Shadow, Lancelot, Lamorak) | Casey Robertson (Caliburn) | Melissa Hutchison (Merlina) | Gavin Hammon (Arthur) | Amy Palant (Blacksmith) | Lisa Ortiz (Amy, Nimue) | Dan Green (Gawain, Knuckles) | Bella Hudson (Percival, Blaze) | Pete Capella (Galahad)
Japanese voice actors
Jun'ichi Kanemaru (Sonic) | Hiroaki Hirata (Caliburn) | Mamiko Noto (Merlina) | Hidekatsu Shibata (Arthur) | Ryo Hirohashi (Blacksmith) | Taeko Kawata (Amy, Nimue) | Kouji Yusa (Shadow, Lancelot) | Nobutoshi Canna (Gawain, Knuckles) | Nao Takamori (Percival, Blaze) | Daisuke Ono (Galahad) | Daisuke Kishio (Lamorak)
OriginalSoundtrack/
Face to Faith
Knight of the Wind | With Me | Fight the Knight | Through the Fire | Live Life
Other
Acts of Chivalry | Apple | Barrier stone | Bat | Battle Mode | Black onyx | Bottomless pits | Breakable Block | Butterfly | Cavalier Style | Chaos Blast | Chaos Control | Chaos Spear | Corner Pole | Dash Panel | Diehard Challenge | Dragon (Thunder dragon) | Drifting | Explosion Trap | Fairy | Followers | Giant spear | Goal Plate | Goal Ring | Grind Rail | Hit | King Arthur and the Knights of the Round Table | Knight Style | Knight's Honor Bonus | Knights of the Round Table | Knights of the Underworld | Legacy Mission | Log | Minecart | Mushroom | Mystery Circle | Paladin Style | Ramp | Reflecting pool | Ring Container | Rich Ring | Ring | Sacred sword | Scabbard of Excalibur | Slime | Skill | Sonic and the Black Knight (manga) | Soul Gauge | Soul Gauge energy | Spiked ball | Spikes | Spring | Title | Treasure Chest | Treasury | Troll | Underworld | Will 'o Wisps | World of Camelot

"*" Appears exclusively in Battle Mode.
Ad blocker interference detected!
Wikia is a free-to-use site that makes money from advertising. We have a modified experience for viewers using ad blockers

Wikia is not accessible if you've made further modifications. Remove the custom ad blocker rule(s) and the page will load as expected.