Final Fortress
Talk

0
8,716pages on
this wiki
Final Fortress

The Final Fortress in full.
Appearances and Overview
First appearance
Other appearances
Description

A deathly mega flagship breaming with high tech weaponry guarded by Dr. Eggman's best creations.

Location

Egg Fleet (inside)/Sky

Stage theme(s)
Previous stage
Playable characters
(story mode)
Level number

14 (Final Level)

Number of acts

9

Enemies
Boss fight
The Final Fortress (最終的な要塞, Saishū Teki na Yōsai?) is a giant whale shark-shaped battle flagship that makes its first appearance in Sonic Heroes as the final stage, and as three different racing tracks in the racing game Sonic & Sega All-Stars Racing. Final Fortress is located in the heart of the Egg Fleet, and seems to be permanently surrounded in rough weather. Modern Sonic fights the Egg Emperor in Final Fortress in the Nintendo 3DS version of Sonic Generations.
Description
In Sonic Heroes, Final Fortress acts as the final stage of the game. It has many different sections crossed with grinding rails, Tornado Jump poles, cannon fire, and the best of Doctor Eggman's robotic army. Some parts of the stage collapse; others can be detonated. Laser fire occurs periodically throughout the stage, probably as a security reflex. In the very core of the flagship lies a giant structure with a mechanical version of Eggman's head on top, hiding the power core of the vessel. The most common robot there is the E-2000. Team Sonic must befall the battleship by destroying its power core. Team Dark must reach this power core and capture the Doctor. Team Rose goes to find Froggy and Chocola, whom they believe have been kidnapped by Eggman. Team Chaotix goes to find the Keys to free their client and meet him in person. After reaching the core, Eggman goes to finish off the heroes in his most powerful robot yet.
Standard Missions/Extra Missions:
Team Sonic - Destroy the flagship's core! / Get to the Goal Ring within 9 minutes!
Team Dark - Get to the core where Eggman is! / Defeat 100 enemies!
Team Rose - Hurry and find Eggman! / Collect 200 rings!
Team Chaotix - Find the keys to the cell where the client is locked up! / Find 10 cell keys!
Other Game Appearances
Final Fortress also appears as three separate tracks in Sonic & Sega All-Stars Racing representing the Sonic the Hedgehog series.
Turbine Loop- This course has many long wide turns, perfect for drifting on. One section has multiple hills, which can be used to preform tricks.
Dark Arsenal- This course features Eggman's enemy factory on the ship, with numerous points on the track having enemy assembly lines in the way.
Thunder Deck- One of the hardest courses in the game, the sharp turns and numerous obstacles make for one tough course. It is possible to jump through the beam if the player has enough speed.
Final Fortress returns as the battlefield where Modern Sonic faces the Egg Emperor in the Modern Era for the Nintendo 3DS version of the game.
Trivia
In Super Hard Mode, after Team Sonic triggers the first self-destruct button onto the rail section, Sonic comments that the clouds are dark and Knuckles asks Tails if he can handle the stormy weather. Tails falsely replies that he's not scared, although, there was a slight pause before he finished his sentence, alluding to the fact that Tails has a fear of lightning.
The lasers fired by the Final Fortress match the team formations' primary colors: Blue (Speed Formation), Yellow (Flight Formation), and Red (Power Formation), however, the red laser is pink.
In Team Sonic's version of Final Fortress, shortly after destroying the first ship, there is a mistranslation. In the English version, Tails will ask why the ship self-destructed after pressing the button. In the Japanese version of the line, Tails asked why Eggman would place a self destruct switch where it was easily accessible.
Whenever the lasers fire, Tails will say "Blue/Yellow/Red laser fired!" which does not make a lot of sense if thought carefully. It would make sense if he says "Blue/Yellow/Red laser firing!".

Rouge also says "Yellow laser fired!" but says something different for the other lasers.
Gallery
Background
Music

Videos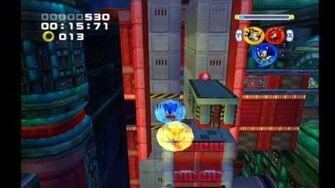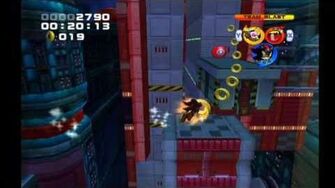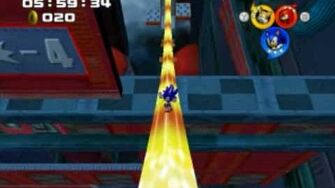 Sonic Heroes

Playable
characters
Team Sonic
Sonic | Tails | Knuckles
Team Rose
Amy | Cream | Cheese | Big
Team Dark
Shadow | Rouge | Omega
Team Chaotix
Espio | Charmy | Vector
Team Super Sonic
Super Sonic | Tails (Super Shield) | Knuckles (Super Shield)
Other characters
Eggman | Metal Sonic (Neo Metal Sonic) | Chocola | Froggy | Shadow Android
Enemies
Cameron | Egg Bishop | Egg Hammer | Egg Knight | Egg Magician | Egg Pawn | Egg Pawn (Casino version) | E-2000 | E-2000R | Falco | Flapper | Gold Cameron | Gold Klagen | Heavy-Egg Hammer | Klagen | Rhinoliner | Pumpkin-Head Ghosts

Stages

1P Stages
Sea Gate | Seaside Hill* | Ocean Palace | Grand Metropolis* | Power Plant | Casino Park | BINGO Highway* | Rail Canyon* | Bullet Station | Frog Forest* | Lost Jungle | Hang Castle | Mystic Mansion | Egg Fleet* | Final Fortress | Special Stage*
2P Stages
City Top | Casino Ring | Turtle Shell | Egg Treat | Pinball Match | Hot Elevator | Seaside Course | City Course | Casino Course | Road Rock | Mad Express | Terror Hall
2P Play Mode
Action Race | Battle | Bobsled Race | Expert Race | Quick Race | Ring Race | Special Stage
Bosses
Egg Albatross | Egg Emperor | Egg Hawk | Metal Madness | Metal Overlord | Robot Carnival | Robot Storm | Team Chaotix | Team Dark | Team Rose | Team Sonic
Moves/
Techniques
Speed
Manoeuvres
Homing Attack | Kick | Light Dash | Propeller Hammer | Rocket Accel | Shuriken | Spin | Swinging Hammer Attack | Tornado Jump (Black Tornado, Blue Tornado, Leaf Swirl, Tornado Hammer) | Triangle Jump
Power
Manoeuvres
Auto Homing | Body Press | Bubblegum Descent | Fire Combination | Fire Dunk | Fire Launcher | Fireball Jump | Forward Power Attack | Hammer Down | Jump Fire Knock | Jump Fireball | Remote Power Attack (Fireball, Fire Knock) | Triangle Dive | Umbrella Descent | Wide Power Attack (Big Fishing, Omega Arm, Vector Breath, Volcanic Dunk)
Fly
Manoeuvres
Ascending Flight | Cheese Attack | Dummy Ring Bomb | Sting Attack | Thunder Shoot | Quick Ascent
Team Blast
Sonic Overdrive | Chaos Inferno | Flower Festival | Chaotix Recital | Super Sonic Power
Other
Grinding | Jump Dash | Lightspeed Attack | Spin Jump
English Voice Actors
Ryan Drummond (Sonic, Metal Sonic) | Deem Bristow (Eggman) | William Corkery (Tails) | Scott Drier (Knuckles) | David Humphrey (Shadow) | Lani Minella (Rouge, Omochao) | Jon St. John (Omega, Big) | Jennifer Douillard (Amy) | Sarah Wulfeck (Cream) | Bill Corkery (Espio) | Marc Biagi (Vector) | Emily Corkery (Charmy)
Japanese Voice Actors
Jun'ichi Kanemaru (Sonic the Hedgehog, Metal Sonic) | Chikao Ōtsuka (Eggman) | Ryō Hirohashi (Tails) | Nobutoshi Kanna (Knuckles) | Kōji Yusa (Shadow) | Rumi Ochiai (Rouge) | Taiten Kusunoki (Omega) | Taeko Kawata (Amy) | Sayaka Aoki (Cream) | Takashi Nagasako (Big) | Yūki Masuda (Espio) | Kenta Miyake (Vector) | Yōko Teppōzuka (Charmy) | Etsuko Kozakura (Omochao)

OST

/

Vocal Trax

/

Official

/

20th Anniversary

Sonic Heroes | We Can | This Machine | Follow Me | Team Chaotix | What I'm Made of...
Other
Ball Switch | Bobsled | Bomb | Bull Train | Bumper | Cannon | Capsule | Castle Key | Cell Key | Cervix Tunnels | Chaos Emeralds | Character battles | Container | Conveyor Belt | Dash Panel | Dash Ring | Detonator Switch | Dummy Rings | Egg Fleet | Emblem | Flipper | Flower | Fly Type | Formation Change Gate | Gallery | Giant Frogs | Giant Switch | Glowing Mushrooms | Goal Ring | Grind Rail | Haunted Towers | Hint | Item Box (Barrier, Fly Charge, High Speed, Invincible, Rings, Power Core, Team Blast Ring, 1 UP) | Kao | Palm Plants | Pole | Power Gong | Power Type | Propeller | Pulley | Puzzle Game | Ranks | Ramp | Rings | Shuttle Loop | Slot Machine | Spear | Speed Type | Special Stage Key | Sphere | Spiderlight | Super Hard Mode | Super Shield | Switch | Target Switch | Team Blast Gauge | Team Chaotix Missions | Teleport Balls | Vine | Warp Flower | Weight | Wide Spring

*Stage is also playable in 2P Battle mode.