Final Zone
Talk

7
6,658pages on
this wiki
Final Zone
First appearance
Description

A green laboratory in which Sonic battles Dr. Robotnik for the last time in Sonic the Hedgehog (1991).

Location
Previous stage
Playable characters
(story mode)
Level number

Seventh

Number of acts

1
The Final Zone is the last level from the original Sonic the Hedgehog. It includes the final fight with Dr. Robotnik inside his private laboratory.
Sonic must defeat Robotnik without being hit for there are no rings to assist. Robotnik will attack using what are essentially four engine pistons that can crush Sonic. Every time two out of four pistons come down; one decoy, and one with Robotnik in it. Sonic is supposed to attack the pistons with Robotnik in them a total of 8 times. Between each piston cycle, four spark balls come from the ceiling towards Sonic, who must dodge them. After clearing this level, Robotnik flees, during which Sonic hits him while he is fleeing one last time, and after which the player is treated to the end sequence and credits.
The ending differs if the player has collected all of the Chaos Emeralds or not.
Screenshots
Edit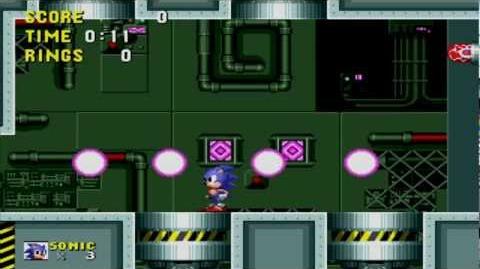 Other media
Edit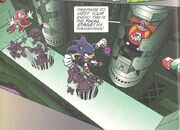 The Final Zone is briefly featured in issue 11 of the Sonic X comic book.
The Archie comic
Edit
The Final Zone is featured in issue 227 of the Sonic the Hedgehog comic book, during the "Genesis" arc. Like in the game, Sonic battles Dr. Eggman there.
This zone has two possible outcomes. The first outcome is Sonic hitting Dr. Robotnik at the end, resulting in his Eggmobile taking damage and faltering as he barely escapes. The second outcome is allowing the Doctor to flee unharmed. No matter which is chosen, the ending continues normally, and the player's score is not affected either way.