Fire Bird is the second board that appears in Sonic Shuffle.
Overview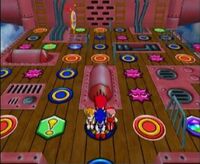 Fire Bird is a location within Maginaryworld born from the dreams of those who enjoy flying and freedom. Void has imprisoned the high-flying Fire Phoenix in a mechanical shell, and the heroes must collect Precioustones to set the phoenix free.
Players must be careful where they go as they traverse the board, as chunks of the ship can explode and break off at any time; any players standing on these chunks when they explode will lose a lot of Rings. Landing on a forklift space will summon a forklift to transport a player to another space on the board. When there is only one Precioustone left to collect, the lights dim and many of the spaces on the board will transform into Battle spaces, making the board far more treacherous as they will be fighting a lot of monsters.
At some point during the game, the ship's engine will leak, and all players have eight turns to reach the Quest space to patch it up. Whoever gets there first will win an Emblem at the end of the board.
List of Mini-Games
Trivia
Fire Bird is the Dream World of Tails, as revealed in the opening cutscene.
Music
| Name | Artist | Length | Music Track |
| --- | --- | --- | --- |
| Steal Ship | N/A | 2:18 | |
---
Main article | Gallery | Script | Staff
Characters
Sonic (Super Sonic) | Tails | Knuckles | Amy | Gamma | Big | Chao | Dr. Eggman* | Lumina Flowlight* | Illumina* | Void* | NiGHTS*
Boards
Emerald Coast | Fire Bird | Fourth Dimension Space | Nature Zone | Riot Train
Mini-Games
Vs 4
Egg & the Chicken | Egg in Space | Frosty Rumble | Fun Fun Sonic | Great Escape | Jump the Snake | Over the Bridge | Number Jump | Over the Rainbow | Psychic Sonic | Shadow Tag | Sonic Gun Slinger | Sonic Live | Sonic Tag | Sonic Tank | Sonicola | Stop and Go | Thor's Hammer | Tractor Beam Tag | Twister | Zero G Snap Shot
2 vs 2
Bomb Relay | Bucket-O-Rings | Shoddy Work | Sonic the Thief
1 vs 3
Bungee Jump | Eggbot's Attack! | Gargantua | Manic Maze | Sonic DJ | Sonicooking | Wrong Way Climb
Accidents
Crock-Attack | Final Frontier | Ring Lasso | Ring of Fire | Rapid Climb | Ring Tide | Sky Bridge | Sonic Parasol | Thru the Tunnel
Stage Clear
Earth Quake | Sky Diving | Sonic Surf | Stop the Train | Void Battle
Play Order
Sonic Darts | Sonic Hi Lo | Sonic Slot
Techniques/Moves
Climbing | Froggy | Gun | Hammer Jump | Hover | Light-speed Spin Dash | Light Speed Spin Attack | Lullaby | Maximum Heat Attack | Power Throw | Propeller Flight | Rapid Spin Attack | Roller Mode | Revolving Hammer Attack | Sonic Rumble | Spin Dash
Forcejewels
1 Force March | 6 Force March | Barrier Amber | Battle Ruby | Blockite | Carbuncle | Chamelionite | Curse Opal | Deletite | Duplichaos | Fivealive | Foolmoon | Geasdain | Hi-Speederald | Hypnotite | Lose Quartz | Low Moonstone | Magnifire | Maharajite | Max-Speederald | Medium | Packlite | Preciousite | Reducite | Ringidium | Shield Quartz | Shuffire | Sonic-Speederald | Speederald | Stopnite | Swap Jewel | Teleport Ruby | Thief's Eye | Transfire | Turbo-Speederald | Warp Crystal | Warponite | Wastone
Other
Card | Emblem | Magical Card | Maginaryworld | Maginaryworld Monsters | Mini-Event | Precioustone | Ring | Spaces (Battle Space, Eggman Battle Space, Event Space, Jewel Shop Space, Jump Space, Minus Ring Space, No Entry Space, Plus Ring Space, Precioustone Space, Quest Space, Revolving Space, Void Preciousstone Space) | Sonic Room | Spring | Temple of Light

*Not playable