Doctor Robotnik's Flame Craft (Angel Island Zone Act 1)
Talk

0
Share
For the boss that appears in Act 2, see Doctor Robotnik's Flame Craft (Angel Island Zone Act 2).
Doctor Robotnik's Flame Craft[1] (ファイヤーブレス, Faiyā Buresu?, lit. "Fire Breath") is the first sub-boss in Sonic the Hedgehog 3. The player encounters it at the end of Angel Island Zone Act 1. It only takes six hits to being destroyed. The boss encounter is different depending which character the player is controlling.
The Flame Craft is a mass-produced dark blue robot created by Dr. Robotnik. It has a bulky design and a small robotic head above the flamethrower, and is able to fly around with four jets on its underside and three rocket launchers behind its head.
Overview
The Flame Craft first appears halfway through Act 1 (along with numerous other Flame Crafts that fly across the background at the same time) and sets fire to the whole jungle, turning it from a beautiful serene place into a complete inferno. In this first appearance, the Flame Craft can be hit any number of times but cannot be destroyed. It departs when the cutscene ends. In Sonic the Hedgehog 3 & Knuckles, this scene gets repeated in Knuckles' story as well.
When Sonic/Tails confronts the Flame Craft at the end of Angel Island Zone Act 1, the robot descends to the arena and starts its rather simple pattern. After firing it's flamethrower once, Flame Breath then raises and flies to the other side to fire its flamethrower once. The robot keeps repeating its pattern until it gets destroyed. Flames coming from the thrower are rather the only thing to avoid in this battle, while small fires coming from jets on its underside can hurt the player as well. After dealing six hits on the Flame Craft, the robot explodes into pieces. When the signpost falls down, Invincibility, Flame Shield and Water Shield monitors are hidden underneath the ground, with all of them having a small gap between each other.
In the Sonic 3 & Knuckles lock-on, while Knuckles is unable to reach the upper part, where Sonic and Tails can fight the Flame Craft, the player has to go to a lower pathway by destroying huge breakable piles of rocks and face the Flame Craft again. However the robot's pattern is only somewhat challenging, as the Flame Craft is able now to fire three missiles from its launchers, which will fall down to the ground and are able to do damage. Despite that, the robot can be taken down after six hits. Invincibility, Water Shield and Extra Life monitors are hidden under the bottom of arena, while all of them having small gap between them.
In other media
Archie Comics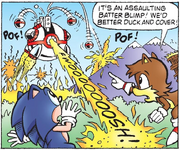 The Flame Craft makes a small appearance in the Archie Comics' Sonic the Hedgehog #13, where the robot is referred to as an "Assaulting Batter Blimp". As it attacked Sonic and Tails upon spotting them, the duo escaped into the Hydrocity Zone.[2]
In the timeline created by the Super Genesis Wave, the Flying Dynamo is based on the Flame Craft.
Trivia
If the player picks up Flame Shield from the monitor on left side of the before entering the boss arena, it can make the battle even more easier than it already is, as none of Flame Craft's attacks can hurt the player on his Flame Shield unless the player touches without being on Spin Attack mode.
It is possible that after defeating the Flame Craft, a glitch may happen to where you can still go through a huge portion of Act 1 of Angel Island Zone instead of going on to Act 2.
Gallery
References
---
Main articles (Sonic 3, Sonic & Knuckles, Sonic 3 & Knuckles) | Gallery (Sonic 3, Sonic & Knuckles) | Beta elements | Staff (Sonic 3, Sonic & Knuckles)
Characters
Sonic (Super Sonic, Hyper Sonic) | Tails (Super Tails) | Knuckles (Super Knuckles, Hyper Knuckles) | Dr. Robotnik | Mecha Sonic (Mecha Sonic's Super State) | Animals (Flicky (Flicky's Super State), Pocky, Pecky, Cucky, Ricky, Rocky)
Badniks
Batbot | Blaster | Blastoid (Carnival Night Zone) | Blastoid (Hydrocity Zone) | Bloominator | Bubbles | Bugernaut | Butterdroid | Catakiller, Jr. | Chainspike | Clamer | Cluckoid | Corkey | Dragonfly | EggRobo | Fireworm | Flybot767 | Hyudoro | Iwamodoki | Jawz | Madmole | Mantis | Mega Chopper | Monkey Dude | Mushmeanie | Orbinaut | Penguinator | Pointdexter | RhinoBot | Ribot | Rock'n | Sandworm | Skorp | Snale Blaster | Spikebonker | Spiker | Star Pointer | TechnoSqueek | Toxomister | Turbo Spiker
Zones
Sonic 3
Angel Island Zone | Hydrocity Zone | Marble Garden Zone | Carnival Night Zone | IceCap Zone | Launch Base Zone | Special Stages | Bonus Stages
Sonic & Knuckles
Mushroom Hill Zone | Flying Battery Zone | Sandopolis Zone | Lava Reef Zone | Hidden Palace Zone | Sky Sanctuary Zone | Death Egg Zone | The Doomsday Zone | Special Stages | Bonus Stages
Competition
Azure Lake Zone | Balloon Park Zone | Chrome Gadget Zone | Desert Palace Zone | Endless Mine Zone
Sub-bosses
Doctor Robotnik's Flame Craft (Angel Island Zone Act 1) | Doctor Robotnik's Whirlpool Machine | Tunnelbot | Self D-Struct Machine | Iceball | Swing'm Spikez | Hei Hou | Gapsule | Barrier Eggman | Guardian | Heat Arms | Egg Mobile-H | Flying Eggman | Red Eye | Death Ball
Bosses
Doctor Robotnik's Flame Craft (Angel Island Zone Act 2) | Doctor Robotnik's Waterspout and Depth Charge Machine | Doctor Robotnik's Jet Drill Pod | Doctor Robotnik's Energy Ship | Doctor Robotnik's Freeze-O-Matic | Ball Shooter | Beam Rocket | Big Arm | Jet Mobile | Hang Mobile | Egg Golem | Hot Mobile | Knuckles | Mecha Sonic | Mecha Sonic's Super State | Kyodai Eggman Robo | The Doomsday Zone
Moves/techniques
Bound Jump | Double Jump | Fireball Spin Dash | Glide | Gliding Knuckles Attack | Hyper Flash | Insta-Shield | Propeller Flying | Spin Jump | Spin Dash | Spin Attack | Wall Climb
Items
Air Bubbles | Balloon | Banana | Bomb | Booster | Bumper | Bumper wall | Cannon | Capsule | Change | Chaos Emerald | Cloud | Continue | Fan | Jump Stand | Monitor (Water Shield, Flame Shield, Invincibility, Lightning Shield, Super Ring, Power Sneakers, Extra Life, S, Eggman) | Movable box | Mushroom | Pulley | Ring | Signpost | Self-Propelled Bomb | Slow-Down Shoes | Snowboard | Sphere | Spikes | Spring | Spinning Top | Star Post (Star Circle) | Super Emerald | Switch | Transport | Zip Line
Other
Angel Island | Barrel | Blue Knuckles | Conveyor Belt | Corkscrew loop | Crusher | Debug Mode | Fireball Cannon | Flipper | Flywheel | Freeze | Giant spear | Goal | Gravity Control Switch | Gumball | High-speed elevator | High-speed warp tube | Icicle | Jewel Radar | Perfect Bonus | Platform-raising Wheel | Pole Elevator | Relief | Reverse | Ring Shooter | Seesaw | Shuttle loop | Slot Machine | Snowblower | Sonic & Knuckles • Sonic the Hedgehog 3 | Spiked ball | Strange Relief | Tunnelbot | Warp Point | Winding Tunnel | Wonderman
Ad blocker interference detected!
Wikia is a free-to-use site that makes money from advertising. We have a modified experience for viewers using ad blockers

Wikia is not accessible if you've made further modifications. Remove the custom ad blocker rule(s) and the page will load as expected.