Fire Shield
Talk

0
6,666pages on
this wiki

The Fire Shield (a.k.a. Pyro Barrier) is a power-up item from Sonic the Hedgehog 3, as well as its locked-on form, Sonic 3 & Knuckles. It is obtained by destroying an item box with a flame symbol (pictured), or by obtaining an orange gumball in the Bonus Stage.
Description
Edit
The shield absorbs one hit, as well as preventing any fire-related damage and allowing
Sonic
to do a forward dash attack when jumping (by double-pressing the jump button). The shield will fizzle out if the player's character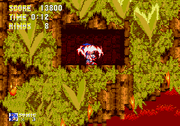 comes into contact with water, an effect it shares with the
electric shield
.
The shield is also useful against enemies that use energy projectiles, such as Bloominators, Blastoids, Spikers, and Clamers (but excluding Monkey Dudes, which throw coconuts). Their energy projectiles will bounce right off, regardless of the shield obtained by the player.
The concept of having shields that protect against certain kinds of damage also found its way into Sonic 3D, which used gold, blue and red shields. In this game, the Fire Shield's equivalent is the red shield.
This shield make an appearance in Shadow the Hedgehog (Game). It damages enemies around you but it disappears when you get attacked or get hurt.
The Fire Shield reappeared in
Sonic Generations
in a mission in
Crisis City
. After the mission, the shield can be bought as a 
Skill
at the
Skill Shop
for Classic Sonic. The shield costs 300 skill points to buy and seventy points to equip. The Fire Shield retains all the abilities from
Sonic 3 & Knuckles
.
Appearances in Other media
Edit
Sonic the Hedgehog (TV series)
Edit
In the Sonic SatAM episode "Doomsday Project" two floating robots use fire shields to attack Sonic.
Archie Comics
Edit
In the Archie Sonic the Hedgehog comics (more specifically Sonic Universe) Hope Kintobor is seen working on a Capsule containing the Fire Shield, but is having some trouble stabalizing it, when Snively came in. Following an upstart, Hope activated the Fire Shield, telling her half-brother to get out of her lift. He even threw his cloaking device at her, which bounced off the shield. It later naturally dissipated just as Omega came to check on her.