Flame of Judgment
Talk

0
7,428pages on
this wiki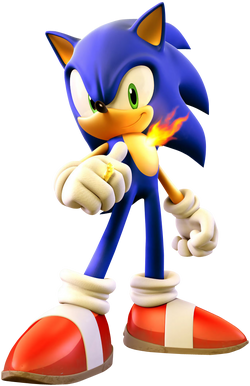 The Flame of Judgment is a major plot element in Sonic and the Secret Rings.
Description
When Sonic and Shahra first enter the world of the Arabian Nights, they are attacked by Erazor, and Sonic barely manages to avoid his sword swipe. When he finds out that Shahra has not (and will not) gather the World Rings for him, he shoots a flaming arrow at her as punishment, but Sonic jumps in front of her and takes the hit instead. Erazor then uses the arrow to blackmail Sonic and Shahra into helping him gather the World Rings, promising to remove the arrow if Sonic gathers all of the seven rings for him.
Throughout the game, it is stated that the arrow has cursed Sonic, and that the flame on it is his lifeline; when the flame goes out completely, Sonic will be completely drained of his life energy and die, and only Erazor is able to remove it, as evidenced by Sonic's request to Shahra that she does so. When Erazor summons the Ifrit Golem, the flame is partially out, and it is almost completely out by the time that he gathers all seven.
Also, the Flame neutralizes all of Sonic's attacks against fire-based genies such as the Ifrit.
Apparently, the curse is negated when Sonic is transformed into Darkspine Sonic by the World Rings, as the arrow has disappeared and no mention of it is was made again.
Trivia
In certain cutscenes, the Flame of Judgement is nowhere on Sonic's body.
Apparently, the Flame of Judgement cannot be put out by water, indicated during one cutscene when Sonic was standing in the rain and the flame continued to burn.
In one cutscene, when the flame is almost completely burned out, Sonic falls to his knees and seems to be weak for that moment. This may show that the smaller the flame gets, the closer to death he gets.