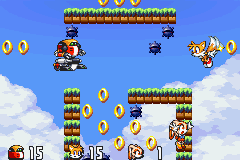 Fly & Get is the second unlockable minigame in Sonic Battle, and is unlocked by beating Tails' episode in Story Mode.
Overview
The minigame takes place in an aerial platformer.
Gameplay
In Fly & Get, the players must collect as many rings, as the map progresses and time runs out. This mingame is only playable in multiplayer mode across and up to four different Game Boy Advance devices.
Characters
Trivia