Focke-Wulf
Talk

6
7,865pages on
this wiki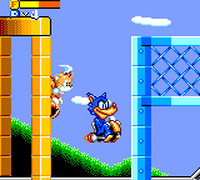 Focke-Wulf (ホッケウルフ, Hokkeurufu?) is the boss of RailCanyon Area, the first level of the game Tails' Skypatrol.
Description
He is a blue male anthropomorphic wolf and a henchman of Witchcart, the game's main villain. Focke-Wulf rides a flying motorbike and fights by throwing grenades at Tails, which explodes into four pieces when landing on impact.
Trivia
His flying machine is similar to an Extreme Gear.
He appears to be named after Focke-Wulf, a German company known for manufacturing military aircraft for the Luftwaffe during World War II.
Sonic the Hedgehog characters