Hi. I think I'll join this wikia. I have a few questions though. What should I use as a username? what is a userpage? how do I edit PROPERLY? I have no username yet, but my name is Rachel.
Hello, and welcome, Rachel. I would suggest making your username, either your favorite chaacter, or something important in your life? Even a fancharacter could be your username. A userpage in essance, is your profile, where you can tell all about yourself, and your friends, and fellow editors can read about you. Here's an example of one.
Editing though, is something best learned by experience, and practicing on your own. But if confused, any of us will be happy to help you.
That's pretty much it. Just remember, when done making a post, sign with ~~~~ Happy editing! SLJCOAAATR 4 6 8 15 16 23 42 108 305 316 16:55, 21 March 2009 (UTC)
a warm welcome rachel, to our big family here, tha we call the sonic wikia. any one here would be really glad to help you with anything you want, so don't hesitate to ask.--: The Chosen One Of Water  ;) 17:02, 21 March 2009 (UTC)
Hi. I joined! I used my fan character, I hope thats ok! Thanks for being so nice :) I guess I'll sign this now... if i can find the button. --Misty the fox 19:08, 21 March 2009 (UTC) found it!
Misty the Fox, eh? It makes me think of Misty from Pokemon, dressed as Fiona Fox.... :S SLJCOAAATR 4 6 8 15 16 23 42 108 305 316 19:11, 21 March 2009 (UTC)

Pokemon! i remember that! I loved pokemon when I was little! I made Misty up. I haven't tried to draw her though, I'm not very good at drawing. or using Paint.--Misty the fox 19:24, 21 March 2009 (UTC)
well, welcome misty, and if yo want her drawn, me or s.h. are good artists here and woulkd love to help with that.--: The Chosen One Of Water  ;) 20:19, 21 March 2009 (UTC)
Welcome to SNN Forums Misty. You can ask me for any editing help and tips or check out the Help contents in the navigation bar under the SNN logo. As for your fan character designs I can help, especially drawing and digitally colouring.--Mystic Monkey 21:27, 21 March 2009 (UTC)
ok, so who will draw misty? and thanks for your help everyone. --Misty the fox 11:41, 22 March 2009 (UTC)
I said I can do it for you! :P--Mystic Monkey 15:28, 22 March 2009 (UTC)
i can't draw her, but i can write a bit about her, that's my speciality, i already did dawn's and it is being used all over now. just give me blueprints.The Chosen One of Fire 12:10, 22 March 2009 (UTC)

ok, how about you give us her description and all three of us draw her, an th one you like best you can use--: The Chosen One Of Water  ;) 12:31, 22 March 2009 (UTC)
i said i'd write about her, my drawing reeks like my farts.76.234.135.148 15:06, 22 March 2009 (UTC) ok, misty is grey, she wears a silver watch, she has wild hair which half covers a scar on on her cheek. sorry, i have to go, my family is here for dinner--Misty the fox 15:45, 22 March 2009 (UTC)
Before i draw, i like to make a cgaracter creator, is this a nice acurate one :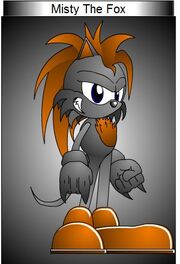 --: The Chosen One Of Water  ;) 16:00, 22 March 2009 (UTC) wow. that's awesome! Are her shoes orange or is my computer doing that thing where all the colours get messed up? That picture is AWESOME!--217.42.189.101 18:03, 22 March 2009 (UTC)
nice pic... Dawnthehedgehog 18:24, 22 March 2009 (UTC)
no, those are her real shoes.--: The Chosen One Of Water  ;) 19:02, 22 March 2009 (UTC)
Wow. you are good at drawing! My computer changes the colours around sometimes, so i was just checking!--Misty the fox 20:03, 22 March 2009 (UTC)
well, actually, that was on character creator, not drawn by me, but i'm working on that right now. thx. :)--: The Chosen One Of Water  ;) 20:08, 22 March 2009 (UTC)
Still it is sweet. All i did was get a Sonic pic and change the color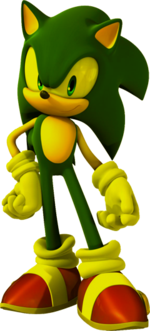 See? His name is Speed The Hedgehog--Sonic Blur 20:17, 22 March 2009 (UTC)Sonic Blur/Speed
nice--: The Chosen One Of Water  ;) 20:19, 22 March 2009 (UTC)
Thanks, man--Sonic Blur 21:12, 22 March 2009 (UTC)Sonic Blur/Speed
Uh.. um... It's Sonic... only with yellow...--Mystic Monkey 21:24, 22 March 2009 (UTC)
correction. Green lol--: The Chosen One Of Water  ;) 21:42, 22 March 2009 (UTC)
It's just a picture of sonic thats has a higher level of yellow collour than usual.--Mystic Monkey 22:08, 22 March 2009 (UTC)
When i made it the yellow just came with it. It's supposed 2 look just like Sonic, just Green where the blue is. O yea, guys will u check my talk page? I made 2 polls and not many people are voting. And if u do tell you friends about them.--Sonic Blur 01:45, 23 March 2009 (UTC)Sonic Blur/Speed Oh,Mystic it's Sonic Bro. It suppose 2 look like him--Sonic Blur 01:46, 23 March 2009 (UTC)Sonic Blur/Speed
You mean Manic or Ashura? (Ashura actually being a glitch) And I fixed the forum header.--Mystic Monkey 16:42, 23 March 2009 (UTC)
Yea i guess just he looks almost exactlly like him. And he has some of his own moves--Sonic Blur 02:23, 24 March 2009 (UTC)
If you wish, I can actually make Speed the Hedgehog for you and make him look original. I dunno if "recolour" the appropriate word to describe him right now. I don't have anything against recoloured fanchars (I best friends with some of them) just I am friendly critisizing that he's a yellow dyed Sonic clone and once I get some pictures out of the way (Misty, Black Knight Mystic) we can work on something if you wish.--Mystic Monkey 02:57, 24 March 2009 (UTC)
HELLOOOO!!!!!!!!!!!!!!!!!!!!! I am Shadow the hedgehog(duh who else would I be George!?) LOL 19:00, 5 April 2009 (UTC)
um.......kkkkkkkkkkkkkk Dawnthehedgehog 03:01, 8 April 2009 (UTC)