This article is about a subject in the real world.
Information in this article is about real-life people, companies, and objects, and does not relate to the in-universe Sonic series.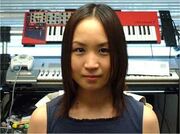 Fumie Kumatani (熊谷 文恵, Fumie Kumatani?) is a composer who provided music for Sonic Adventure, Sonic Adventure 2, Sonic Riders, Sonic Unleashed and Sonic Riders: Zero Gravity.
She also wrote and performed music for Sonic and the Secret Rings, namely "Poison Spear" (the theme for the Sand Scorpion).