This article is about a subject in the real world.
Information in this article is about real-life people, companies and objects, and does not relate to the in-universe Sonic series.
The GameCube (officially called Nintendo GameCube and abbreviated GCN) is a video game console system developed by Nintendo, for which several Sonic the Hedgehog games were released. The GameCube is the successor to the Nintendo 64 and the predecessor to the Wii.
The GameCube competed for sales in the sixth generation of video game consoles alongside the Dreamcast (which ceased production before the system's launch), the PlayStation 2 and the Xbox.
The GameCube was the first Nintendo system to use optical discs as a storage medium for its games.
List of Sonic Games on GameCube
Box artwork gallery
Trivia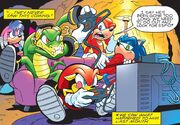 References
External links
GameCube at Wikipedia, the free encyclopedia