Genocide City Zone
Talk

0
7,440pages on
this wiki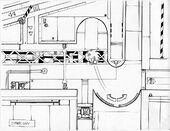 Genocide City Zone, also known as Cyber City Zone, is a scrapped level from Sonic the Hedgehog 2 for the Sega Mega Drive.
Development History
In the Beta version of Sonic 2, only the name Genocide City Zone exists. Selecting it from the Level Select screen will bring the player to an empty level, and the player will simply fall to their death at the bottom of the stage. Chemical Plant Zone music plays here. This level was probably a placeholder. Concept art was revealed, showing Sonic in a traveling tube, along with the name Cyber City Zone.
Tom Payne, the zone artist in charge of this level, stated that this Zone was intended to be a graphical change of Metropolis Zone, but was dropped before it was even started. Instead, he worked on the third act of Metropolis Zone. The proper translation for Genocide City turned out to be Cyber City Zone, according to a Tom Payne interview. It was planned to be a single zone, but due to time constraints, the remaining zone ended up as Metropolis Zone Act 3. In the Sonic Jam strategy guide Yuji Naka stated basically that the third act of Metropolis Zone used the layout meant for Genocide City and that it was meant to be a single act. The graphics were also confirmed to being reused in the Sonic Spinball level, The Machine.[1]Also they did not know what Genocide meant (it means mass murderer) so when they found it they scrapped it entirely.
References