Giant Crabmeat
Talk

0
7,425pages on
this wiki
This article's name is conjectural.
Although this article is based on official information, the actual name of the article's subject is pure conjecture.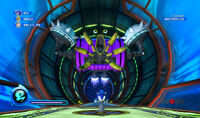 Giant Crabmeat is an unnamed badnik that appears in Sonic Colors. The player fights the enemy at Aquarium Park and Terminal Velocity.
Appearance
This enemy is similar to the badnik Crabmeat, but instead of red, its body is yellow and purple. It has gray-spiked hands with blue lines on the end.
Attack Pattern
It tries to attack Sonic by punching him if he gets too close or by shooting him with lasers. In Aquarium Park, Sonic must boost ahead of the Giant Crabmeat in order to avoid its punch, but in Terminal Velocity, Sonic must jump over the punch. In both stages, Sonic must dodge Giant Crabmeat's lasers with Quick Step.
Gallery
Trivia
The enemy has a close resemblance to the Interceptor and Spikes enemies.

In fact, it seems like Eggman had combined the two together.

This is one of the two original Badniks in Sonic Colors, the other being Sprinkler.