Gigan Rocks
Talk

0
6,664pages on
this wiki
Gigan Rocks

Gigan Rocks
Game
Previous stage
Next stage
Playable characters
(story mode)
Level number

5
Gigan Rocks is a course in the Hero story of the game Sonic Riders: Zero Gravity. Knuckles is pitted against seven SCR-GPs to get to the finish line first.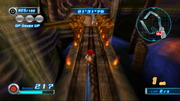 These ancient ruins are built on and in a large mountain. The course starts with two large jumps, the first one having short cuts for every type leading off of it. After these jumps, a turn leads to a cave, with yet another jump, that takes the racers inside the mountain. Once landing inside the mountain, there's a power short cut and the courses only attack shortcut. After a turn, the player must go to a stretch of course that rises as the racers ride on it until it's going straight up (this is the best time to use Gravity Dive). At the top of the stretch is another jump. The racers land outside near another power shortcut. There are also speed and flight shortcuts, but the latter can only be access if another character in front has created a slip stream. There's also another shortcut that can be access via a slipstream that can be used by any character type. After a turn that can be avoided if the racer use any of the shortcuts, there is a quick stretch of land that leads to the finish line.
Musical Themes
Edit
The music played in this course is entitled "Sealed Ground". The music selection has an Oriental theme to it. It is also the first piece of Sonic music that incorporated the use of a didgeridoo.

This course, along with Gigan Device, is the only course in the game to have more than two shortcuts for power type characters.
This is the only course to have only one attack shortcut.
A 100 Ring Capsule is located at the end of the course, behind a pile of rocks that can be destroyed using gravity control.
In the Archie comics, Jet, Wave, and Storm find the Gigan Mountains, which is based on this track.
In the third grinding section, that rail has the rider move at the fastest grind speed in normal races (261mph).