Ad blocker interference detected!
Wikia is a free-to-use site that makes money from advertising. We have a modified experience for viewers using ad blockers

Wikia is not accessible if you've made further modifications. Remove the custom ad blocker rule(s) and the page will load as expected.
The Goal (ゴール, Gōru?) is an object that appears in the Sonic the Hedgehog series. They are flashing orbs/cubes-shaped objects (although the manual describes them as a block) that appear in Special Stages or Bonus Stages. If the player touches these blocks, they will be transported to the next Act or returned to the same Zone they entered the stage from.
Game appearances
Sonic the Hedgehog (1991)
The Goal first appeared in Sonic the Hedgehog (1991), where they can be encountered in the game's Special Stages. Here, they are set in rows within the walls. When the player touches these blocks, he/she will leave the Special Stage without earning a Chaos Emerald, which the player's goal in the Special Stages.
Sonic & Knuckles
Goals later appeared in the slot machine-type Bonus Stage in Sonic & Knuckles. They function as they did in the previous game and can be found in small gaps in each corner of the stage. Here, touching the Goal will send the player back to the Zone where he/she entered the Bonus Stage. If the player hits the colored blocks multiple times or stays on them for too long, they will change their color and, eventually, transform into a Goal block (blue > green > yellow > red > Goal block).
Knuckles' Chaotix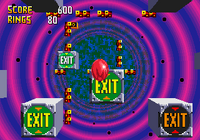 Different looking, but identically functioning objects titled Exit[1] appear in the Bonus Stages of Knuckles' Chaotix. These objects are simple gray cubes with a red-and-green flashing circle in the middle that has "Exit" written on it. When the player falls onto one of these cubes, he/she will be transported back to the place where the player found the Giant Ring for the Bonus Stage.
Sonic the Hedgehog 4: Episode I
The Goal blocks returned in the Special Stages of Sonic the Hedgehog 4: Episode I. In this game, they are simple red, circular blocks with a white exclamation mark written in their center instead of "Goal". Despite their artistic change, they work exactly like they did in the original Sonic the Hedgehog.
Trivia
Gallery
References
Sonic the Hedgehog (16-bit)
---
Characters
Sonic | Dr. Robotnik | Animals (Flicky, Pocky, Pecky, Cucky, Ricky, Picky, Rocky) | Tails* | Knuckles* | Super Sonic* | Super Tails* | Super Knuckles*

Badniks

Moto Bug | Buzz Bomber | Chopper | Crabmeat | Newtron | Caterkiller | Bat Brain | Roller | Spikes | Burrobot | Jaws | Orbinaut (Unidasu, Uni Uni) | Bomb | Ball Hog

Zones

Green Hill Zone | Marble Zone | Spring Yard Zone | Labyrinth Zone | Star Light Zone | Scrap Brain Zone | Final Zone | Special Stages
Bosses
Egg Mobile-H | Marble Zone boss | Spring Yard Zone boss | Labyrinth Zone boss | Star Light Zone boss | Final Zone
Moves/techniques
Spin Jump | Spin Attack | Spin Dash* | Insta-Shield* | Propeller Flying* | Glide* | Climb*
Items
Ring | Monitor (Super Ring, Shield, Power Sneakers, Invincibility, Extra Life, S*, Flame Shield*, Aqua Shield*, Thunder Shield*) | Continue | Spring | Star Post | Bumper | Switch | Air Bubbles | Bonus Point | Signpost | Giant Ring | Capsule | Jump Stand | Up and Down | Reverse | Goal
Other
Blue Sphere | Bomb | Chaos Emerald | Crusher | Fan | Fire Statue | Fireball Cannon | Giant spear | Debug Mode | Electric Generator | Flywheel | High-speed elevator | Conveyor Belt | Color Block | Madonna | Movable box | Rotating platform | Original Soundtrack | Promotional Comic | Shuttle loop | Sonic the Hedgehog Band (Max, Mach, Sharps, Vector) | Seesaw | South Island | Spiked Ball | Spikes | Splats | Story Comic | Totem Pole | Winding Tunnel

*Exclusive to the 2013 re-release of Sonic the Hedgehog.
Sonic the Hedgehog 3 & Knuckles
---
Main articles (Sonic 3, Sonic & Knuckles, Sonic 3 & Knuckles) | Gallery (Sonic 3, Sonic & Knuckles) | Beta elements | Staff (Sonic 3, Sonic & Knuckles)
Characters
Sonic (Super Sonic, Hyper Sonic) | Tails (Super Tails) | Knuckles (Super Knuckles, Hyper Knuckles) | Dr. Robotnik | Mecha Sonic (Mecha Sonic's Super State) | Animals (Flicky (Flicky's Super State), Pocky, Pecky, Cucky, Ricky, Rocky)
Badniks
Batbot | Blaster | Blastoid (Carnival Night Zone) | Blastoid (Hydrocity Zone) | Bloominator | Bubbles | Bugernaut | Butterdroid | Catakiller, Jr. | Chainspike | Clamer | Cluckoid | Corkey | Dragonfly | EggRobo | Fireworm | Flybot767 | Hyudoro | Iwamodoki | Jawz | Madmole | Mantis | Mega Chopper | Monkey Dude | Mushmeanie | Orbinaut | Penguinator | Pointdexter | RhinoBot | Ribot | Rock'n | Sandworm | Skorp | Snale Blaster | Spikebonker | Spiker | Star Pointer | TechnoSqueek | Toxomister | Turbo Spiker
Zones
Sonic 3
Angel Island Zone | Hydrocity Zone | Marble Garden Zone | Carnival Night Zone | IceCap Zone | Launch Base Zone | Special Stages | Bonus Stages
Sonic & Knuckles
Mushroom Hill Zone | Flying Battery Zone | Sandopolis Zone | Lava Reef Zone | Hidden Palace Zone | Sky Sanctuary Zone | Death Egg Zone | The Doomsday Zone | Special Stages | Bonus Stages
Competition
Azure Lake Zone | Balloon Park Zone | Chrome Gadget Zone | Desert Palace Zone | Endless Mine Zone
Sub-bosses
Doctor Robotnik's Flame Craft (Angel Island Zone Act 1) | Doctor Robotnik's Whirlpool Machine | Tunnelbot | Self D-Struct Machine | Iceball | Swing'm Spikez | Hei Hou | Gapsule | Barrier Eggman | Guardian | Heat Arms | Egg Mobile-H | Flying Eggman | Red Eye | Death Ball
Bosses
Doctor Robotnik's Flame Craft (Angel Island Zone Act 2) | Doctor Robotnik's Waterspout and Depth Charge Machine | Doctor Robotnik's Jet Drill Pod | Doctor Robotnik's Energy Ship | Doctor Robotnik's Freeze-O-Matic | Ball Shooter | Beam Rocket | Big Arm | Jet Mobile | Hang Mobile | Egg Golem | Hot Mobile | Knuckles | Mecha Sonic | Mecha Sonic's Super State | Kyodai Eggman Robo | The Doomsday Zone
Moves/techniques
Bound Jump | Double Jump | Fireball Spin Dash | Glide | Gliding Knuckles Attack | Hyper Flash | Insta-Shield | Propeller Flying | Spin Jump | Spin Dash | Spin Attack | Wall Climb
Items
Air Bubbles | Balloon | Banana | Bomb | Booster | Bumper | Bumper wall | Cannon | Capsule | Change | Chaos Emerald | Cloud | Continue | Fan | Jump Stand | Monitor (Water Shield, Flame Shield, Invincibility, Lightning Shield, Super Ring, Power Sneakers, Extra Life, S, Eggman) | Movable box | Mushroom | Pulley | Ring | Signpost | Self-Propelled Bomb | Slow-Down Shoes | Snowboard | Sphere | Spikes | Spring | Spinning Top | Star Post (Star Circle) | Super Emerald | Switch | Transport | Zip Line
Other
Angel Island | Barrel | Blue Knuckles | Conveyor Belt | Corkscrew loop | Crusher | Debug Mode | Fireball Cannon | Flipper | Flywheel | Freezing Machine | Giant spear | Goal | Gravity Control Switch | Gumball | High-speed elevator | High-speed warp tube | Icicle | Jewel Radar | Perfect Bonus | Platform-raising Wheel | Pole Elevator | Relief | Reverse | Ring Shooter | Seesaw | Shuttle loop | Slot Machine | Sonic & Knuckles • Sonic the Hedgehog 3 | Spiked ball | Strange Relief | Tunnelbot | Warp Point | Winding Tunnel | Wonderman
---
Main article | Gallery | Staff
Characters
Playable
Knuckles | Vector | Mighty | Charmy | Espio | Heavy the Robot | Bomb | **********
Non-Playable
Dr. Robotnik | Metal Sonic | Sonic | Tails | Amy
Enemies
Amazing Arena Badnik 1, 2 | Bombbearer | Botanic Base Badnik 1, 2, 3 | Bushbubble | Dribbler | Gotcha | Hoverby Mk II | Isolated Island Badnik | Motorspike | Needlenose | Piranha | Poptank | Ringleader | Spiketower | Techno Tower Badnik 3 | Ticktock
Stages
Isolated Island | Botanic Base | Speed Slider | Amazing Arena | Techno Tower | Marina Madness | World Entrance | Special Stage | Bonus Stage
Bosses
Amazing Arena boss | Amazing Arena sub-boss | Botanic Base boss | Marina Madness boss | Speed Slider boss | Techno Tower boss | World Entrance Level 1 | World Entrance Level 2
Moves/techniques
Climb | Dash | Glide | Plasma Pulse Attack | Double Jump | Spin Dash | Spin Jump | Super Spin | V. Maximum Overdrive Attack | Wall Jump
Other
Exit | Balloon | 1207 Beta version | Archie Knuckles' Chaotix | Chaos Ring | Chopper Block | Combi Catcher | Debug Mode | Dark Ring | High-speed warp tube | Monitors (Super Ring, Combine Ring, Power Sneakers, Shield, Invincible, Swap, Grow, Shrink, Change) | Newtrogic High Zone | Ring Power | Ring | Signpost | Spring | Sonic Crackers | Sphere | Switch | "X" Bumper