Goal Ring
Talk

0
8,045pages on
this wiki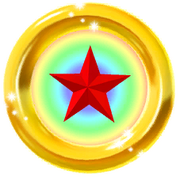 The Goal Ring (ゴールリング, Gōru Ringu?), also called Goal Medal, is an object that appears in the 3D games in the Sonic the Hedgehog series. They are giant Rings that mark the goal (thus, the end) of the playable Stages and touching them is often required to complete a Stage. They serve as a modern replacement for the Goal Plates. The Goal Rings first appeared in Sonic Adventure 2 and has appeared in nearly every following game since.
Description
The Goal Rings appear at the end of the playable stage, where they mark that the player has reached the end of the stage. To complete or end the stage the player is in, the player usually has to touch the Goal Ring with the playable character, which in turn will end the playthrough of the stage and rate the player's performance.
In many Sonic games, such as Sonic Adventure 2, Sonic Heroes and Shadow the Hedgehog, the objective of some or all of the stages is to reach the Goal Ring.
Game Appearances
Sonic Adventure 2 and Sonic Adventure 2: Battle
The Goal Ring first appeared in Sonic Adventure 2 and its remake Sonic Adventure 2: Battle. In this game, the Goal Ring is exactly what it says on the tin: a giant ring with the word "GOAL" written in the middle.
Sonic Heroes
In Sonic Heroes, the Goal Ring was given a slight change in appearance; instead of having the word "GOAL" written in the center, it had a small revolving gold star floating in the center, with segments of a red ring surrounding it. For some missions in the game that involves completing an objective that can be found in the stage, the Goal Ring will act as a return point that will send the player back to the beginning of the stage. For such missions, the Goal Ring has a back arrow in its center. In this game, it is the first and currently only time that the Goal Ring could be targeted onto with a Homing Attack to reach.
Shadow the Hedgehog
In Shadow the Hedgehog, the Goal Ring appears as a simple, massive ring. However, for any Action Stages that are not Lethal Highway, Cryptic Castle, Central City, The Doom, Sky Troops, Mad Matrix, Death Ruins, Iron Jungle or Lost Impact, the Goal Ring will have a Chaos Emerald floating in the center.
Sonic Advance 3
The Goal Rings also appeared in Sonic Advance 3 where they are called Goal Medals In this game, it is a type of smaller ring with a star inside it. When touching the Goal Medal, it will turn gold, silver or bronze depending on the clear time.
Sonic the Hedgehog (2006)
The Goal Ring made another appearance in Sonic the Hedgehog (2006). Its appearance in this game is identical to those in Sonic Heroes.
Sonic Rush
The Goal Ring also appeared in Sonic Rush. In this game, it is identical to the ones in Sonic Heroes. Once a player touches it, however, the Goal Ring will show a gloved hand inside it making the peace sign. Unlike the other games, it won't disappear once touched, and it would spin fast unstoppable.
Sonic Rivals 2
In Sonic Rivals 2, the goal ring is changed into a giant gold ring with a big blue star in the center. Like Sonic Rush, it won't disappear once touched, it would spin fast unstoppable.
Sonic Unleashed
In Sonic Unleashed, the Goal Ring changed to a giant gold ring with a red star in the center surrounded by rainbow colors inside it (setting the current look for it).
Sonic Colors
The Goal Ring also appeared in Sonic Colors where its appearance was the same as it were in Sonic Unleashed. On the DS version of Sonic Colors, the Goal Ring only appeared in the first run of Tropical Resort Act 1 and certain missions.
Sonic Generations
The Goal Ring also appears in Sonic Generations where its appearance was the same as in Sonic Unleashed and Sonic Colors. It only appeared in Modern Sonic's stages and challenges.
Trivia
Eggman makes a joke about the Goal Ring in one of his PA announcements in Sonic Colors, in which he says: "Attention! If you find the Goal Ring, please return it to the lost impound, thank you!". This also breaks the Fourth Wall.
Gallery
Navigation Templates to Goal Ring
Sonic Heroes

Playable
characters
Team Sonic
Sonic | Tails | Knuckles
Team Rose
Amy | Cream | Cheese | Big
Team Dark
Shadow | Rouge | Omega
Team Chaotix
Espio | Charmy | Vector
Team Super Sonic
Super Sonic | Tails (Super Shield) | Knuckles (Super Shield)
Other characters
Eggman | Metal Sonic (Neo Metal Sonic) | Chocola | Froggy | Shadow Android
Enemies
Egg Pawn | Casino Pawn | Egg Knight | Egg Flapper | Cameron | Klagen | Egg Hammer | Heavy Egg Hammer | Falco | Egg Bishop | Egg Magician | Rhino Liner | E-2000 | E-2000R | Gold Cameron | Gold Klagen | Pumpkin-Head Ghosts

Stages

1P Stages
Sea Gate | Seaside Hill* | Ocean Palace | Grand Metropolis* | Power Plant | Casino Park | BINGO Highway* | Rail Canyon* | Bullet Station | Frog Forest* | Lost Jungle | Hang Castle | Mystic Mansion | Egg Fleet* | Final Fortress | Special Stage*
2P Stages
City Top | Casino Ring | Turtle Shell | Egg Treat | Pinball Match | Hot Elevator | Seaside Course | City Course | Casino Course | Road Rock | Mad Express | Terror Hall
2P Battle Mode
Action Race | Bobsled Race | Expert Race | Quick Race | Ring Race | Special Stage | Team Battles
Bosses
Egg Hawk | Team Battle 1 | Robot Carnival | Egg Albatross | Team Battle 2 | Robot Storm | Egg Emperor | Metal Madness | Metal Overlord
Moves/
Techniques
Speed
Manoeuvres
Homing Attack | Kick | Light Dash | Propeller Hammer | Rocket Accel | Shuriken | Spin | Swinging Hammer Attack | Tornado Jump (Black Tornado, Blue Tornado, Leaf Swirl, Tornado Hammer) | Triangle Jump
Power
Manoeuvres
Auto Homing | Body Press | Bubblegum Descent | Fire Combination | Fire Dunk | Fire Launcher | Fireball Jump | Forward Power Attack | Hammer Down | Jump Fire Knock | Jump Fireball | Remote Power Attack (Fireball, Fire Knock) | Triangle Dive | Umbrella Descent | Wide Power Attack (Big Fishing, Omega Arm, Vector Breath, Volcanic Dunk)
Fly
Manoeuvres
Ascending Flight | Cheese Attack | Dummy Ring Bomb | Sting Attack | Thunder Shoot | Quick Ascent
Team Blast
Sonic Overdrive | Chaos Inferno | Flower Festival | Chaotix Recital | Super Sonic Power
Other
Grinding | Jump Dash | Lightspeed Attack | Spin Jump
English Voice Actors
Ryan Drummond (Sonic, Metal Sonic) | Deem Bristow (Eggman) | William Corkery (Tails) | Scott Drier (Knuckles) | David Humphrey (Shadow) | Lani Minella (Rouge, Omochao) | Jon St. John (Omega, Big) | Jennifer Douillard (Amy) | Sarah Wulfeck (Cream) | Bill Corkery (Espio) | Marc Biagi (Vector) | Emily Corkery (Charmy)
Japanese Voice Actors
Jun'ichi Kanemaru (Sonic the Hedgehog, Metal Sonic) | Chikao Ōtsuka (Eggman) | Ryō Hirohashi (Tails) | Nobutoshi Kanna (Knuckles) | Kōji Yusa (Shadow) | Rumi Ochiai (Rouge) | Taiten Kusunoki (Omega) | Taeko Kawata (Amy) | Sayaka Aoki (Cream) | Takashi Nagasako (Big) | Yūki Masuda (Espio) | Kenta Miyake (Vector) | Yōko Teppōzuka (Charmy) | Etsuko Kozakura (Omochao)

OST

/

Vocal Trax

/

Official

/

20th Anniversary

Sonic Heroes | We Can | This Machine | Follow Me | Team Chaotix | What I'm Made of...
Other
Ball Switch | Bobsled | Bomb | Bull Train | Bumper | Cannon | Capsule | Cervix Tunnels | Chaos Emeralds | Character battles | Container | Conveyor Belt | Dash Panel | Dash Ring | Dummy Rings | Emblem | Flipper | Fly Type | Formation Change Gate | Gallery | Giant Frogs | Glowing Mushrooms | Goal Ring | Grind Rail | Haunted Towers | Hint | Item Box (Barrier, Fly Charge, High Speed, Invincible, Rings, Power Core, Team Blast Ring, 1 UP) | Kao | Palm Plants | Power Type | Pulley | Puzzle Game | Ranks | Ramp | Rings | Shuttle Loop | Slot Machine | Spear | Speed Type | Special Stage Key | Sphere | Spiderlight | Super Hard Mode | Super Shield | Switch | Team Blast Gauge | Team Chaotix Missions | Teleport Balls

*Stage is also playable in 2P Battle mode.
Sonic the Hedgehog (2006)
Playable characters
Sonic (Super Sonic) | Tails | Knuckles | Shadow (Super Shadow) | Rouge | Omega | Silver (Super Silver) | Blaze | Amy
Other Characters
Accordion Player | Adrianna | Alan | Alessio | Alfano | Anna | Antonio | Aristo | Berruni | Bishop | Claudia | Dante | Dr. Eggman | Duke of Soleanna | Elkan | Frances | Francesca | G.U.N. soldier | Galienna | Gina | Hatsun | Herman | Iblis | Ken Williams | Ladies-in-waiting | Liza | Lord Regis | Mancini | Mephiles | Mikhail | Monica | Nicolo | Paganini | Parr | Pele | Pietro | Pinto | Porta | Priest | Princess Elise the Third | Prodi | Pucci | Puccini | Renzo | Alberto Robert | Roberta | Rossi | Sabrina | Sandro | Solaris | Soleanna Royal Guards | Solomon | Sonic Man | Sophia | Zof
Enemies
Egg Armor | Egg Bomber | Egg Buster | Egg Cannon | Egg Chaser | Egg Commander | Egg Flyer | Egg Guardian | Egg Gunner | Egg Lancer | Egg Launcher | Egg Liner | Egg Rounder | Egg Stinger | Egg Sweeper | Egg Walker | Iblis Biter | Iblis Golem | Iblis Taker | Iblis Worm | Mega Shadow | Mephiles Taker | Mephiles Worm | Shadows | Stalker | Titan
Action Stages
Wave Ocean | Dusty Desert | White Acropolis | Crisis City | Flame Core | Radical Train | Tropical Jungle | Kingdom Valley | Aquatic Base | End of the World
Town Stages
Castle Town | Forest | New City
Town Missions
Sonic
1 | 2 | 3 | 4 | 5 | 6 | 7 | 8 | 9 | 10 | 11 | 12 | 13 | 14 | 15 | 16 | 17 | 18 | 19 | 20
Shadow
1 | 2 | 3 | 4 | 5 | 6 | 7 | 8 | 9 | 10 | 11 | 12 | 13 | 14 | 15
Silver
1 | 2 | 3 | 4 | 5 | 6 | 7 | 8 | 9 | 10 | 11 | 12 | 13 | 14 | 15 | 16 | 17 | 18
Bosses
Egg Cerberus | Egg Genesis | Egg Wyvern | Iblis | Mephiles | Shadow | Silver | Solaris | Sonic
Moves/Techniques
Arrow of Light | Accelerator Tornado | Attack | Bomb | Bomb Snipe | Bound Jump | Chaos Attack | Chaos Boost (Chaos Blast, Chaos Lance, Chaos Snap) | Chaos Spear | Climb | Custom Action (Gun Drive, Homing Smash, Mach Speed, Scale, Slow, Thunder Guard, Tornado) | Dummy Ring Blitz | Dummy Ring Bomb | Dummy Ring Snipe | Fire Claw | Fly | Grab All | Ground Shaker | Hammer Attack | Hold Smash | Hover | Invisibility | Levitate | Light Dash | Lock-On Shot | Omega Launcher | Omega Shot | Psychokinesis | Psycho Shock | Psycho Smash | Punch Attack | Screwdriver | Shield of Light | Sliding Attack | Spear of Light | Spin Dash | Spin Jump | Spin Kick | Spinning Claw | Teleport Dash
Items
Chaos Drives | Container | Goal Ring | Item Box (Gauge Up, Super Ring, Shield, Invincibility, Extra Life) | Dash Ring | | Light Cores | Medals | Pulley | Rainbow Ring | Rings | Spring | Star Post | Snowboard | Switch
Upgrades
Air Chip | Antigravity | Blue Gem | Bounce Bracelet | Gems | Green Gem | Heart of Wind | Light Chip | Memory Shard (black) | Memory Shard (blue) | Memory Shard (red) | Power Bracelet | Purple Gem | Red Gem | Shock Bracelet | Single-Layered Extreme | Sky Gem | White Gem | Yellow Gem
OST
All Hail Shadow | Dreams of an Absolution | His World | My Destiny | Sweet Dreams AKON Mix
English Voice Actors
Jason Griffith (Sonic, Shadow the Hedgehog) | Pete Capella (Silver the Hedgehog) | Lacey Chabert (Princess Elise) | Mike Pollock (Dr. Eggman, Narrator) | Amy Palant | (Tails, Ladies-in-waiting) | Lisa Ortiz (Amy, Ladies-in-waiting) | Bella Hudson (Blaze) | Dan Green (Knuckles, Mephiles, Solaris Project scientists) | Kathleen Delaney (Rouge) | Maddie Blaustein (Omega) David Wills (Duke, G.U.N communitcator)
Japanese Voice Actors
Jun'ichi Kanemaru (Sonic) | Kōji Yusa (Shadow) | Daisuke Ono (Silver) | Maaya Sakamoto (Princess Elise) | Chikao Ōtsuka (Dr. Eggman) Kenji Utsumi (Narrator, Duke) | Ryō Hirohashi (Tails) | Hikari Yono (Ladies-in-waiting) | Nao Takamori (Blaze) | Nobutoshi Kanna (Knuckles) | Takayuki Sakazume (Mephiles) | Keiji Okuda (Solaris Project scientist, G.U.N. communicator) | Yoshikazu Kozuma (Solaris Project scientist) | Rumi Ochiai (Rouge) | Taeko Kawata (Amy) | Taiten Kusunoki (Omega)
Scripts
Sonic Episode | Shadow Episode | Silver Episode | Last Episode
Other
Auto Running | Chao in Space | Chaos Crush | Conveyor Belt | Custom Shoes | Dummy Rings | Elise's Prayer | Eye of Solaris | Gallery | G.U.N. Buggy | G.U.N. Hovercraft | | Havok | Heart Bombs | Hint Ring | Minecart | Mirrors of Soleanna | Orca | Rainbow Gem | Rimlight | Scepter of Darkness | Soleanna | Solaris Project | Super-Speed Stages