Ad blocker interference detected!
Wikia is a free-to-use site that makes money from advertising. We have a modified experience for viewers using ad blockers

Wikia is not accessible if you've made further modifications. Remove the custom ad blocker rule(s) and the page will load as expected.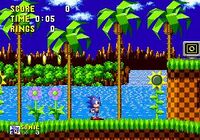 Stages with a Green Hill theme have a natural setting. These stages often tend to be the first level in a game and often have a more simplistic and peaceful setting compared to later stages, with shorter levels and fewer enemies. This is one of the most common themes in the Sonic the Hedgehog series. Common elements include flowers, trees, grass, basic enemies and a peaceful setting. This kind of setting greatly resembles the Green Hill Zone, hence the name.
Stages with a Green Hill theme
Green Hill Zone, Sonic the Hedgehog (1991) - Green Hill Zone is the first eponymous example of a stage with a Green Hill theme.
Green Hills Zone, Sonic the Hedgehog​ 2 (8-bit) (1992) - This is the first example of a stage with a green hill theme that is not the first stage in the game. Despite this, the stage still contains a simplistic nature and few enemies.
Palmtree Panic, Sonic the Hedgehog CD (1993) - The round's main theme in all timelines; both future timelines also incorporate elements of the industrial theme.
Turquoise Hill Zone, Sonic Chaos (1993)
Mecha Green Hill Zone, Sonic Chaos (1993) - This stage also incorporates elements of the industrial theme.
Green Hill, Sonic Drift (1994)
Emerald Hill, Sonic Drift 2 (1995) - This racecourse also incorporates element of the coastal theme.
Hill Top, Sonic Drift 2 (1995)
Balloon Panic, Sonic Drift 2 (1995)
Isolated Island, Knuckles' Chaotix (1995) - This stage also incorporates elements of the forest theme.
South Island, Sonic the Fighters (1996)
Canyon Cruise, Sonic the Fighters (1996) - This arena also incorporates elements of the canyon theme.
Green Grove Zone, Sonic 3D Blast (1996)
Green Hill Zone, Sonic Blast (1996)
Jade Gully Zone, Sonic X-treme (Scrapped)
Neo Green Hill Zone, Sonic Advance (2001)
Green Hill Zone, Sonic Adventure 2 (2001)
Leaf Forest, Sonic Advance 2 (2002) - Despite the name, Leaf Forest has no elements of the forest theme (including no trees). This stage also incorporates elements of the underwater theme.
Seaside Hill, Sonic Heroes (2003) - This stage also incorporates elements of the ancient ruins and coastal theme.
Frog Forest, Sonic Heroes (2003) - This stage also incorporates elements of a forest theme.
Sunset Hill, Sonic Advance 3 (2004)
Green Hill Zone, Sonic Jump (2005)
Forest Falls Zone, Sonic Rivals (2006) - This stage also incorporates elements of a forest theme.
Sunset Forest Zone, Sonic Rivals 2 (2007) - This stage also incorporates elements of a forest theme.
Green Hill, Sega Superstars Tennis (2008)
Whale Lagoon, Sonic & Sega All-Stars Racing (2010) - This stage also incorporates elements of the coastal theme.
Lost Palace, Sonic & Sega All-Stars Racing (2010) - This stage also incorporates elements of the ancient ruins and coastal themes.
Ocean Ruin, Sonic & Sega All-Stars Racing (2010) - This stage also incorporates elements of the ancient ruins and coastal themes.
Green Hill Zone, Sonic Generations (2011)
Ocean View, Sonic & All-Stars Racing Transformed (2012) - This stage also incorporates elements of the ancient ruins and coastal themes.
Windy Hill, Sonic Lost World (2013) - Mainly predominates in Zones 1, 2 and 4.
Sky Road, Sonic Lost World (2013) - Only in Zone 1, which also incorporates elements of a sky theme.
Windy Hill, Sonic Runners (2015)
Sky Road, Sonic Runners (2015) - This stage also incorporates elements of the sky theme.
Green Hill Zone, Sonic Mania (2017)