This article is about a subject in the real world.
Information in this article is about real-life people, companies, and objects, and does not relate to the in-universe Sonic series.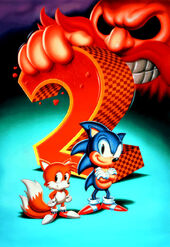 Gregory James Martin[1] (October 14, 1956 - May 21, 2013) was an freelance artist who began his career in Disney & Hanna Barbera Studios.[1] Throughout the 1980s and 1990s, he did promotional artwork for many television shows and video games.
In the Sonic the Hedgehog community, Greg Martin is known for drawing American and European box-arts and advertising artworks for early Sonic the Hedgehog games. He had also done promotional artwork for many other Sega Genesis games as well. It was not until early 2014 that he was revealed to have passed away on May 21, 2013, and then gained the attention as the artist of the Western promotional artworks for early Sonic games.[2][3]
References
External links