For other uses of the term, see Grounder (disambiguation).
The Grounder (ハンドリル, Handoriru?, lit. "Handrill") is a recurring enemy in the Sonic the Hedgehog series. It is a mole-based Badnik model created by Dr. Eggman and the successors of the Burrobots in terms of its design.
Appearance
Being successors of Burrobots, the Grounders are similar in design, but more bulky. They have red and broad bodies with two continuous tracks for legs. On their head they have two grey bolts for eyes, a white antenna on the back, and a large drill bit for a nose. They also have a yellow neckline, a blue button on their bellies, round shoulders with the early Eggman Empire symbol on them, and slightly smaller drill pits for forearms.
Game appearances
Sonic the Hedgehog 2
Grounders made their first appearance in Sonic the Hedgehog 2, where they can be found in Aquatic Ruin Zone. In gameplay, they usually move back and forth on the ground or underwater while their drills are spinning. Though not dangerous on their own, Grounders are placed in very strategic places, such as at the top of paths above the player to block the way. They can also be hiding inside walls, only to suddenly emerge from them when the player passes them and hit them with a surprise attack. Regardless, the player can still easily destroy Grounders by with the Spin Attack or Spin Jump.
Sonic the Hedgehog Pocket Adventure

In Sonic the Hedgehog Pocket Adventure, the Grounders are featured at Aquatic Relix Zone. In this game, they have the exact same attack pattern as in Sonic the Hedgehog 2.
Powers and abilities
Much like the Burrobots, the Grounders mainly attack by breaking through walls and launching surprise attacks. They use their drill bits to drill through the walls and hit their target.
In other media
Sonic the Hedgehog 2 Strategy Guide
Purple and green Grounders are seen in the comics of the Japanese Sonic the Hedgehog 2 strategy guide, which loosely tell the original Japanese storyline of the game. Here, they are helping Eggman's search Chaos Emeralds, only to be quickly destroyed by Sonic.
Sonic the Hedgehog Yearbook 1992
Large variations of the Grounders appeared in Sonic the Hedgehog Yearbook 1992' story "Big Trouble". In this story, Sonic and Tails encountered a large Grounder as it bursted through a wall. The duo tried to damage it with the Spin Attack, only for it to bounce off of its shell harmlessly. Robotnik then announced to Sonic and Tails in his Eggmobile that this Grounder is the first of a new series of giant badniks whose size and strength would assure his conquest of Mobius where others had failed.
Tails wonders if they have to fall back, but Sonic refuses. With a little lateral thinking, Sonic and Tails climb to the top a column high above the Grounder. They then both leap down and hit the Grounder on the head with the Spin Attack, destroying it and releasing the three Animals that served as this Grounder's organic batteries.
Sonic the Comic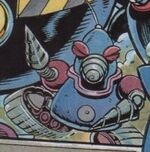 In Fleetway's Sonic the Comic, Grounder was part of Robotnik's badnik army. During his initial reign over Mobius, they were only utilised on one occasion, helping Robotnik break into Sonic's Secret Underground Base (Doctor Ovi Kintobor's old laboratory) along with his Squeeze Tag Machine and several Crawlton and Tunnelbot models. They succeeded in breaking into the Freedom Fighters' base, but were thwarted when Knuckles the Echidna arrived to help. The battle was taken outside where Knuckles, Sonic the Hedgehog and Johnny Lightfoot finished them off.[1]
Adventures of Sonic the Hedgehog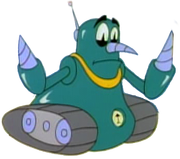 In the Adventures of Sonic the Hedgehog television series, a green Grounder was one of the main antagonists of the show. He is one of the main henchmen of Doctor Ivo Robotnik, created as a part of the Super Special Sonic Search and Smash Squad whose purpose was to eliminate Sonic the Hedgehog and aid his creator in his various schemes. However, Grounder was incredibly stupid and gullible, and often ended up causing his team and Robotnik more trouble for Robotnik's plans when trying to stop Sonic.
This variation of Grounder also appeared in Archie's Sonic the Hedgehog comics and as minor character at Sonic Live that was held in Sydney.
Archie Comics
Trivia

Gallery
Artwork
Screenshots
References
External links
---
Main article | Gallery | Staff | Prereleases (Nick Arcade | Simon Wai) | Re-releases (2006 | 2013) | Knuckles in Sonic 2
Characters
Sonic (Super Sonic) | Tails (Super Tails**) | Knuckles (Super Knuckles) | Dr. Robotnik | Animals (Becky, Cucky, Flicky, Pocky, Pecky, Cucky, Ricky, Pecky, Picky, Rocky, Locky, Wocky, Rat, Tocky)
Badniks
Aquis | Asteron | Balkiry | Banper* | BBat** | BFish* | Bubbler* | Bubbler's Mother* | Buzzer | Cactus* | Chop Chop | Clucker | Coconuts | Crawl | Crawlton | Flasher | Frog* | Gator* | Gohla | Grabber | Grounder | Jellies** | Lobster* | Masher | Nebula | Octus | Rexon | Shellcracker | Slicer | Snail* | Spiker | Spiny | Stegway** | Turtloids | Redz** | Whisp
Zones
Emerald Hill Zone | Chemical Plant Zone | Aquatic Ruin Zone | Casino Night Zone | Hill Top Zone | Mystic Cave Zone | Oil Ocean Zone | Metropolis Zone | Sky Chase Zone | Wing Fortress Zone | Death Egg Zone | Hidden Palace Zone** | Genocide City Zone* | Dust Hill Zone* | Rock Zone* | Wood Zone* | Egg Gauntlet Zone** | Boss Attack Zone** | Proto Palace Zone** | Special Stage
Bosses
Drill Eggman | Water Eggman | Tonkachi Eggman | Catcher Eggman | Submarine Eggman | Drill Eggman II | Hidden Palace Zone boss** | Submarine Eggman II | Flying Eggman | Barrier Eggman | Mecha Sonic | Death Egg Robot
Moves/techniques
Climb | Glide | Spin Jump | Super Dash Attack | Super Spin Attack | Insta-Shield**
Items
Ring | Monitor (Super Ring, Shield, Power Sneakers, Invincibility, Extra Life, Teleporter, Eggman, Lightning Shield**, Flame Shield**, Water Shield**, S**) | Continue | Spring | Star Post (Star Circle) | Bumper | Switch | Air Bubbles | Signpost | Capsule
Other
Bomb | Booster | Original Soundtrack | Bumper wall | Cannon | Chaos Emerald | Conveyor Belt | Corkscrew loop | Crusher | Debug Mode | Egg Jet | Fan | Flipper | Gondola | High-speed elevator | Mega Mack | Metal nut | Perfect Bonus | Pinball Shooter | Seesaw | Shuttle loop | Slot machine | Spear | Spiked ball | Spikes | Stone pillar | Tornado | Totem pole | West Side Island | Winding Tunnel

*Exclusive to the prototype versions of Sonic the Hedgehog 2.
** Exclusive to the 2013 re-release version.