Guinness World Records Gamer's Edition
Talk

0
8,620pages on
this wiki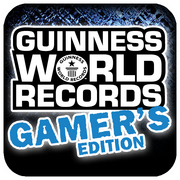 The Guinness World Records Gamer's Edition is a record book made by Guinness World Records. The book contains video game-related records, trivia, and countdowns.
2008 edition
2009 edition
2010 edition
Page 96: Sonic the Hedgehog 2 is placed 2nd on the list of "ten 2D platformers you should play".
Page 97: Sonic the Hedgehog 2 is the best-selling game on any SEGA platform; 50 million unit sales have been made by "SEGA's long-running and ever-popular Sonic the Hedgehog series."
Page 191: the Sonic the Hedgehog series is placed 15th in the Top 50 Video Game Series.
Page 206: the Summer of Sonic convention is mentioned; according to "a number of polls", Sonic the Hedgehog is one of the most recognizable of all video game characters; records for Sonic Rush and Sonic the Hedgehog (1991).
Page 207: records for Sonic the Hedgehog 2 and Sonic the Hedgehog 3.
2011 edition
Sonic features on the cover of the edition, coinciding with his 20th anniversary.[7]
Sonic placed tenth in the list of the Top 50 Video Game Characters, based on a poll of over 13,000 readers.[8]
2012 edition
2013 edition
The event Summer of Sonic was recognized as the first official fan convention for a video game character.[9]
Trivia
References
External links