The Gun Hunter (ガンハンター, Ganhantā?) is a robot deployed by the military organization Guardian Units of Nations and is a part of the Hunter Series. They appear as enemies in Sonic Adventure 2, Sonic Rush and Sonic Generations.
Game appearances
Sonic Adventure 2
The Gun Hunters first appeared in Sonic Adventure 2 and Sonic Adventure 2: Battle as one of the game's more common enemies. They can be found in the following Stages:
In the Stages, Gun Hunters either drop down from above or stay in a hunched position for then to get into attack position when the player is in range. They mostly remain in a stationary position from where they take aim at the player, but will in rare cases hover around the character. When the player leaves the area, the Gun Hunters return to their hunched position. They usually appear alone, but sometimes also in groups of two-to-three. When destroyed, the Gun Hunter award the player with 100 points.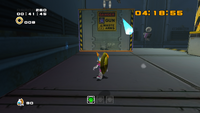 In gameplay, Gun Hunters attack the player with their rifles. When attacking, they lock onto the character when within range and fire about every second. Their shots have a range of roughly 5-6 meters before they vanish. The Gun Hunters primary attack is a yellow arrow-shaped bullet that cause damage to the player upon impact. Some modified Gun Hunters can also shoot blue gel which will stick to the characters and immobilize them, for then to shoot the characters with their yellow bullets. However, the player can break free by pressing
.
Sonic Rush

Gun Hunters also appear as enemies in Sonic Rush, along with other robots deployed by G.U.N. they appear exclusively in Huge Crisis. They appear to be smaller than when they appeared in Sonic Adventure 2 and bear a rounded design with visible eyes. When they spot the player, it will shoot gunshots which can be avoided by simply crouching.
Sonic Generations
In Sonic Generations, the Gun Hunters were given a redesign. Here, they have much more realistic feet, bigger shoulders, carry jetpacks, do not have a shut down position, and hold their weapon like a minigun. They appear in both acts of City Escape.
In this game, the Gun Hunters can charge their shots and fire it as a yellow sphere energy. They do also not have a shut-down position like in Sonic Adventure 2 and now capable of flying at high speeds in the air. In Act 2, they, like all other enemies for Modern Sonic, are blown away upon impact when attacked, and can be used to hit other enemies if hit just right. In City Escape Act 1, a group of Gun Hunters can also be seen flying out of the GUN Military Truck.
In other media
Archie Comics
The Gun Hunter robots have made several cameos throughout the Sonic the Hedgehog comic series published by Archie Comics. They had appeared during the brief attack by Dr. Eggman at Central City. (SU #38)
Trivia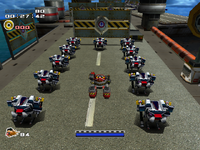 Gallery
Artwork
Screenshots
---
Main article | Gallery
Characters
Sonic (Super Sonic) | Blaze (Burning Blaze) | Tails | Cream | Knuckles | Amy | Eggman | Eggman Nega | Vanilla
Stages
Leaf Storm | Water Palace | Mirage Road | Night Carnival | Huge Crisis | Altitude Limit | Dead Line | Unknown | Exception | Special Stages*
Enemies
Bomb Hawk | Egg Pawn | Egg Pawn Ogre | Flapper | Gun Hunter | Knight Pawn | Rhino Spring | Sea Pawn
Bosses
Egg Hammer Mega | Egg Turtle | Egg Scarab | Egg Libra | Egg Hammer Fortress | Egg Eagle | Sonic/Blaze | Egg King | Egg Salamander
Moves/techniques
Axel Jump** | Axel Tornado** | Boost Mode | Burning Fire Boost** | Burst Dash** | Burst Hover** | Trick Action | Fire Boost** | Hop Jump** | Humming Top* | Jump Dash* | Jump Step** | Spin Dash* | Spin Jump* | Super Boost* | Super Sonic Boost*
English voice actors
Jason Griffith (Sonic) | Mike Pollock (Eggman, Eggman Nega) | Amy Palant (Tails) | Rebecca Honig (Cream) | Bella Hudson (Blaze)
Japanese voice actors
Jun'ichi Kanemaru (Sonic) | Chikao Ōtsuka (Eggman, Eggman Nega) | Ryo Hirohashi (Tails) | Sayaka Aoki (Cream) | Nao Takamori (Blaze)
Original Groove Rush
A New Day | Right There, Ride On | Back 2 Back | Ethno Circus | Ska Cha Cha | Jeh Jeh Rocket | Get Edgy | What U Need | Metal Scratchin' | Vela Nova | Bomber Barbara | Wrapped in Black | Raisin' Me Up
Other
Air Bubbles | Blaze's world | Bungee Rope | Cannon | Chaos Emerald | Corkscrew loop | Dash Panel | Dash Ring | Gallery | Goal Ring | Item Box (Super Ring, Shield, Lightning Shield, Invincibility, Tension Bonus, Max Tension Bonus, Slow, Attract, Confusion) | Ramp | Ring | Shuttle loop | Sol Emerald | Special Generator* | Spring Pole | Switch | Time Attack | Tension Gauge | Winding Rope

*Exclusive to Sonic the Hedgehog
**Exclusive to Blaze the Cat.