A powerful robot army built by Dr. Eggman. Loyal to his orders, the Heavies successfully retrieved the mysterious gemstone, but its power seem to have loosened a few of their screws.


— Description, Sonic Mania manual[1]
The Hard-Boiled Heavies[2] (ハードボイルドヘビーズ, Hādoboirudohebīzu?) , abbreviated as the "HBH", are a group that appears in Sonic Mania. They are a team of elite Egg-Robos created by Dr. Eggman.[3] After being struck with the power of the Phantom Ruby however, the Hard-Boiled Heavies began displaying power that even Eggman could not have predicted.[2]
Concept and creation
Christian Whitehead came up with the Hard-Boiled Heavies after imagining Eggman entering a state of depression after Sonic the Hedgehog 3 & Knuckles; instead of going after Sonic, he would merely lounge at home in his pajamas and that the abandoned Egg Robos would go "a little mad." After thinking about this concept, the term came into being.[4]
History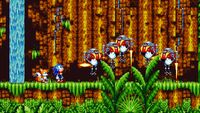 The Hard-Boiled Heavies were originally a group of five elite Egg-Robos tasked with handling the hardest missions that their creator, Dr. Eggman, would have them perform. Upon reading a promising new energy source on Angel Island, the Hard-Boiled Heavies were sent to investigate and retrieve this energy source, the Phantom Ruby.[5] Upon excavating the mysterious gemstone, the five Egg-Robos got transformed into more powerful forms when the gemstone caused time-space to warp around them. As a side effect to this newfound power however, the robots went insane.[1]
The Phantom Ruby transported the Hard-Boiled Heavies, along with Sonic the Hedgehog, Miles "Tails" Prower, and Knuckles the Echidna, to the Green Hill Zone, where they would briefly meet up with Eggman, who would take the Phantom Ruby from them. The Hard-Boiled Heavies then promptly took their leave.
As the three heroes progressed onward, they would each encounter and defeat the different members of the Hard-Boiled Heavies in specific areas: the Heavy Gunner in Studiopolis Zone; the Heavy Shinobi in Press Garden Zone; the Heavy Magician in Mirage Saloon Zone; and the Heavy Rider (Sonic and Tails only) and Heavy King (Knuckles only) in Lava Reef Zone. The Heavy King in particular made an attempt to steal the Master Emerald, but was stopped by Knuckles.
Upon reaching the Egg Reverie Zone, a modified Heavy King tried to steal the Phantom Ruby and use it for himself, prompting Eggman to battle the Heavy King using his Egg Reverie in an attempt to take the gemstone back. Sonic, having all seven of the Chaos Emeralds, transformed into Super Sonic and defeated both of the power-hungry monarchs however. With the Heavy King's defeat, the Hard-Boiled Heavies seemingly ceased to exist, but ultimately their fate remains unknown.
Theme song
| Name | Artist(s) | Length | Music Track |
| --- | --- | --- | --- |
| "Hi Spec Robo Go!" - Theme of the Hard-Boiled Heavies | Tee Lopes, Falk Au Yeong | 1:47 | |
Gallery
Reference
---
Main article | Gallery | Staff
| | |
| --- | --- |
| Playable characters | Sonic the Hedgehog (Super Sonic) | Miles "Tails" Prower (Super Tails) | Knuckles the Echidna (Super Knuckles) |
| Other characters | Dr. Eggman | Animals (Becky, Flicky, Locky, Pecky, Pocky, Rat, Ricky, Wocky) | Jimmy |
| Zones | Green Hill Zone | Chemical Plant Zone | Studiopolis Zone | Flying Battery Zone | Press Garden Zone | Stardust Speedway Zone | Hydrocity Zone | Mirage Saloon Zone | Oil Ocean Zone | Lava Reef Zone | Metallic Madness Zone | Titanic Monarch Zone | Egg Reverie Zone | Special Stage | Bonus Stage |
| Enemies | Asteron | Aquis | Ball Hog | Balkiry | Bat Brain | Bigbom | Blaster | Blastoid | Bombbearer | Bugernaut | Buzz Bomber | Catakiller, Jr. | Caterkiller | Chopper | Clucker | Crabmeat | Dango | Dragonfly | Eggrobo | Fireworm | Gohla | Grabber | Hotaru | Iwamodoki | Jawz | Jellies | Kabasira | Kanabun | Mecha-Bu | Moto Bug | Nebula | Newtron | Octus | Poh-Bee | Pointdexter | Rexon | Roller | Scarab | Spiny | Splats | TechnoSqueek | Toxomister | Turbo Spiker | Turtloids |
| Bosses | Death Egg Robot | Hard-Boiled Heavies (Heavy King, Heavy Gunner, Heavy Shinobi, Heavy Magician, Heavy Rider) | Metal Sonic | Egg Reverie |
| Moves/techniques | Bound Jump | Climb | Drop Dash | Fireball Spin Dash | Glide | Insta-Shield | Propeller Flying | Spin Dash | Spin Attack | Spin Jump | Super Peel Out |
| Gimmicks and obstacles | Breakable Block | Bumper | Bumper wall | Capsule | Catapult | Dash Panel | Fan | Flipper | Goal Plate | High-speed warp tube | Platform-raising Wheel | Pulley | Seesaw | Size Beam | Spiked ball | Spikes | Spring | Star Post | Switch | Zip Line |
| Objects | Air Bubbles | Chaos Emerald | Giant Ring | Little Planet flowers | Master Emerald | Metal Sonic Projector | Monitor (Aqua Shield, Combine Ring, Eggman Mark, Flame Shield, Invincibility, Power Sneakers, S, Shield, Super Ring, Thunder Shield) | Phantom Ruby | Ring | Robot teleporter | Sphere | Star Circle | Time Warp Plate | UFO | Warp Point |
| Soundtrack | Checkpoint | Time Trials | Friends |
| Other | Angel Island | Continue | Debug Mode | Freeze | Level Select | Little Planet | Mega Mack | Perfect Bonus | Shuttle loop | Time Attack | Time Over | Tornado | Winding Tunnel |