Hei Hou (ヘイ・ホウ, Hei hō?) is the sub-boss of Mushroom Hill Zone in the game Sonic & Knuckles, as well as its locked-on form, Sonic the Hedgehog 3 & Knuckles. It is fought at the end of the first act of the Zone.
Description
Attack pattern
Hei Hou uses an axe to chop down trees, sending the resulting chunks of wood flying towards the player. If Knuckles is the one battling him, he will use a slightly different attack pattern where the wood chunks bounce and his head is used as an attack.
Sonic Jam
In Sonic Jam for Game.com, this boss is featured as one of the bosses in the Sonic & Knuckles game. It is extremely easy now as there is only one tree (to the right), and the boss itself is very slow and chops at a rate of about one time every thirty seconds. In addition, the boss was put lower so it could be visible on the screen, making it possible to simply jump at it.
In other media
Archie Comics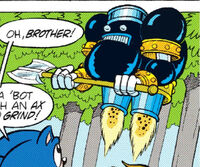 Hei Hou made an appearance in the Sonic the Hedgehog comic series and its spin-offs published by Archie Comics, where it was a Badnik created by Dr. Robotnik, but was unnamed. It only appeared in Sonic & Knuckles, a comic adaption of the video game of the same name. Its powers and abilities are the same as its game counterpart.
Having infiltrated Angel Island, Hei Hou ambushed Sonic the Hedgehog and Tails as they were making their way through the Mushroom Hills, where it tried to take a swipe at Sonic with its axe, but the hedgehog dodged it. Hei Hou then tried to attack Sonic with its axe again, but Sonic got behind it and delivered a powerful stamp to its back which destroyed the robot.
Sonic the Hedgehog 3 & Knuckles
---
Main articles (Sonic 3 | Sonic & Knuckles | Sonic 3 & Knuckles) | Gallery (Sonic 3 | Sonic & Knuckles) | Beta elements | Staff (Sonic 3 | Sonic & Knuckles)
Characters
Sonic (Super Sonic, Hyper Sonic) | Tails (Super Tails) | Knuckles (Super Knuckles, Hyper Knuckles) | Dr. Robotnik | Mecha Sonic (Mecha Sonic's Super State) | Animals (Flicky (Flicky's Super State), Pocky, Pecky, Cucky, Ricky, Rocky)
Badniks
Batbot | Blaster | Blastoid (Carnival Night Zone) | Blastoid (Hydrocity Zone) | Bloominator | Bubbles | Bugernaut | Butterdroid | Catakiller, Jr. | Chainspike | Clamer | Cluckoid | Corkey | Dragonfly | EggRobo | Fireworm | Flybot767 | Hyudoro | Iwamodoki | Jawz | Madmole | Mantis | Mega Chopper | Monkey Dude | Mushmeanie | Orbinaut | Penguinator | Pointdexter | RhinoBot | Ribot | Rock'n | Sandworm | Skorp | Snale Blaster | Spikebonker | Spiker | Star Pointer | TechnoSqueek | Toxomister | Turbo Spiker
Zones
Sonic 3
Angel Island Zone | Hydrocity Zone | Marble Garden Zone | Carnival Night Zone | IceCap Zone | Launch Base Zone | Special Stages | Bonus Stages
Sonic & Knuckles
Mushroom Hill Zone | Flying Battery Zone | Sandopolis Zone | Lava Reef Zone | Hidden Palace Zone | Sky Sanctuary Zone | Death Egg Zone | The Doomsday Zone | Special Stages | Bonus Stages
Competition
Azure Lake Zone | Balloon Park Zone | Chrome Gadget Zone | Desert Palace Zone | Endless Mine Zone
Sub-bosses
Doctor Robotnik's Flame Craft (Angel Island Zone Act 1) | Doctor Robotnik's Whirlpool Machine | Tunnelbot | Self D-Struct Machine | Iceball | Swing'm Spikez | Hei Hou | Gapsule | Barrier Eggman | Guardian | Heat Arms | Egg Mobile-H | Flying Eggman | Red Eye | Death Ball
Bosses
Doctor Robotnik's Flame Craft (Angel Island Zone Act 2) | Doctor Robotnik's Waterspout and Depth Charge Machine | Doctor Robotnik's Jet Drill Pod | Doctor Robotnik's Energy Ship | Doctor Robotnik's Freeze-O-Matic | Ball Shooter | Beam Rocket | Big Arm | Jet Mobile | Hang Mobile | Egg Golem | Hot Mobile | Knuckles | Mecha Sonic | Mecha Sonic's Super State | Kyodai Eggman Robo | The Doomsday Zone
Moves/techniques
Bounce Attack | Double Jump | Fireball Spin Dash | Glide | Gliding Knuckles Attack | Hyper Flash | Insta-Shield | Propeller Flying | Spin Jump | Spin Dash | Spin Attack | Wall Climb
Items
Air Bubbles | Balloon | Banana | Bomb | Booster | Bumper | Bumper wall | Cannon | Capsule | Change | Chaos Emerald | Cloud | Continue | Fan | Jump Stand | Monitor (Water Shield, Flame Shield, Invincibility, Lightning Shield, Super Ring, Power Sneakers, Extra Life, S, Eggman) | Movable Crate | Mushroom | Pulley | Ring | Signpost | Self-Propelled Bomb | Slow-Down Shoes | Snowboard | Sphere | Spikes | Spring | Spinning Top | Star Post (Star Circle) | Super Emerald | Switch | Transport | Zip Line
Other
Angel Island | Barrel | Blue Knuckles | Conveyor Belt | Corkscrew loop | Crusher | Debug Mode | Fireball Cannon | Flipper | Flywheel | Freezing Machine | Goal | Gravity Control Switch | Gumball | High-speed elevator | Jewel Radar | Perfect Bonus | Pole Elevator | Relief | Reverse | Ring Shooter | Seesaw | Shuttle loop | Slot Machine | Sonic & Knuckles • Sonic the Hedgehog 3 | Spear | Spiked Ball | Spinning Wheel | Strange Relief | Tunnelbot (Sonic & Knuckles) | Warp Point | Winding Tunnel | Wonderman