High-Rise Balloon Climb is the second Challenge Act of Rooftop Run Act 1 in the console/PC version of Sonic Generations. It is unlocked after clearing every Stage in the modern era and is playable only as Classic Sonic.
Description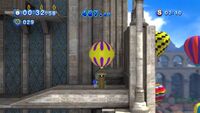 In this Challenge Act, the player takes control of Classic Sonic in Rooftop Run Act, and there are no supporting characters.
The player uses the various Big Balloons that are rising upward to reach the goal. While the Challenge Act focuses more on using these balloons to rise and Cannons, some minor platforming is still involved in the act.
Ad blocker interference detected!
Wikia is a free-to-use site that makes money from advertising. We have a modified experience for viewers using ad blockers

Wikia is not accessible if you've made further modifications. Remove the custom ad blocker rule(s) and the page will load as expected.